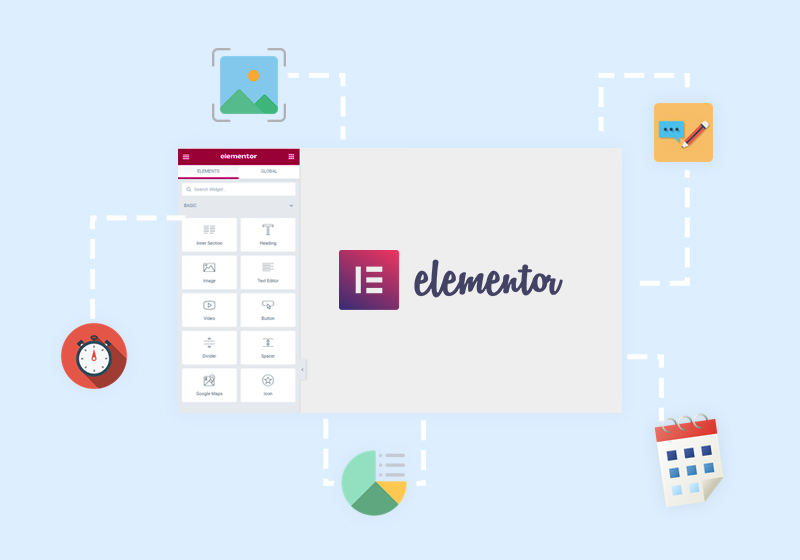 10 Essential Addons for Elementor to Improve Your Website
Elementor paga builder is already one of the most popular page editors for WordPress, but its popularity is still rising. With over 4.000.000 active installations, there must be something to it.
Elementor's free version already has a lot to offer. However, it is not perfect. To truly make the most of it, however, we have compiled this list of essential addons for Elementor, so you can make your website exactly what you want it to be.
Now, don't get us wrong: the free version already has a multitude of useful and attractive options. However, to go to the full extent of what Elementor has to offer, you might want to give it some extra oomph with one (or more!) Elementor addons from this list.
More Info
If we have to name one tool that covers it all, it would definitely be QI. This versatile plugin covers every aspect of features Elementor users may need. Created in the famous Qode Interactive WordPress lab, this plugin brings an endless list of features. No matter what functionality you need to boost your site, QI gets you covered. Whether you want to create banners, user testimonials, blog pages, pricing tables or clients list, you can do it with complete ease with the help of this plugin. On top of this, there is a large collection of addons dedicated to shop and portfolio websites. From before/after comparison slider, image gallery and masonry image gallery to product lists and sliders, you can create any website element as per your needs. Also, there is a large number of typography and SEO addons. If you need any sort of help, you can check out detailed documentation with all the guidelines.
Features which make QI Addons for Elementor a great plugin:
Professional support
Typography and SEO add-ons
WooCommerce add-ons
More Info
What else can we kick off this list of essential Elementor addons with, but Elementor Pro, the paid version of the page/building plugin. As it stands, the Elementor Pro is the Swiss army knife of website-building.
This visual builder not only makes constructing a website quick, it also makes websites that load faster. The workings behind Elementor are optimized to generate fast-loading, SEO-friendly code for your website. Its modular design allows you to create bespoke websites, WordPress pages, and sections with what you find in the kit box.
But this can more or less be said of the Free version, too. The Pro version not only brings more ready-made elements (over 80 in total), you also get a larger Elementor template library with ready-made solutions for websites for various businesses and services, as well as comprehensive tutorials for website creation using Elementor. To top it all off, you can use Elementor's Hello theme as a starting point and be sure that all the new features, for every new version, have been tested on it.
Features which make Elementor Pro a great plugin:
Available In 50 Languages
WooCommerce Builder and Shop Widgets
Popup Builder
Parallax and Mouse Effects
More Info
Happy Addons for Elementor is a tool crafted to uplift your WordPress webpage editing & designing capabilities. When you need additional customization options for Elementor Page Builder, use Happy addons' numerous options. The first thing you will notice about this tool is its collection of 35+ free, powerful widgets. Thanks to their versatile functionalities, you will be able to boost any aspect of your website customization and add a lot of creative elements. In addition to this, Happy addons integrate the Happy Templates import feature. This means you can choose between 400 ready-made templates depending on your business niche and website type. In a case of need, you can, however, upgrade to Happy Addons Pro where you can find even more template options. But, what sets this tool apart from others is its set of free built-in extensions for an unprecedented web-page designing experience. Let's name a few. Firstly, there is a Background Overlay extension. With it, you can add images, colors, and icons behind a widget. Moreover, you can choose from Happy Icons library that integrates 500+ icons. Tiny details like icons will surely add to your website's character. Finally, you can both manage column order and their width with complete ease.
Features which make Happy Addons for Elementor a great plugin:
400 Ready-Made Templates
35+ Free Widgets
Built-In Extensions
Ease of Use
More Info
Master Addons enhances customization ability. It's a perfect combination with the Elementor Plugin. This plugin packed with some unique and handy elements, & Extensions.
Master Addons comes with a rich Template library, Custom CSS extension, & most of on-demand element. Import any landing page or section using the template library in one click. The custom CSS will help you to control your section, column, and element design. Customize elements in your way using Selector property.
Most of the element has it's own style panel with multiple variations and unlimited customization possibilities. That means you can edit any typo, set color, manage margin – padding, Border, border-radius. It allows enabling multiple extension at the same time. For example- you can enable an animated gradient while using particles for a section background. Master Addons compatible with most of the popular elementor Theme like Hello, Astra, and so on. The Nav menu element with the Mega Menu extension will help you to arrange your navigation menu.
Features which make Master Addons for Elementor a great plugin:
Domain Checker
Container Extra
Image Hotspots
More Info
The Plus Addons comes in two versions: paid and free. The free version alone builds considerably upon Elementor's free set of building blocks with text options and text animations, buttons, tabs, social icons and the like, if you want to doll up your pages.
With the Premium version, you not only get more website elements (over 60), you also get more features for the free widgets, too. Apart from some interesting image effects, such as tooltips, masking, scrolling, parallax, and cascading, you also get a number of free page templates for easy modification using Elementor.
The Plus Addons is also compatible with OceanWP, Astra, and Sydney free WordPress themes, and the developers claim compatibility with some premium themes as well.
Features which make The Plus Addons a great plugin:
Several Blog and Gallery Layouts
Contact Form 7
Advanced Background Options (Paid Version Only)
More Info
With Essential Addons for Elementor, you can add over 100 blocks, templates and sections to your Elementor website. The free version gives you, for instance, widgets for tabs, a filterable gallery, testimonials, sticky video, and Twitter and Facebook feeds. The free version also contains Contact Form 7 forms and a WooCommerce product grid.
With the Premium version, you get even more advanced option, especially insomuch as carousels are concerned – you can get them to display your Twitter feed, team roster or posts, for instance – but also some useful widgets. For instance, the Premium version includes the Instagram gallery and feed widget and Advanced Google Maps, with colour options, overlay and route functionalities, too. The developers also suggest Flexia as a companion theme.
Features which make Essential Addons for Elementor a great plugin:
Fast Loading
Easy Form Building
Event Calender
Mailchip Compatible (Premium Version)
More Info
Premium Addons for Elementor offer 50+ highly customizable widgets – at least in its Pro version. As far as the free version goes, it sports a customizable Google Maps widget, with custom markers and skins, gallery grid widget, Contact Form 7, and pricing table, to name a few. You also get access to the developers' section template library, so you can import a template you like with one click.
With the Pro version, you get several more options, especially with the graphics widgets: you can add hotspots, animate them in layers, or arrange them in an accordion style, and use parallax effects or particles for some really eye-catching design solutions. The pro version also introduces social feed widgets for Facebook, Twitter, Instagram, and Behance, as well as review and testimonial widgets that work with Google, Facebook, and Yelp reviews.
Also noteworthy are the messenger widgets for Facebook Messenger and WhatsApp, allowing your visitors to message you directly from your website, so your website can really benefit from your social media activities and presence.
Features which make Premium Addons for Elementor a great plugin:
Social Media Ready
WPML Ready
Chart and Table Widgets (Pro Version Only)
Video Tutorials
More Info
HT Mega is truly mega – with over 360 ready-made blocks and 80 widgets, it offers you a wide gamut of possibilities. And that's not all – included are over 90 ready-made, easily importable pages which you can use with minimal modification. These include simple but effective design solutions for corporations, charities, shops, clinics, political and many other organizations. With some tweaks using Elementor, you can make each and every one of these all your own.
The free version of Elementor does not come with editable headers and footers. With HT Mega, you won't encounter this problem, as its header and footer are fully editable and customizable. The same goes for any menu – and mega menu – too.
Features which make HT Mega a great plugin:
Theme/Template Builder
Multiple Image and Post Grids
WooCommerce Compatible
Mailchimp Compatible
More Info
If you need simply to add a few new widgets to your page builder, consider Elementor Addon Elements. While Elementor's basic elements are enough for some basic webpage-building, with Elementor Addon Elements you can spruce up your website design with text animations, popups, buttons and progress bars. You may also want to add a filterable gallery to your website – and with Elementor Addon Elements, you can.
As with any new software, there are some kinks that still need ironing out. Some users have reported compatibility issues with Elementor Lightbox, as well as sever errors. Still, the developers are updating it constantly, and subsequent updates might fix the problem altogether.
Features which make Elementor Addon Elements a great plugin:
Progress Bar
Animated Background Color
Google and Snazzy maps
Twitter Feed
More Info
Elementor – Header, Footer & Blocks is a great option if you are satisfied with Elementor's free options except for the absence of header and footer. With this addon, you can easily and quickly create layouts for your website's header and footer. This plugin also adds another area above the footer – a "before footer" area – which you can use for another layout, allowing you much more flexibility with footer designs.
And that's not all: as the name suggests, you can also use this plugin to make custom Elementor blocks which you can place anywhere on your page, making this tool more versatile than you'd expect. And with over 300.000 active installations and a five-star rating over more than 100 reviews, you can be sure we're not alone in this opinion.
Features which make Elementor – Header, Footer & Blocks a great plugin:
Easy Editing
Flexible Footer Design
Fully compatible with one of the most popular frontend page builders out there, Brunn is a great choice for any niche. It not only supports the intuitive drag-and-drop Elementor Page Builder plugin, but it also integrates tailor-made shortcodes made to help you enrich the basic Elementor features. This means that you won't need additional addons to get all the functionalities you may need. For this reason, Brunn is an ideal choice if you're looking for superb Elementor options and cutting edge theme layouts & functionalities. Besides the stunning collection of homepages, this theme offers many blog, shop, and portfolio styles. With these options, you can showcase your works, share the latest stories, and sell products online with ease. Plus, you can customize every element to your preferences, even if you are a complete beginner. Make the most of 800+ Google fonts, unlimited color options, and tons of shortcodes made by experts.
Elementor, especially its free – fuss-free, too – version, is a great WordPress plugin to start using WordPress and building your own websites, especially if you have no building experience. With one or more of these addons, you can supplement Elementor's basic set of building blocks, and really make your creation – and your business, portfolio, organization or project – stand out.
We hope this article was helpful. If you liked it, feel free to check out some of these articles as well!