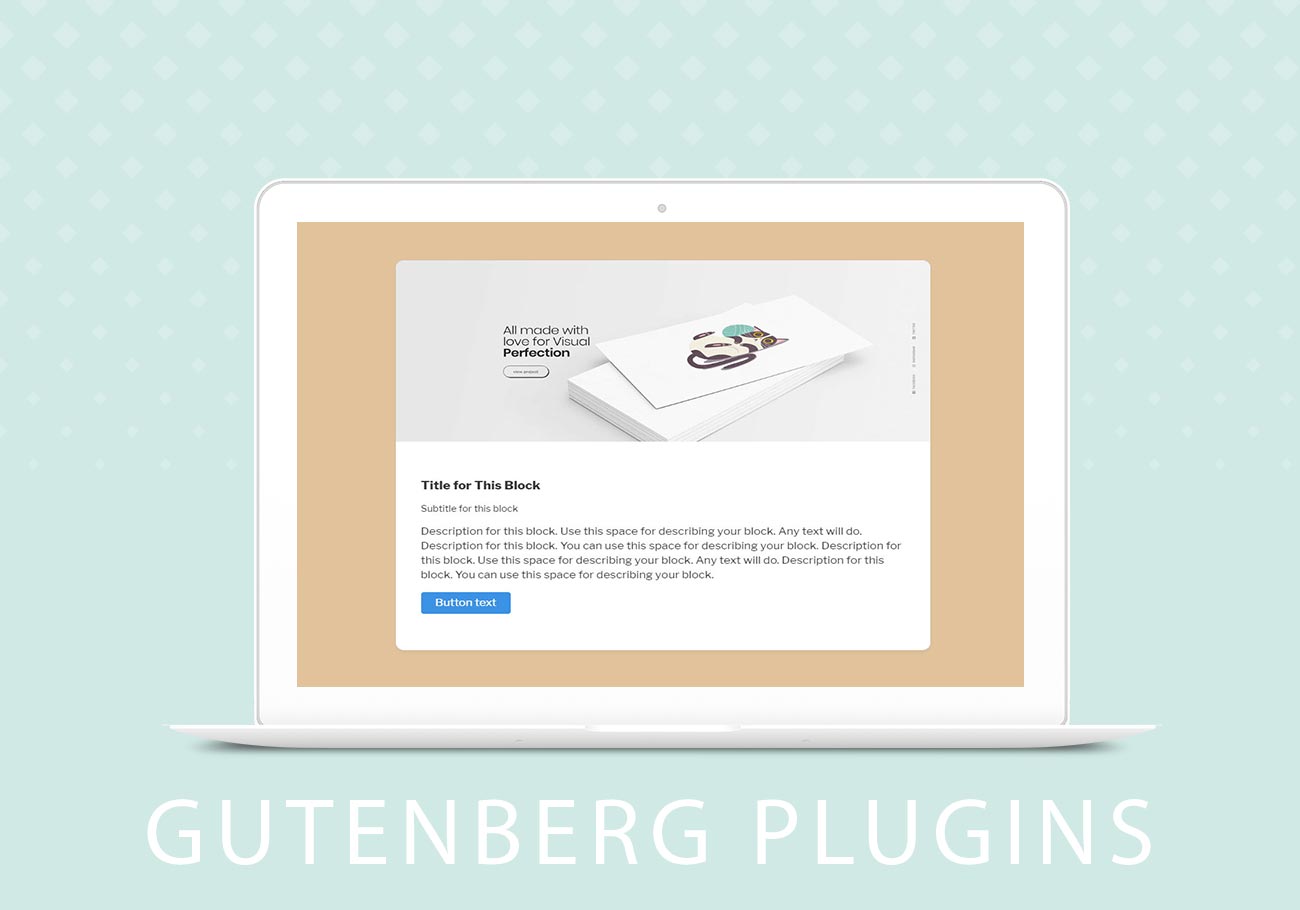 5+ Practical Plugins for Gutenberg
The biggest change in WordPress since its launch day has definitely been the release of Gutenberg. In December 2018 it became the default editor, much to the dismay of a large portion of the WordPress community. Many users were quite perplexed by the newly introduced world of blocks, and even developers were a bit unsure at first as to how to create blocks in Gutenberg. In order to make your editor more powerful we've singled out 5 practical plugins for Gutenberg you should consider installing. Get them and add more cool features to your website in just a few moments.
Here is our list of the 5 practical plugins for Gutenberg:
With its wide variety of blocks and free and premium version, Qi Blocks for Gutenberg aims to become your go-to plugin for expanding the initial collection of blocks that comes with the block editor. Whether it'll succeed depends on your taste, but you'd make a mistake if you chose not to give these superbly designed blocks a choice. With 81 blocks between the free and the premium version, something is bound to catch your eye.
The blocks are separated into nine different categories based on their use cases. Creative blocks include frame sliders and interactive links, so they allow you to showcase your work. Business blocks give you the tools a business needs to present itself on a website – testimonial blocks, team blocks, map blocks. The rest of the block groups are pretty self-explanatory, too – showcase, WooCommerce, typography, infographics, form style, SEO, and content contain incredibly useful blocks for any website.
PostX is one of the most popular Gutenberg-based plugins for creating any kind of News Magazine and Blogging site. It offers 20+ finely crafted post blocks to organize posts within a click. Post Grid, Post List, and Post Slider blocks are the most popular post blocks of PostX. All of these blocks are highly customizable and responsive for all types of devices. And, the advanced quarry builder allows sorting posts, pages, and custom post types in these blocks making it the best choice for displaying posts/pages.
The PostX offerings don't end here. It also offers a Dynamic Site Builder addon, with 18+ site building blocks and 40+ premade templates. It is so powerful that, you can redesign all pages of your site within a few clicks.
The Ajax-powered Filter and Pagination features are some useful addition to this. There are more useful features available such as SEO meta addons, Elementor integrations, Reading Progress Bar, News Ticker, and much more.
GutenBee at the moment bundles 27 custom blocks with new blocks and updated features added regularly. Some of the more notable ones are the Food Menu block, the Google Maps block with SnazzyMaps styles support, the review block with multiple rating categories and automatic review score calculation, the Post Types block for easy post listings & grids creation with support for category filtering and more.
With the Container block, you can create flexible and responsive layouts with variable column numbers, zoom & parallax effects, background videos and more.
GutenBee blocks offer extensive appearance options with customizable colors, backgrounds, borders, shadows and more. Additionally, their visibility options allow you to show or hide blocks based on the type of device they are being viewed on or show/hide blocks for logged-in or logged-out users.
Unlike the first plugin on our list, Premium Blocks for Gutenberg uses custom blocks only. Some of the blocks that come with plugin are: Gutenberg Banner Block, Gutenberg Button Block, Gutenberg Counter Block, Gutenberg Testimonials Block, Gutenberg Video Box Block, and many more. Updates are released usually every week and the block list is ever-growing. There's no premium version yet.
When you wish to add a block, you'll find them all that come with the plugin under the Premium Blocks option. Edit them just like any other block. Simply click on the gear icon in the upper-right side of the screen. Switch to the Block tab once the sidebar opens.
So far, 12 custom blocks have been published. I especially liked the Gutenberg Banner Block, because it's beautifully animated and it includes some pretty awesome options.
This plugin already packs a great set of blocks, and the collection gets regularly updated. It's fully compatible with Gutenberg, and definitely worth the try!
Ultimate Blocks is another great Gutenberg block plugin that comes with 18 blocks in total that will help you create better content for your blog.
Their collection of blocks features a Review block, Styled List block, Table of Contents block, Styled Box block, Content Filter block, and more. The plugin has well over 30,000 installs with 400+ 5-star reviews.
Of all the 18 useful blocks, the Review block stands out the most as it lets you create these beautiful review boxes in your post. These can be really helpful if you publish product reviews on your blog. As the Review block is schema-enabled, it also helps you push your content for better rankings on search engines.
Overall, Ultimate Blocks is a very good plugin for bloggers who want to use simple content blocks on their blog using the Gutenberg editor.
Gutenberg Blocks – Ultimate Addons for Gutenberg is another great plugin that includes a collection of custom blocks that help you build a terrific website. It features blocks like the Post Masonry block, the Info Box block, the Google Map block, and many more. Once you install the plugin you'll notice the Ultimate Blocks Library Blocks in your backend editor. Here you can choose which blocks to activate and also to deactivate.
For me, the Content Timeline block stood out, because it enables you to create gorgeous timelines and add them to your website.
Stackable – Gutenberg Blocks is another amazing plugin that makes website building easier. Currently, there are +20 block in total and these are just some of the blocks that come with it: Pricing Box, Video Popup, Testimonials, etc. Upon plugin activation, you'll see a Stackable area in your editor. The blocks that you can add to your posts and pages are listed here.
The most interesting block to me is the Card Block. You can use it to create stylish showcases of your works, provide all sorts of information to your crowd, and much more.
We've come to the end of our list of 5 practical plugins for Gutenberg. Regardless of which one you choose to add to your WordPress website, each will without a doubt extend the overall functionality of the new editor. You'll have more control over your content and you'll be able to style it to perfection. Make sure to regularly update the plugin of your choice though, as developers constantly work on ironing out the problems that have occurred. Furthermore, they keep adding new block types all the time, and you wouldn't want to miss out on that!
We hope this article was helpful. If you liked it, feel free to check out some of these articles as well!