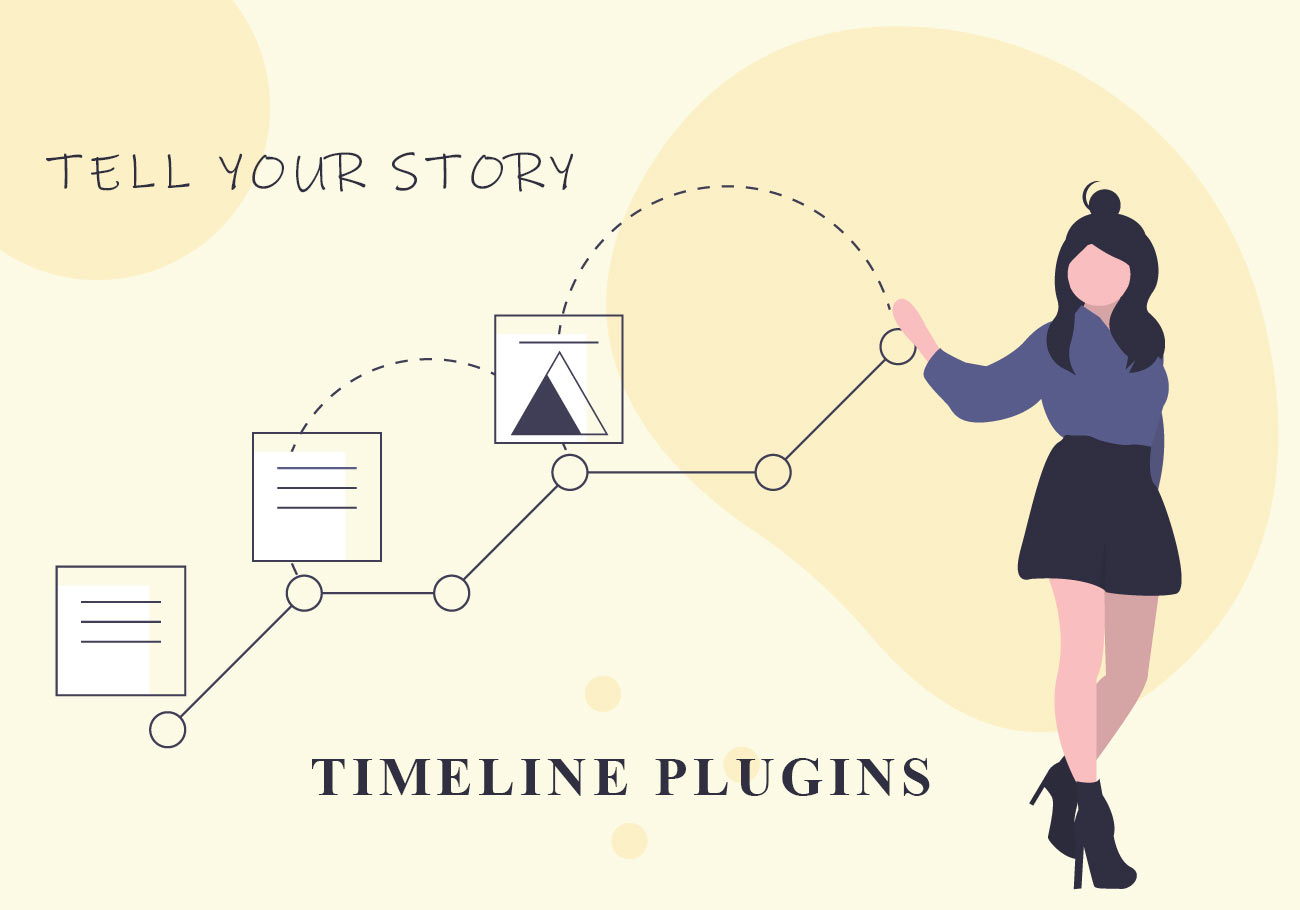 5+ Awesome WordPress Timeline Plugins
Share the story behind your business, and you'll humanize it. Share the story behind your product, and you just might make it more recognizable and memorable. Share a personal story, and you might inspire, caution, or teach. Stories affect people, and we seem to love it. Why else would we be hardwired to pay attention to them?
It's no surprise that businesses and marketers like to use stories a lot. That's why websites have "about us" sections, and it's also why you should consider using WordPress timeline plugins. When it comes to telling a story in a neat way, nothing beats a timeline plugin's ability to help you arrange stories in a sequence, or a chronological order.
You could easily say that, from a storytelling perspective, a WordPress timeline plugin is as essential as WordPress security plugins are from the perspective of safety. Because it's such an essential website feature, we're going to help you get familiar with the leading WordPress timeline plugins on the market. Let's dive in!
More Info
Qi is an incredible tool that offers 60 free and 40+ premium, professionals widgets you can use to cover any of your website's needs. In case you want to create beautiful, responsive timetables that go perfectly with your niche, this plugin is for you.
In short, free Timeline Showcase custom widget lets you compose visually appealing chronological lists of events. Choose between 4 different timetable styles following your branding and design preferences. This plugin allows you to choose between horizontal and vertical timetable organization. Both options look amazing – just select the one you like more. Also, you can add square or round images to your timelines. On top of this, you can go with a minimalistic timetable style or enrich them with icons and short texts that explain each event you have included in your timetable.
Features that make Qi the best WordPress timeline plugin:
Four timetable styles
Round and square images
Ease of use
More Info
There's more than just its name that makes you say "cool" when you see everything Cool Timeline plugin offers in its free version. For starters, the plugin is responsive, so it can work its magic regardless of the size of the screen that displays it. You can choose between a vertical and a horizontal timeline. If you pick the former, you'll be able to choose between a single-sided and a double-sided timeline.
That's only the beginning of the customization options this plugin will let you use. You'll get to choose the style of timeline images, the background color, the title color, and the icons. As far as populating the timeline, it's incredibly easy. You just need to create posts and date them, and the Cool Timeline plugin does the rest for you.
If you want more from Cool Timeline, you can get the for-pay, pro version. It comes with more than 40 timeline designs, advanced settings, support for advanced forms of content, and the ability to create multiple timelines.
Features that make Cool Timeline the best WordPress timeline plugin:
Translated in 4 Languages and Ready for More
Ability to Show Stories in Ascending or Descending Order
Easily Placeable Thanks to Shortcode
More Info
The WP Timeline Designer Pro is a unique WordPress timeline plugin that will allow you to create beautiful animated vertical and horizontal timelines on your site. It's packed with tons of powerful features and easy-to-use elements. The plugin comes with 12 unique pre-designed templates. Thanks to versatile styling options and customization possibilities, each layout can be changed to fit your needs. This ultimate WP Timeline Designer Pro plugin can beautifully present the historical happenings, life story in the timeline, your company story, event summary timeline, your success story timeline, author biography timeline, step by step tutorial guideline, content timeline, etc. Besides, you can also use filter features, social media share buttons, animation effects, and media functionality to make your website enriched with stunning timelines.
Features that make WP Timeline Designer Pro the best WordPress timeline plugin:
Custom Post Type Support
Different Display Styles Of Pagination
Available 20+ Core Demos
Custom CSS
Timeline Settings
Generate Shortcode
More Info
Here's a WordPress timeline plugin for you: with more than 45 layouts and support for over 40 animations, you can see the WP Timeline in action over 1,800 times without seeing the same combination of a layout and an animation. But if you think that's impressive, wait till you see what else this WordPress timeline plugin has in store for you.
All of the things that you'll need from a timeline plugin are there. Mobile responsiveness, support for vertical as well as horizontal timelines, and infinite scroll support go without saying. Add to them some awesome features such as history bar support, support for light and dark modes, and support for both single-line and side-by-side, and you'll get a well-rounded WordPress timeline plugin anyone could use.
Features that make WP Timeline the best WordPress timeline plugin:
Date Picker Starting in the Year 1000
Support for Elementor and Visual Composer
Support for Audio and Video Media
More Info
Believe it or not, there are WordPress timeline plugins that don't have the word "timeline" in their name. Actually, there are some great plugins whose main offer has nothing to do with creating timelines, but can still enable you to create great ones for your website. Blog Designer is one such plugin — originally created to bring advanced capabilities to blogs, it comes with decent timeline capabilities.
The Blog Designer plugin was built to let you start your first blog post in minutes, even if you have no experience with coding. You get a responsive page, cross-browser support, and a host of other options for blog posts. You also get to choose between eight default blog templates, one of which is the Timeline template.
If you want to take it up a notch, the Blog Designer plugin comes in a premium pro version that brings you more than five timeline templates for horizontal and vertical timelines, on top of the expanded font and icons support, and a large number of other features that would go great with a blog. If your blog needs a timeline plugin, look no further.
Features that make Blog Designer the best WordPress timeline plugin:
Custom CSS Support
Multiple Post Category Selection
Manage the Number of Posts per Page
More Info
At first glance, Timeline and History Slider plugin offers standard, but limited features. You get one horizontal timeline design, one shortcode, and eleven shortcode parameters to boost the shortcode. You also get to display timeline categories and set slider parameters such as autoplay, the number of slides, and slider dots. That's all there is to the Timeline and History Slider's free version.
To get the most out of the plugin, you'll have to fork over for the premium version. That's where things get really fun. As an owner of the premium version of this WordPress timeline plugin, you get access to 12+ timeline designs, both horizontal and vertical. You also get access to the shortcode generator, support for drag-and-drop slide order change, the capability to add custom icons, and many more useful features.
Features that make Timeline and History Slider the best WordPress timeline plugin:
Support for Touch Navigation
Arrow Key Navigation Support to Full Accessibility
Shortcode and Template Code Available
More Info
Like its name says, Event Timeline is a WordPress timeline plugin to use if you want to line up the events that made you who you are, or made your business what it is, or led to the development of your product. You get all the good things a timeline plugin should deliver — a responsive design, access to eighteen themes, and plenty of customization options.
Like many other WordPress timeline plugins, Event Timeline is also available in a premium version for a fee. The team behind this plugin decided to put five additional timeline themes behind the paywall. If you're not happy with the themes you get for free and you don't have the time to customize and fine-tune everything, checking out one of these themes would be a good idea. Remember, though, that you get both the vertical and the horizontal timeline in the free version.
Features that make Event Timeline the best WordPress timeline plugin:
Compatibility with Mobile Browsers
Audio and Video Post Format Support
Seven Types of Pagination
More Info
Right off the bat, Everest Timeline knocks you off your feet with 50+ pre-built timeline templates it lets you choose from. It gets even better once you see all the layouts at your disposal — the vertical layout, horizontal layout, single-sided layout, social media layouts for Facebook and Twitter. And then there's all the media support that lets you populate your timeline easily with images, YouTube or Vimeo videos, and SoundCloud audio.
The downside is that Everest Timeline is a plugin that comes only in the premium version. However, if you've decided to skip the free versions of WordPress timeline plugins and get to the good stuff right away, Everest Timeline is a great choice. It offers thirteen animation effects for displaying the timeline, sixteen loader images, fourteen different date formats, and extensive color customization options. And when it's time to see it in action, it will automatically generate a shortcode for additional ease of use.
Features that make Everest Timeline the best WordPress timeline plugin:
Keyword-Search Influenced Timeline
Color Customization for All Templates
14 Different Date Formats to Choose from
Bonus: WordPress Themes with Timeline Functionality
If you don't want to, you don't have to pick any of these awesome timeline plugins for WordPress, even if you need a timeline on your website. What you can do instead is pick a WordPress theme that comes with a built-in timeline.
The Sweet Jane theme is a great example. Built for cake shops, this delightful theme comes with open table integrations, reservations, a menu list, and — a genuine, no-plugins-needed, timeline functionality. If all you need is a simple, no-fuss timeline format you'll use only a couple of times on your website, a good WordPress theme might trump a WordPress timeline plugin.
Storytelling is a communication tool you can use with great success in your personal and professional life. If either of those involves the use of a website, you might know that some types of pages, such as the "about us" page, almost force you to tell a story.
You should embrace it! Just line up the story as it unfolded, and pick one of the great WordPress timeline plugins to tell it to the world. And if choosing plugins isn't your thing, remember that you can always use a WordPress theme with a timeline functionality.
We hope this article was helpful. If you liked it, feel free to check out some of these articles as well!