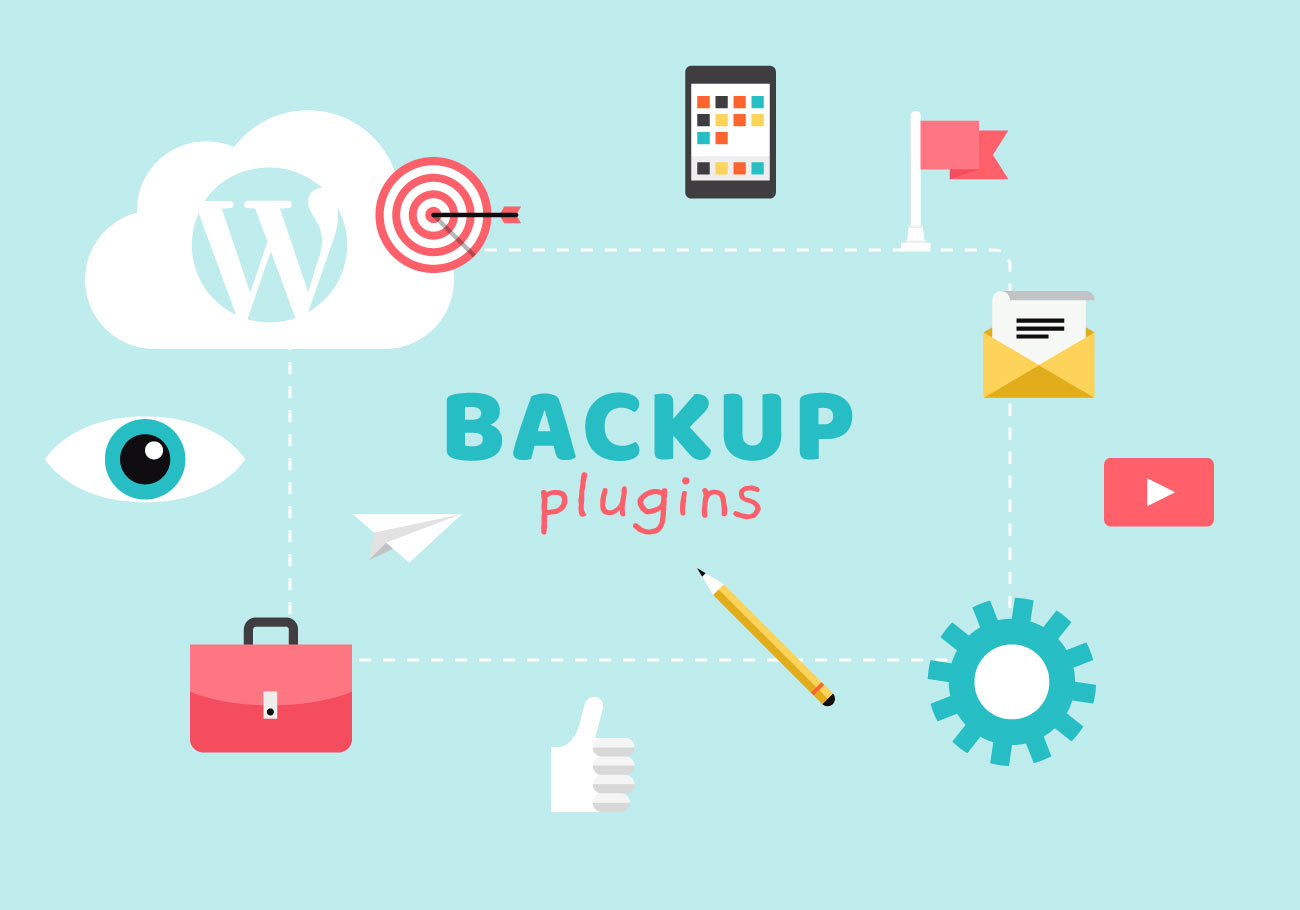 The Best WordPress Backup Plugins
Regular WordPress backups are one of the most important things you can do for your website. And yet, many users neglect them and go for months or years without a backup – until something happens. The old saying It's better to be safe than sorry may sound a bit worn out but when it comes to WordPress backups, it's more than just sound advice – it's common sense.
A lot of things can happen to your website or your server that can cause you to lose your settings, your website data and your content. The importance of regularly backing up your WordPress website cannot be stressed enough, but there's another big question at play here, and that's how to do it the best possible way.
Most experts recommend using one of the excellent plugins that are available for this particular purpose, and we have to agree. Plugins are an efficient, user-friendly and safe way to backup the content of your WordPress site in a hassle-free way.
The following is our choice of the best WordPress backup plugins:
BackupBuddy is probably the most popular premium backup plugin for WordPress. A quick look at the features this tool packs makes it clear as to the reasons for this popularity.
Unlike many other backup plugins on the market, BackupBuddy takes care not just of your database, but of your entire WordPress installation. It backs up all of your WordPress files, your media library, themes, plugins, pages, posts, widgets, custom post types, all of your users and user roles…everything!
Another great thing about this plugin is that it also has an anti-malware feature, protecting your from malicious attacks, and it also has an excellent migration feature.
BackupBuddy allows you to schedule your backups on a daily, weekly or monthly basis, depending on your needs. After that, everything is automatically stored in an off-site location, such as BackupBuddy Stash, Amazon S3, Google drive, Dropbox etc. Again, the choice of location is yours, but we recommend using the Stash, in which case you'll get real-time backup ability.
This plugin also has some excellent developer features, including serialized data, database mass text replacement and WordPress CRON management.
BackUp buddy is not a subscription-based plugin. This means you pay a one-time fee (there are three plans available) and you're good to go. Depending on the plan you pick, you can backup one, ten or unlimited sites, have up to one year of free updates and ticketed support as well as access to the BackupBuddy Stash storage space. Plans range from $80 to $199.
UpdraftPlus is a plugin that currently has over 2 million installations, which makes it the most popular free WordPress backup plugin. It's also one of the top-rated, highest-ranking plugins of this kind. Let's see why.
First of all, UpdraftPlus backs up your entire site and stores it in a remote location. Speaking of storage, this plugin has more cloud storage options than any other plugin of this kind. These include Dropbox, Google Drive, Amazon S3 (or compatible), Rackspace Cloud UpdraftVault, DreamObjects, FTP, Openstack Swift and, of course, email. The paid version also backs up to Microsoft Azure, Microsoft OneDrive, Backblaze B2, Google Cloud Storage, SFTP, SCP, and WebDAV.
In addition to performing automatic and scheduled updates, UpdraftPlus also allows you to quickly restore your website directly from your admin panel.
Another advantage of this plugin is that it is remarkably fast, using up fewer server resources.
The free version of UpdraftPlus works just fine for most users. Still, in case you decide you need more, the plugin also comes in a premium version. If you opt for one of four plans, ranging from $75 to $195, you can count on more storage locations, incremental backups, cloning and migration features, multi-site and multi-network compatibility, advanced reporting, WP-CLI support and dedicated customer support by experts.
The developers of BlogVault insist that theirs is more than just a plugin – it's a service (SaaS). This means you can count on more support and better overall quality than what you normally get with "just" a plugin. Technically, of course, BlogVault is still a plugin, meaning you can easily add it to your WordPress site and manage it from your dashboard.
BlogVault offers incremental backups that don't overload the server, as well as free off-site storage. It backs up your entire database plus all your pages and posts, comments, plugins, all your widgets, theme, plugin and WordPress settings, core files, media library uploads, categories and tags, even the custom post types.
In addition to daily scheduled backups with the plugin performs on its own, you can also perform on-demand backups any time you want or feel the need.
As we mentioned, the backups are incremental, which means that only the incremental changes are synced, guaranteeing minimum server load and optimal site performance.
The backup archive is stored for 90 days, so you can use it to quickly recover your data in case of any incident, breach or loss.
In addition to backup and recovery solutions, BlogVault also offers one-click staging site deployment, fast and flawless site migration and real-time WooCommerce backups.
BlogVault has 4-tier pricing plans for Personal, Small Business, Agency and Developer users. The cheapest solution costs $89 per year and the most advanced one is $1499 per year.
Just as its name suggests, Duplicator primarily a website migration plugin but it also includes backup features. It is a free plugin, which makes it ideal for users who are looking for a budget-friendly solution that will keep their site content and files safe in case of any mishap. Note, however, that, as a backup solution, Duplicator offers rather basic features.
For instance, there are no automatic scheduled backups with this plugin, at least not with the free version. You have to perform manual backups, which is not necessarily a bad thing, since manual backups give you complete control over what you want to back up, and when.
The way Duplicator works is by creating a bundle, called "package," consisting of all of your content, database, themes, plugins and other files. It turns all this into a single file that you can use to easily migrate your WordPress site.
The paid version, Duplicator Pro, costs from $59 to $359 per year. With this premium version, you get scheduled automated backups of your entire website, with cloud storage at the location of your choice (Dropbox, Google Drive, Amazon S3, Microsoft OneDrive and FTP/SFTP. You also get email notifications and professional support for all your backup-related issues.
BackWPup is a free WordPress backup plugin that won a spot on this list for its extreme ease of use, and also for the fact it packs a lot of features for a free plugin.
With BackWPup, you can create backups in zip, tar and tar.gz formats and store them at a remote location, such as Dropbox, Amazon S3, Microsoft Azure, RackSpaceCloud or SugarSync. You can also choose to store backup at a FTP server, and, of course, on your own computer.
In addition to database backup, BackWPup also takes care of database optimization, check and repair. Logs and backups are sent by email, making it easy to keep track of them. Network admins also get multi-site support.
While BackWPup works great as a free plugin, we have to be completely honest here and say that there is also a premium version that comes with more features and far better support. For instance, pro users get additional storage options (Amazon Glacier, Google Drive) and can restore backups from the WordPress backend in just a few clicks. You also get encryption for backup archives and site restore from encrypted archives. On top of all that, BackWPup is also available as a standalone app.
The paid version prices range from $69 for the Standard plan to $349 for the Agency plan. All plans include automatic updates for the entire year, as well as premium support for the same period.
As you can see, the choice is really wide when it comes to WordPress backup plugins. There are plenty of other backup plugins on the market but we wholeheartedly recommend these, as we believe they combine all the virtues that a good plugin for backing up WordPress should have. This includes not just the ease of use and the price, but also the number of features, security and overall reliability of these solutions. After all, backups are all about keeping safe from loss, so you definitely want to opt for a high-quality tool for that purpose.
Also, while there are other ways to back up as WordPress site, we believe plugins are the best choice. They are easy to install and set up, and they are usually lightweight.
As for the choice between free and paid versions, that one is ultimately up to you and your budget. Some plugins are excellent as free solutions, but the fact is that in most cases the premium ones do come with slightly more functionalities, and usually with far superior support.
We hope that you found this article to be helpful. If you liked it, please feel free to check out some of these articles as well!