7 WordPress Database Plugins to Keep Your Data Safe
As a WordPress website user you know that the heart of your site is your database. You need to have it clean, organized and well protected. Since the wordpress database keeps growing over time, the process of maintaining it becomes more and more demanding. That is why you will eventually consider optimizing your website database. And WordPress database plugins are just the perfect solution to do it.
These plugins make your data safer as they provide additional back up. They will help you to keep your site alive, healthy and up to date by removing unwanted and corrupted files and documents. You might wonder how to choose the right one since there are so many of them. That's why we came up with this selection of top WP database plugins that will make improving and managing your database a breeze: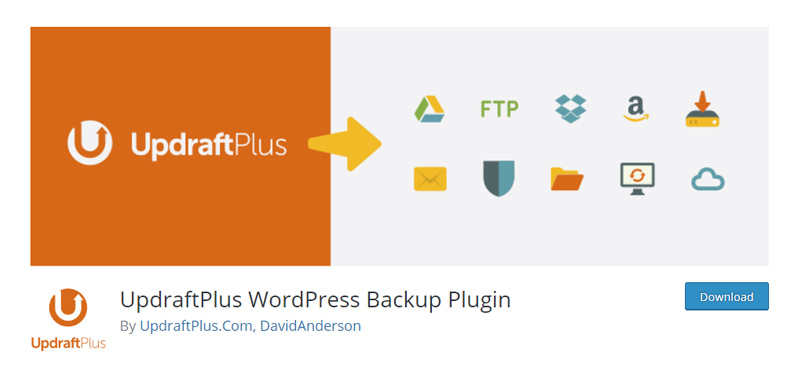 More Info
Considering the fact that Updraft is used by more than two million active users, it is a no brainer to realize it has to be a pretty good backup plugin. What sets it apart from other great plugins out there is that unlike other free backup plugins, UpdraftPlus allows backup and restoration in the free plan. Moreover, it lets you easily backup your entire wordpress website, including the database. It is one thing to install, configure and take a backup of your WordPress site and database and completely another to restore all the data. Most plugins provide you with this option but only in the paid version, while with UpdraftPlus you get it included for free.
The free version also enables you to back up your data directly to Dropbox, Google Drive, Amazon S3 (or compatible), UpdraftVault, Rackspace Cloud, FTP, DreamObjects, Openstack Swift, and email while the paid version offers even more options. You can set automatic backup schedules and save your peace of mind. What's more, it is incredibly easy to set up and use. Plus it is among the fastest ones and it uses fewer server resources. It also provides you with protection from hacking, server crashes and simple user errors.
More Info
If you primarily need a database of customer information, the Participants Database plugin can be just the right choice. Originally created to serve the purpose of an organization which demanded a quick solution for building a database of voters, supporters, and volunteers, it soon outgrew its initial intention and found its way to meet the needs of various other businesses.
One of the reasons behind its popularity is the fact that it is fully configurable, meaning you can determine all the fields of information you want to store. This will make it much easier to analyze your data and notice the most important details about your customers and their transactions.
The shortcode for the sign up form which comes with the plugin allows you to easily define what kind of data you want to collect from new site visitors/customers. For example, you can ask them to leave only their name and email address in order to avoid complicated sign up procedures. You can always use the email which is automatically sent to them after the sign up, to ask them for more detailed data. The intuitive interface makes it more than user friendly and it is praised a lot for its flexibility.
More Info
VaultPress is a plugin made to protect your site or online store from malicious and harmful intentions, like negative comments and spam, threatening code injections and similar. You can count on this plugin to run security scans on a day to day basis, which makes it a lot easier for you to manage your site. Another great feature of this plugin is that it instantly fixes recognized threats and problems.
It provides you with a full, up to date database backup. Furthermore, you can monitor all the backup activities that this plugin performs in real time, round the clock. And what is also very important is that you can restore backups in just a single click of a button.
Since this plugin is powered by Jetpack you can also enjoy the benefits of backing up every post, comment, media file, revision and dashboard to VaultPress servers.
The plugin is not free but offers three pricing plans and you can easily distinguish the kind of service you need.
More Info
If you have been managing your website for some time now, you probably have a lot of stuff that you actually don't need any longer. And unless you've been extremely vigilant with your database management, it makes sense to clean it up as it is probably full of useless data. That is where Advanced Database Cleaner comes in. It will enable you to clean up and optimize your database, and thus improve your website's speed and performance quickly.
In case you are running a multisite installation, you'll be glad to hear that this tool enables you to clean all your sites from one main site. With Advanced Database Cleaner you will have an insight into what's going on with your database at all times, you can define and customize the kind of files/items that should be deleted automatically and how long the files should be saved until they are deleted.
More Info
WP-DB Manager is a very appreciated, multipurpose database plugin. It is also very easy to use. Apart from providing you with database backup, this plugin offers plenty of other useful features. It allows you to repair and restore your database quickly and without any trouble.
One of the reasons for its popularity is that it enables you to simply access your database from the WordPress dashboard, while the interface is designed in such a way that even a complete beginner can easily manage without getting confused with the plenitude of options.
The plugin also allows you to schedule automatic backups of your database. Thanks to the versatility of its features this tool is very popular among bloggers. With this plugin you will optimize and manage your database like a pro.
More Info
BackWPup is another excellent free WordPress backup plugin that enables you to make complete WordPress backups and store them on the cloud (Dropbox, S3, FTP and many others), or on your computer. Moreover, the process of restoring your site with this tool is fairly simple, you can do it with a single backup .zip file.
The option to set automatic backups is also available in the free version while the premium plan offers more advanced options like the ability to store backups on Google Drive, encrypt backup archives and restore from encrypted backups along with other cool features.
You might find it especially convenient that this plugin has been translated into 11 locales, so there is a fair chance you can get it in your own language.
More Info
With the WP Database Backup plugin you are just one click away from creating and restoring your backups. This easy to configure plugin enables you to store your database on remote location and sort and search backups from a list.
Furthermore, it supports multiple storage destinations and also comes with a detailed documentation that will take you through the whole process with ease. The plugin also allows automatic back up on a set schedule.
It is very convenient to be able to download your backup file directly from the WP dashboard. Another useful feature is that you can send backups and backup reports to any email address.
You should know that the WP Database Backup plugin comes in free and paid price plans, so you can decide depending on how demanding your website is.
All of the database plugins on our list are either free or offer a free version. But price shouldn't be the key factor for your decision about which one you are going to use. It is wiser to carefully analyze what the greatest threats to your site's safety are and what sort of backup will make your life easier. You will eventually realize that the most expensive database backup is the one you never had. However small or big your business is, a well chosen WordPress database plugin can play an important role in the overall performance of your website. Now, you just need to pick the one that meets your needs and enjoy its advantages.
We hope this article was helpful. If you liked it, feel free to check out some of these articles as well!