5 + Best WordPress Directory Plugins for Listings That Count
Web directories are a very popular type of site due to many different reasons. On the one side, they help users find the services or products they need, and on the other, they let service providers and business owners reach their consumers. In terms of monetization, you can turn your web directory into a lucrative endeavor by selling ads and listings to businesses, charging visitors for access to content, etc. There are lots of options to make a profit with this type of website. Just look at Yelp, Angie's List, and similar sites, and think of the massive traffic they generate, and all the possibilities that come with it.
In the past, setting up and running such a website was complicated, to say the least. Using WordPress for that purpose implied investing a considerable amount of money in a variety of plugins that were challenging to understand and run together. Nowadays, you just need to make the right choice of a single plugin, and you can set up a full-fledged WordPress website in a couple of steps. A good idea is to start with a ready-made directory WordPress theme that already includes plenty of useful functionalities, although there's always a plugin that can add even more value to your site.
It's good that many great web directory plugins are free, but that doesn't make your choice any easier. To better handle that much of choice, it would be wise to have answers to some essential questions like:
What kind of payment support and payment collecting features are offered?
Does the plugin have rating and review systems, backend tools for merchants, media support, and bookmarking tools?
What kind of the frontend submission options and backend tools for merchants are included?
Can you add new listings and adjust old ones?
How customizable do you need your plugin to be?
Do you need location-based search modules with maps, and are they included?
To save you some time and help you find the best option for your web directory, we handpicked a list of the best plugins while keeping the above-mentioned considerations in mind:
More Info
The Business Directory Plugin enjoys great customer reviews, mainly because it provides a fully fledged directory at no cost. The basic version includes all the essential directory features like payment acceptance, customizable form fields, and image support. Some of its popular advantages are the above-average image options and a built-in reCAPTCHA tool, which prevents the spam that directories are often exposed to. If you want to have specific additional features like rating, discount codes, google maps, and similar, you can upgrade the main plugin with individual modules. Extensions come at reasonable prices, and if budget is not a challenge for you, the whole package with all the addons for a single site will cost you $199.
Some of the reasons why the Business Directory may be great for you:
Lightweight and user-friendly
Widgets for featured, latest and random listings
Integrates with popular plugins like Yoast SEO, NavXT Breadcrumbs and WP-PageNavi
Full support for recurring payments
Frontend submissions are available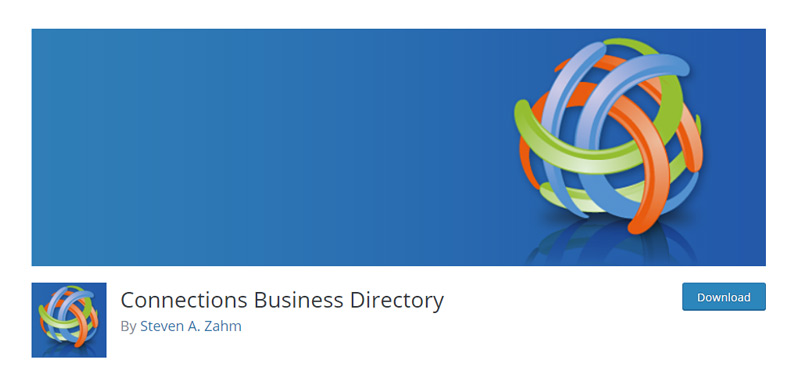 More Info
The Connections Business Directory plugin is a very flexible solution that allows you to create all types of directories ranging from contact books to huge business listing directories. It is made in such a way to be as configurable as possible. It is also compatible with major page builders such as Visual Composer, Elementor, Beaver Builder, and similar. The core version comes with the option to add a toolbar, as well as with the option for sending anniversary, and birthday emails for free, while most of the other addons that you might need come at very affordable prices. Premium extensions offer features like CSV import, widget packs, and more. This tool is very developer-friendly, with open development on Github and access to 180 action hooks and more than 300 filters.
Some of the reasons why the Connections Business Directory may be great for you:
Excellent support for user directories
Custom fields for local time, languages, hobbies, facilities, education levels, and open business hours, etc.
Outstanding developer's support
Repeatable fields for address, phone numbers, email, and similar data
More Info
GeoDirectory is a powerful yet lightweight plugin mostly designed for global business directories. Its database structure is strong enough to support immense traffic and growth, making this plugin a great choice if you are to deal with millions of listings. What's also great about this tool is its compatibility with WordPress Multisite, which enables you to create a network of directories. It will also work well with any WP theme and is compatible with all the major page builders. The free version includes plenty of useful features and a couple of addons like WPML Multilingual and Google analytics, and the prices for premium addons like BuddyPress Integration and Social Importer are budget-friendly.
Some of the reasons why the GeoDirectory may be great for you:
40+ widgets/shortcodes/blocks
100% WPML compatible
13 field types for constructing custom forms
15+ widgets and 12 widget areas
Google Analytics information available for merchants with listings
More Info
Probably the best thing about Advanced Classifieds & Directory Pro is that it includes so many useful features in the free version. The only addon you're really going to need with it is some kind of payment processor like Stripe or PayPal payment, though not necessarily as the plugin allows you to accept offline payments and checks through the mail, for example. What's also great is that it enables you to create an unlimited number of custom fields. You can add all kinds of buttons, input boxes, and similar, and you can also assign categories to listings. Thanks to the advanced search widget that is included, you get options to search by location, keyword, category, and more. You can create literally any kind of directory with it.
Some of the reasons why the Advanced Classifieds & Directory Pro may be great for you:
Email notifications are set for various events
Includes a variety of revenue features for charging users and setting up free plans
Uploading images and videos is supported in all listing pages
Allows for an unlimited number of custom fields
More Info
The Directorist is an intuitive business directory plugin with a beginner-friendly interface. It is ideal for creating powerful business directories or classified websites due to its scalability and ease of use. You can easily customize it to fit your existing website's look with the Elementor page builder and reinforce its functionalities with powerful extensions. Its monetization features are great. Within the free version, you get the featured listing functionality, which enables you to create listings based on a user's purchases and feature them at the top in the listing page. Among the features that are also included with the core version is the built-in SEO functionality that can help you improve your site's ranking. As for the payment options, the free version supports offline payments, while for online payments, it is recommended that you install PayPal payment or Stripe.
Some of the reasons why the Directorist may be great for you:
Unlimited custom fields
CSV BulkImporter included
Advanced filters and powerful search
100% translatable
Clean code
More Info
The versatile Listing, Classified Ads & Business Directory – uListing plugin enables you to create listings for any niche easily. It comes with fully customizable field forms and a drag-and-drop page builder that gives you lots of options to create a good-looking website. A variety of premium-level features like paid listings and advanced search forms are bundled for free, and you have a choice of five optional paid addons. They include uListing compare addon that allows site users to compare different listings, uListing Social Login that enables login and auto-register with popular social media sites like Facebook, Tweeter, and more.
Some of the reasons why the uListing may be great for you:
Integrates with three different map services: Google Maps, MapBox, and OpenStreetMap
Advanced search forms based on many different criteria defined by you
Frontend submission functionality
User-friendly interface
Easy to install and run
More Info
As its name suggests, the Name Directory plugin is an excellent choice if adding name/term directories like glossaries and dictionaries are within your scope. The page output will look like a standard dictionary with a search function included. This free plugin allows you to create multiple directories where every directory has some configuration options that allow you to customize its layout and functionality. You can set the directory to start with a particular letter, select the number of columns, and also translate it. The admin panel comes with some useful AJAX features that ease the process of adding new entries. CSV import and export are also supported, which significantly speeds up the process of setting up your site.
Some of the reasons why the Name Directory may be great for you:
Excellent customer support
Beginner-friendly interface
Supports multiple directories in one WordPress installation
WordPress search compatibility
More Info
If you are aiming towards creating a web directory similar to Yelp and Google Places, the Sabai Directory plugin is one of your best bets. It comes at a price of $29, which is very affordable, considering that you get plenty of advanced features included, with no need to install any additional extensions. Some of its best features include the fully interactive map with hover and click animations with draggable areas, advanced tools like reviews, voting, rating, multi-location support, page flagging, email notifications, media uploads, and more. You can even input a multicriteria rating system, based on user's preferences like quality or price. Custom fields are implemented with a visual editor, which although not as user-friendly as a typical drag-and-drop editor, is still very simple to use.
Some of the reasons why the Sabai Directory may be great for you:
Ability to create paid listings
Customer support for six months
Interactive listing search
16 custom Google map styles to choose from
More Info
LDD Directory Lite is a lightweight and straightforward solution to add fully functional directories to your WP site. If you want a simple tool with not too many features, this plugin might be just what you are looking for. It is based on a shortcode that you simply add to any page or post on your website and the web directory is automatically generated. You can style its look to fit your site's image as it comes with plenty of customization options. The core version is free, and the extensions come at reasonable prices. Among the most attractive free features is its ability to connect to Google Maps and social media websites. The paid extensions include an addon for CSV imports and exports, features for adding a review system, and more.
Some of the reasons why the LDD Directory Lite may be great for you:
Fully customizable email notifications both for the admin and the user
Mobile ready and responsive
Default list sorting options in the dashboard
Clean, fully responsive interface
Strong focus on internationalization
We are sure that you are fully equipped to make a sound choice with this versatile list of web directory plugins. They differ in many aspects. Some are more convenient for business purposes, others for booking sites while some work perfectly for a wide array of niches. After you decide what kind of web directory you need, make sure to check the kind of features that are offered within the free and paid version of each plugin.
We hope this article was helpful. If you liked it, feel free to check out some of these articles as well!