5+ Must-Have WordPress Forum Plugins (Free and Paid)
Online forums or message boards are insanely popular among users of all kinds, levels of knowledge and interests. Just think about it. You have a question about car tires and you stumble upon a large, lively automotive forum that has an entire topic dedicated to your issue. It's just what you've been looking for. Or, you have an idea that you want to share with likeminded people from all corners of the Web. Again, a forum comes to the rescue.
Do You Need a Forum on Your WordPress Website?
In our humble opinion, yes. When it comes to WordPress websites, adding a forum might just be the right solution that will boost your site traffic and send the number of your visitors through the roof. In fact, there are many reasons why you should install a forum on your website:
While reviews are a must for selling products and services, the average review does not reveal all that much about who your audience actually is. Forum content can be more honest.
You can interact with your users. They will be able to ask you questions or make suggestions and you get to learn how to sell better.
A forum can help you fix problems from the inside-out, simply by encouraging your audience to express themselves.
Your customers get to know who you are, and they no longer see you only as a brand. The forum introduces them to the human side of it.
Why Use a WordPress Forum Plugin?
That is all nice and well, however, building a forum is hardly an easy task. In fact, creating one from the scratch usually requires a pretty advanced level of expertise. The first step to make it easier is surely to find a quality forum WP template.
But don't give up just yet – there are tools you can implement that can help you with this. WordPress forum plugins are an ideal solution for WordPress site owners who want to add a little extra flair to their site, to spice things up and get people talking.
The WordPress plugin market is an incredibly fast-growing one. There is a terrific selection of plugins for just about any functionality out there, and forum plugins are no exception.
What's even better is that they have been created in a way that offers not just great ease of use, but also maintains the familiarity with the WordPress environment. This makes them ideal for beginners and those who would otherwise be completely unable to create a forum from the ground up.
Let's take a look at some of the best WordPress forum plugins available at the moment.
More Info
bbPress is one of the oldest and definitely the most popular WordPress forum plugins. One of the reasons for its popularity lies if the fact it's so unpretentious. It's lightweight and simple, and yet has all the functionalities you could need from a forum plugin.
This plugin has been developed following the WordPress coding standards and based on the same core as the platform itself.
Being one of the simplest plugins of its kind, bbPress won't slow down your website. In addition, it integrates with most WordPress themes.
Some might say this plugin could be packing more features, but this is actually a good thing. This, along with the "Code is Poetry" principle, is what makes this plugin so fast and light. Besides, the features it does offer pretty much represent everything you could ever need for a decent, functional and reliable forum.
bbPress comes with a simple setup process and step-by-step installation. It also offers multiple customizable templates. Your forum can look just the way you want it. Full built-in Akismet support is a worthy ally in your fight against spammers. The multisite content allows you to divide your forum into multiple forums and your users get to create their own content.
Finally, this WordPress forum plugin is extremely extensible. There are extensions or plugins for just about anything, making you feel silly for ever complaining about needing more features.
More Info
BuddyPress is an online community tool that may not be a classic forum plugin per se but it is definitely in the same vein. Plus, depending on your needs, you may not even need a classic forum but more of a social network, and that's precisely what you're getting with BuddyPress.
Ideal for campuses, student communities, niche interest groups, products and services groups, BuddyPress allows users to create profiles, groups and exchange messages. Everything is highly customizable and allows plenty of room for growth.
It is fully integrated with bbPress, and, speaking of bbPress, it should be noted that it was, in fact, developed by the same company.
Much like it's "strictly forum" WordPress plugin, BuddyPress is completely free and open source, and follows the same principles of clean code and high functionality.
One of the things we like about BuddyPress is its adaptability and scalability. You can build a robust online community (or even a proper social network) with tons of features, or you can scale down and let the plugin work with only those features that you've selected as desired and needed.
This plugin comes with vast documentation and users are expected to take an active role in the community, so that the plugin can grow and become even better-documented. There are excellent support forums to consult in case of need. Staying in touch with other developers, contributors and users is encouraged.
More Info
WP Symposium is a WordPress forum plugin that basically adds an out-of-the-box social network to your WordPress website. It may sound too good to be true but WP Symposium really is pretty amazing.
Ideal for clubs, schools, local communities, support sites, gaming or dating sites, WP Symposium allows users to create profiles, add friends, message them, create groups, and other basic functionalities. Custom fields are available for those who want to expand their profiles. There's an Activity page that serves as a wall on which the users' activity is displayed in real time.
This plugin includes a number of shortcodes, among which we'd like to highlight the instant messaging shortcode that allows you to add this functionality to the user's profile or some other page, if needed.
WP Symposium does not include that many features in its core version. It is a free plugin, but if you really want to make the best use of it, your best bet is probably to get the paid (Pro) version. That one comes with extension packs that you're probably going to need once your community starts to grow. For example, private messaging only comes with the paid version. The same goes for profile security, galleries, image and YouTube attachments and so on.
If you want to build your social network in a specific language or in multiple languages, you'll be happy to hear WP Symposium comes with multilingual support and is compatible with the amazing WPML plugin.
More Info
wpForo is a modern, reliable and super-responsive WordPress forum plugin that helps you create beautiful multi-layout bulletin boards. It is highly scalable and can be used for online communities of all sizes, from tiny ones to extremely large communities. The best thing is that its performance will never depend on the size of the community it works with.
With this plugin, you can pick between Extended, Simplified and Question & Answer layouts. Whatever your forum needs are, obviously there'll be a layout to meet your requirements.
Thanks to the Theme API, you can create and install new themes or copy the customized forum theme. Plus, the extensive customization options allow you to style your forum so that it fits your site theme perfectly.
wpForo comes with a modern, informative profile system, a user rating system based on the number of posts, complete with badges and member rating titles.
The developer of this plugin also offers extensions or additional plugins you can use with wpForo, which are both free and paid.
Another noteworthy thing about this WordPress forum plugin is the easy forum hierarchy, with parent-child relationships and an intuitive drag&drop management system. As for moderation tools, the tools are Ajax-powered, rich and easy to use.
Finally, the built-in Usergroup system is powerful and equipped with all due permissions and separate managing options. Let's not forget the subscription and RSS feed options, with double opt-in confirmation function and separate forum and topic RSS2 feeds.
The list goes on and on. When it comes to features, this is probably one of the best, most complete forum plugins out there.
More Info
What users love about this plugin is its ease-of-use. With simple but powerful content management system, anyone can create forum depending on their needs. For starters, Asgaros Forum is SEO-friendly and easy to set up. But, what is more important is that it allows you not only to create unlimited forums, but to organize them into different groups with categories. Unfortunately, this plugin only has a single "theme" which can be tricky if you don't fancy how it looks. But, the good thing is you can customize its fonts and colors. You can also customize a forum's icon (the one you choose from Dashicons), but there is no option for uploading your own icons. Another thing you should have in mind when considering this plugin is its set of community-building features. Besides user profiles and their signatures, this plugin is equipped with a public activity feed that is perfectly suitable for building online community. There is also report option that lets users flag posts for moderation. But what Asgaros Forum misses is support for private messages.
Finally, Asgaros Forum allows you to place ads on your forum, thanks to practical advertising feature. With it, you can add HTML ads at certain locations.
More Info
If you want an easy way to add a forum to your WordPress site, go with Discussion Board plugin. First of all, it has practical one-click setup. In a few clicks, you can create a log in page, a form for posting new topics, and a page where users can see existing topics. Secondly, this plugin allows you to update colors and choose one of three forum layouts. What is great about this plugin is forum visibility functionality. Thanks to it you can control who can view your forum.
Additionally, you can even specify the users' roles. This means that users will be assigned particular roles when they register. Furthermore, you can determine that only users with specific roles can view some topics or post comments. Discussion board is great for option if you want to limit spam registrations since you can require email verification for registration activating.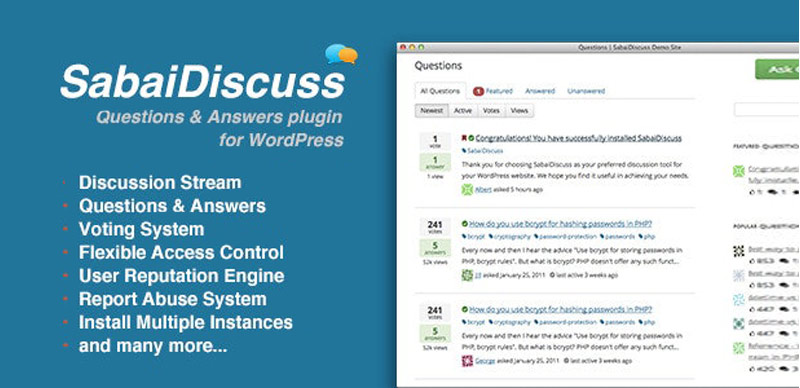 More Info
Sabai Discuss plugin for WordPress is one of the best options for creating websites based on asking and answering questions. It's fully responsive, designed in a clean manner and feature-rich.
Basically, this plugin allows users not only to post both questions and answers but to post and edit comments as well. Included with it are versatile community management functionalities. For instance, users can filter, favorite or flag questions, answers, and comments with ease. There is also a practical auto-suggestion feature ideal for searching older question/answers since it allows users to use keywords and categories in order to find the info they need.
Another great feature included with this plugin is user reputation system. By filtering out the best forum's contributors, the system gives special credit to them. In addition, you can manage content privacy, depending on your needs. This means you can restrict certain users from seeing some content type.
In the end, Sabai Discuss plugin for WordPress gives you the freedom to customize questions or to create custom fields in the Question/Answer form.
More Info
As its name suggests, Simple Forum is a simple, yet powerful tool for enabling discussions on your website. Like the plugins we already mentioned, this plugin has responsive design and a large set of features. From forum search option, post search via categories, and private messages to user registration and password reset options. But the list of amazing options doesn't end here.
Simple forum plugin offers 8 color styles and 4 advertisement positions. This guarantees better visibility of your ads. But what makes this plugin an ultimate solution for any forum type is its flexibility. Start by choosing a forum mode – go with Public to allow everyone to access your forum's content or decide for Private mode where only registered members can see posts.
Included with this plugin also are 3 user roles – admin, moderator, member. But, this isn't the only user-friendly option. This plugin allows users to login with Facebook, Google and 8 other accounts. Plus, users will know if some members have birthdays since there are lists of everyone born the same day.
Last but not least – forum statistics. With this practical feature, you can follow the statistics including the number of visitors, replies, comments or forum members.
More Info
When it comes to the number of features, Simple: Press plugin is an absolute rock star. It not only lets you create unlimited forums, but helps you do it with complete ease as well. Firstly, organize your forums in separate forum groups, and start customizing it as per your needs. Simple: Press plugin allows you to choose one of 14 ready-made theme styles, upload custom icon or add featured images. Additionally, you can control which forum members can access specific forums or topics. But where this plugin really shines is a set of community management features. Forum users can not only send private messages, but they also have an option to tag each other in posts. Included with the plugin is "Report to Admin" feature that allows users to flag posts that should be moderated by admins.
Another advantage of this plugin is the option for including footer summaries into user's profiles. Online members, new members and birthdays can be shown here.
Finally, Simple: Press is equipped with CAPTCHA integration that is great for decreasing spam posts. Other than this, this plugin supports a Remove Spam Registrations add-on that lets clear out spam users from time to time.
Which WordPress Forum Plugin to Pick?
You can't really go wrong with any of these plugins, but that's not to say that each of them would serve the purpose you have in mind equally well. BuddyPress and WP Symposium are perfect for creating social networks. wpForo is ideal for those looking for a modern solution and DW Question & Answer should be your top pick for a Q&A site. Finally, if you're on the budget, then bbPress is the right solution for you.
We tried (and, hopefully, succeeded) to provide you with the absolute best plugins in terms of functionalities, tools, features and robustness. We also tried to only include those plugins that won't cause a strain on your site performance. However, if you want to go one step further, you can also check community plugins since they cover many community membership options, as well.
Whichever of these WordPress plugins you end up using, we're sure you'll be in good hands. Start building your community now, and good luck!
We hope this article was helpful. If you liked it, feel free to check out some of these articles as well!