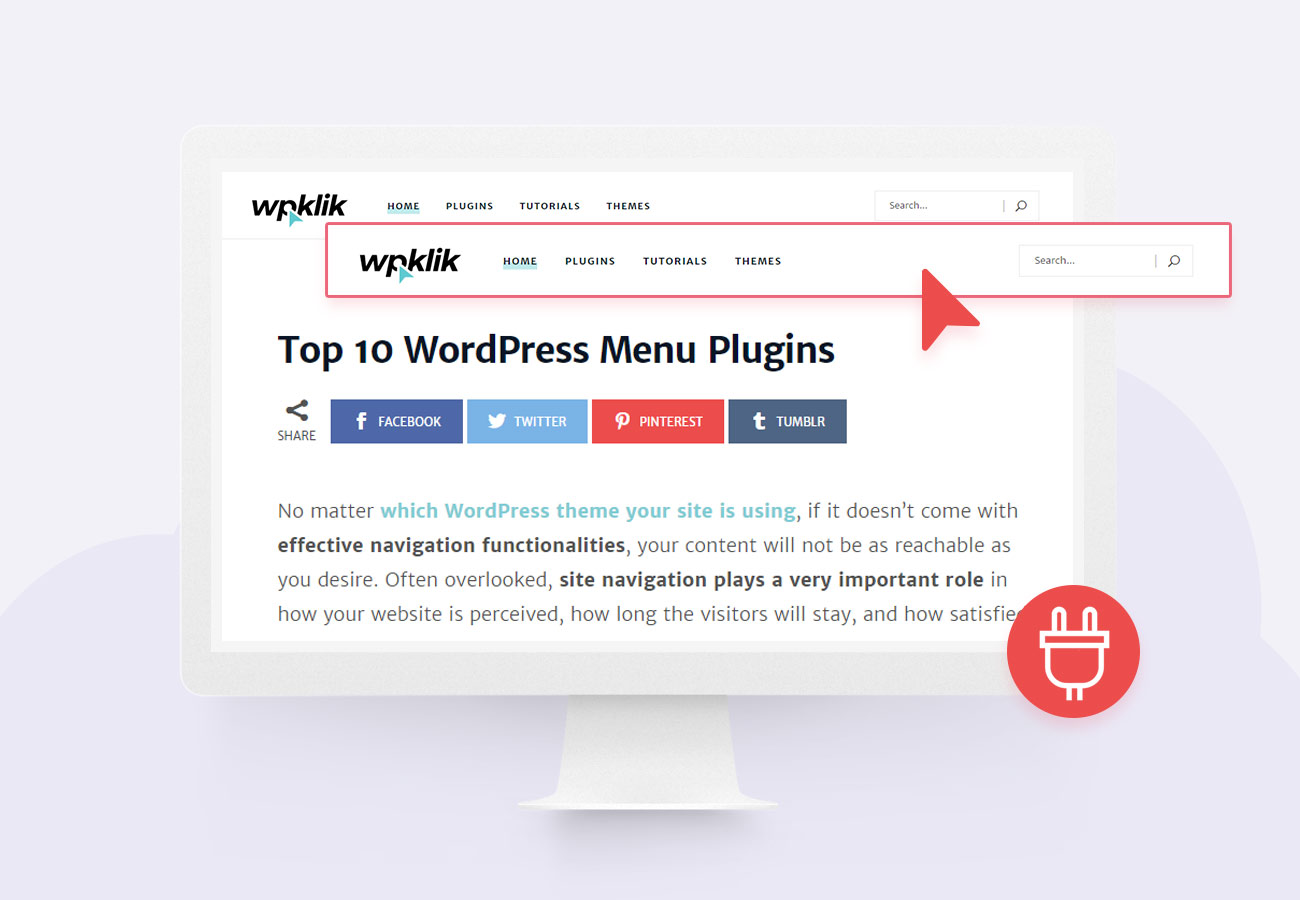 Top 10+ WordPress Menu Plugins to Optimize Your Menus
No matter which WordPress theme your site is using, if it doesn't come with effective navigation functionalities, your content will not be as reachable as you desire. Often overlooked, site navigation plays a very important role in how your website is perceived, how long the visitors will stay, and how satisfied they will be with their site experience. If it takes them too much time to find what they came for to your website in the first place, the chances are they will give up and probably not visit it again. Attractive, strategically placed menus with well-structured content are more than a big plus, they are an absolute necessity for any type of website. That is exactly why there are so many WordPress menu plugins out there, so you don't have to compromise between functionality and design when deciding for a certain theme.
Since the choice is wide and overwhelming, picking the right WP menu plugin for your website is not as simple as it might seem at first. With that in mind, we created this list of the best menu plugins that are bundled with awesome features:
More Info
If you are a fan of Elementor, you will enjoy building mega menus using the Stratum Mega Menu addon by MotoPress. It allows you to build responsive and content-rich menus using any Elementor widget. The addon features vivid content & styling settings, e.g. extra elements to your top-menu items (icons, tags, badges) and advanced typography & color options. Overall, Stratum lets you experiment with borders, apply backgrounds, make hovers, and add multiple animation effects for a smoother menu appearance. Users can choose between a vertical or horizontal menu layout of their Elementor mega menu, as well as edit the menu looks in a responsive mode (hamburger toggle).
Some of the great features that the Stratum Mega Menu for Elementor includes:
Based on Elementor (pleasant visual customization)
Suitable for all types of websites (e-stores, blogs, online news websites, etc)
Supports ANY content type (widget) in submenus
Advanced styling options for each element
Horizontal & vertical & hamburger (mobile) layouts
Multiple animation effects
More Info
Max Mega Menu is a WordPress menu plugin that makes navigation through your website smooth and elegant thanks to its theme editor with plenty of customization options such as options to modify the text, colors, and other aspects of your menu appearance. It automatically converts your existing menus into a well structured mega menu. It also allows you to add icons to menu items, display WordPress widgets in the menu, and thus make it more functional for your visitors. It is simple to use thanks to its drag-and-drop builder and provides a lot of control over the functionalities and looks of your menu. It includes built-in settings for changing the menu behavior. Thanks to its Grid Layout you can easily organize your submenus into columns and rows. On top of it all, it is completely free.
Some of the great features that the Max Mega Menu includes:
Builds upon the standard WordPress menu system
Supports multiple menu locations each with their own configuration
Hover, hover intent or click event to open sub-menus
Fade, fade up, slide up or slide sub-menu transitions
Menu item options including hide text, disable link, hide on mobile etc
More Info
The WP Mega Menu plugin is popular mainly for two reasons: it allows you both to design custom navigation areas to your site and add more menu styles. It is bundled with 14 menu styles and formats allowing for a lot of creativity from your side. It enables you to create horizontal and vertical menus in line with your preferences, with many variations included, such as hover and flyout effects. Another great advantage of this plugin is that it allows you to create drop-down, custom tabbed mega menus which you can use to display rich media such as product images, text and link icons that lead to specified sales pages, contact forms, and similar content and thus boost your conversion rates.
Some of the great features that the WP Mega Menu includes:
Widgets in menu
Multiple themes/skins option
Social icons
Search bar in menu
Responsive support
More Info
The WP Mobile Menu is a plugin that is designed for the purpose of creating highly functional mobile responsive menus for your website. It allows you to create multi-level menus with widget areas, a background image, logo and text branding, as well as many more attractive features. The free version has all that it takes for creating an amazing menu that looks perfect on any mobile device while the premium version comes with a wide array of icons and more advanced features such as animated icons and 5th depth menu levels.
Some of the great features that the WP Mobile Menu includes:
Display type – slideout over content, slideout push content
3rd depth menu level
Overlay mask when the menu is opened
Naked header
Customization options for the styling of your mobile menus
More Info
The most distinct advantage of the Responsive Menu plugin is that it allows you to create menus whose style seamlessly blends with your WordPress theme, as it offers 150 settings and 22, 500 setting variations. It allows you to set an image as a menu background, customize fonts, colors, text sizes, and control a lot of the appearance and functionality aspects of your menus. You can choose between horizontal and vertical menus, enable menu animations, and a lot more while being totally sure they will work and look perfect on all mobile devices. Plus, this is another free plugin.
Some of the great features that the Responsive Menu includes:
Animation types & speeds for the menu & button
Integrated search (fully customizable)
Choose the menu fly-out direction
Control how your menus adapt to different screen sizes
Add custom HTML components
More Info
The WordPress Mega Menu is another excellent, free plugin for creating responsive mega menus. It comes with the option to show/hide defined menu items depending on the visitor's device. It also provides a good user experience for touch screens too. It is simple to use thanks to its drag and drop interface while offering pretty cool features such as horizontal and vertical menu layouts, off-canvas menus, sticky menus, and more. The fact that it enables you to see the live preview of your menu as you make the style changs makes it great even for total beginners. The free version lets you include any WordPress widget, cart, and icons, while in the premium version of the plugin you can also have tabs, social icons, carousel menus, and more.
Some of the great features that the WordPress Mega Menu includes:
One-click integrations with popular themes
Automatic and manual menu integration
Unlimited menu themes
Customizable breakpoint for menu collapse
Dropdown animations
More Info
The WP Responsive Menu is a great menu plugin targeted at mobile users. Its specialty is building sliding mobile menus. The desktop users will experience the menus you create with a full list of options while for mobile users you can set up mobile-friendly menu versions without the unnecessary elements. The plugin allows you to configure the menus to slide out from left, right, or top, and you can specify menu width in pixels or percentages of the screen size. As for the customization options, you can change all colors and menu text, incorporate search function, and a lot more. And on top of it, this plugin is free.
Some of the great features that the WP Responsive Menu includes:
Easy setup
Option to change menu icon animation to match your site
Add your logo to the menu bar and easily specify a link to it
Two different display options to match your taste
More Info
The Hero Menu is very popular mainly for its user-friendly interface and awesome mega menu functionalities. It allows you to add background images to your mega menu dropdown areas, add featured images from the blog posts with links, add small and large images and organize all the elements into multiple columns and drop-down menus. Among the useful elements that you can also add to your menus are contact forms, Google maps, various icons and symbols and a lot more. It is easy to use thanks to its drag and drop builder and though not free, comes at a very affordable price of $20.
Some of the great features that the Hero Menu includes:
60+ color presets
Ability to create your own custom palettes for your navigation areas
Full responsiveness
Plenty of customization options
More than 650 Google fonts available
More Info
The Superfly Responsive Menu is a versatile menu plugin that you can use to improve your main menu or as standalone navigation. Its user-friendly interface can work both on click or on mouseover, depending on how you configure it. Its vertical menu system allows you to enhance navigation through your website without wasting site space. You can create multiple level menus, display contact form in the menu area and a lot of interesting menu layouts are at your disposal. If you are in for a modern look, you'll love the Superfly's vertical menu as it is very popular nowadays. If you choose the full-screen menu, it will cover the entire page with navigation links, and if you want something really different – the skewed layout that shows the menu in a different angle might be for you. This plugin isn't free but comes at a very popular price of $29.
Some of the great features that the WordPress Menu Plugin includes:
Rich elements (widgets, custom HTML and shortcodes)
Multiple appearance behaviors
Multiple menu types
Smooth scroll
Icon Library
More Info
Groovey Mega Menu is very comfortable for usage as not only is it compatible with any WP theme, but it also integrates perfectly with WPBakery Page Builder, Elementor, Divi builder, and other popular pages builders. It allows you to add shortcodes and widgets to your menus and make your mega menu more efficient and functional thus providing for a better UX experience.g. Plenty of customization options in terms of color, background displays and icons paired with a library of presets enable you to quickly set up the design that works best with your theme. You can choose to make your navigation as a vertical panel fixed to the side of your page or as a sticky, always-on element and customize it to your needs. This is another paid but affordable plugin that comes at a price of $39.
Some of the great features that the Groovy Mega Menu includes:
Ajax search ready
Vertical navigation and horizontal navigation
WooCommerce mega menu
Mobile responsive
More Info
The UberMenu plugin is ambitiously created to be the best WP menu plugin and it definitely comes close. It includes a variety of pre-built menus and offers plenty of useful functionalities. You can add flyout menus, drop down image menus, mega menus, and tabbed menus easily. One of its most popular features is the ability to add dynamic menus which offer more than static links. Once you set up the dynamic menu, the plugin updates it in line with your settings, which is very useful for bloggers who, for example, want the latest posts to always be included in the menu. Furthermore, every menu that you create with UberMenu is mobile responsive and will look good on all devices.
Some of the great features that the UberMenu includes:
Drop-down navigation areas that display images with text
Ability to set your own custom breakpoints
UberMenu widget
All of these plugins offer you plenty of cool options to create and optimize your website's menus. Whether you'll go for catchy animations or content-rich mega menus is up to you, your website's aesthetics and business needs, but one thing is certain – each of these plugins can profoundly change the way your visitors access and react to your content.
We hope this article was helpful. If you liked it, feel free to check out some of these articles as well!