5+ WordPress Read More Plugins Any Blogger Needs
Once reserved for enthusiasts, blogging is nowadays a mainstream marketing skill. Not only does it improve Google ranking, but also it has the power to generate revenue. It's not surprising the number of blogs grows from day today. In almost every marketing department, we can now see talented content creators, specialized in a certain niche. With all this in mind, it's obvious that the blog deserves a special place on your website, no matter what business field you cover. On the other hand, if you want to focus on blogging only, having a professional blog is essential.
Start by choosing your unique blog name. If you lack inspiration, try advanced blog name generators. Next, decide on your design direction and blog style. Before you create WordPress blog post, don't forget to allow the reader's comments and to add estimated reading time. But, if you want to go one step further and offer an amazing reading experience, provide your readers with a short summary of your longer articles. With read more option, you can easily inform your readers that best is yet to come. Thanks to easy-to-use WordPress read more plugins, you can easily activate and customize this feature. Below, we took a closer look at some of the best WordPress read more plugins on the market.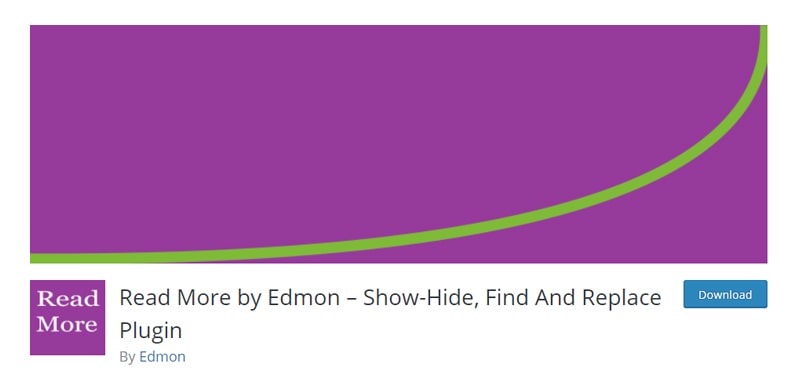 More Info
As a blogger, you already know that first-class content comes first. You also know that user experience comes second. If you want to keep your standards high, don't forget to include read more features into your posts. With Read More by Edmon plugin, you can do it easily, even if you don't have advanced coding knowledge. On the contrary, it's simple as it gets. Whether you want to show or hide your long content, this tool is all you need. But how does it work? Basically, the part of the page you don't want to be seen immediately will be hidden after you insert it in the shortcode. Of course, it will open after clicking the button. This will allow your readers who are really interested in the text to keep reading. What we like about this WordPress read more plugin is its collection of options. For instance, you can customize everything about your Read more button. From its type, dimensions, and font size to animation effects – everything can be changed with a click. If this is not enough, there is a PRO version, as well. With it, you can change both the color of your button or a background color only. Also, it provides you with a button border-radius for a more professional appearance.
Features that make Read More by Edmon the great WordPress read more plugin:
Button type
Inline Type
Link button type
Link type
Button dimension mode
Font size – button custom font size
Button background color – custom color
More Info
Read More Without Refresh is a good choice if you like constant improvements. As its creators always work on new updates, it may be a tricky choice if you want a finished solution. But if you like to contribute and leave feedback that can truly lead to change, this plugin is for you. The mechanic behind this plugin is simple. Through a shortcode, you can hide the predefined text based on your choice, leaving the remaining one visible to the search engines. What is specific about it is that the page won't reload after people hit the Read more button. Apart from this, you can add this functionality anywhere on your site, starting from pages, posts, widgets, etc. When it comes to customization options, this plugin is a good choice. Change its colors depending on your branding and get a more personalized button.
Features that make Read More Without Refresh the great WordPress read more plugin:
Simple shortcode
Full flexibility
Easy color changes
More Info
Another example of great functionality and a user-friendly approach is WP Show more. Trusted by over 6000 users around the world, this plugin is packed with many amazing options. But if you don't like to experiment with HTML codes, you may want to skip it. In other words, if you want to change the color, fonts, or anything else about your Read more button, you need to do it manually. Although it's super simple, some people want to customize their plugin without using any type of code. WP show more plugin provides you with simple design and technical features and explains how to run it on your WordPress blog. Another thing about this tool is its price. As it only has a free version, you don't have to pay for upgrades and additional features.
Features that make WP show more the great WordPress read more plugin:
6000+ downloads
Easy changes in HTML
It comes for free
Change colors, fonts, etc.
More Info
Auto Limit Posts Reloaded is another plugin that deserves a place on our list of the best WordPress read more plugins. This free, user-friendly plugin will provide you with a toolset for cutting down your posts in Index / Home, Categories, Archive, and Search sections, without providing a "more" tag each time you compose a post. The best part is you can just activate the plugin and use the options without any additional changes. However, if you prefer a more personalized approach, you will be happy to hear that this plugin is extremely easy to adjust. Depending on your blog's type, you can format references to the full text of your post. For instance, you can go with a specific reference text – Read More, Read Full Text, etc. Also, you can predefine colors, letter spacing, type of button's borders, and much more. What is characteristic about this plugin is it cuts a post to an exact number of letters. This is done at the end of a word that is close to that number of letters, or at the end of the first paragraph. This is an amazing option if you want to keep your site in order, clutter-free.
Features that make Auto Limit Posts Reloaded the great WordPress read more plugin:
Different color options
Easy customization
The predefined number of letters is Read more section
More Info
When we talk about the best WordPress read more plugins, we need to mention Read more by Adam Skaat. This plugin is equipped with many practical features. When you want to add Read more functionality to your posts, you probably want to do it fast, secure, and without complications. This plugin exactly does this. With it, you will be able not only to edit the button's height, weight, and font – but also to set the type of animation that will appear after people click Read more. On top of this, you can change the color of the button and its background. What we especially like is a mobile-friendly version of this plugin available with pro or paid packages. If you want your read more button to look great on mobile devices, don't miss out to try this option as well.
Features that make Read More by Adam Skaat the great WordPress read more plugin:
Mobile friendly PRO version
Endless customization options
Ease of use
More Info
The last but not the list – here is Gosign! With this plugin what you see is what you get. Besides the modern, minimalist design, this plugin offers many interesting features bloggers will like. If you equally value content quality and the way it looks, Gosign may pleasantly surprise you. Apart from essential features, each read more plugin covers, this plugin comes with amazing customization options. Make your articles more stylish and eye-catching with the simple, yet powerful Read more button. Choose refined colors, set your preferable fonts and you're ready to go!
Features that make Gosign the great WordPress read more plugin:
Add Text Block
A lot of Styling options for button and text
Animation and Speed configurations
Custom Styling and labels for Read More button
Being a blogger is a dream job for many talented writers. If you dream to share not only high-quality content but also to do it with style, WordPress read more plugins are all you need. Based on your preferences, WordPress knowledge, and blog style, you can choose from our list since it includes some great examples.
We hope this article was helpful. If you liked it, feel free to check out some of these articles as well!