Best 5+ WordPress Recipe Plugins for Food Bloggers
If you are only starting in the food blogging industry, you may be wondering why would anyone need a special plugin or addon in order to publish recipes. After all, all you need to do is write down the ingredients and the instructions, perhaps add a photo of the meal when it's done, and that's it, right? Wrong. There's much more to food blogging than simply publishing your recipes as plain ol' posts.
Food blogging is a highly competitive scene. Your fresh, beginner food blog with no SEO and no predefined recipe formatting is bound to remain buried on page 10 of the SERPs unless you do something about it. And by "something," we mean get one of the excellent WordPress recipe plugins.
Why You Need A Recipe Plugin?
One of the main reasons people use recipe plugins for their food blog is because they come with high-quality recipe templates. These templates arrange your recipes in cards, which is the ideal format for publishing recipes.
Another thing that makes recipe plugins essential for any food blog is the fact they ensure your content is optimized for search engines. Thanks to semantically structured data, microdata and other complicated concepts, recipe plugins for WordPress allow them to display as rich snippets, on top of Google result pages.
Also, these plugins usually have a number of useful features such as the ability to display cooking times, difficulty levels, nutritional information, allergens and so on.
Best WordPress Recipe Plugins
Considering the added value your food blog can enjoy from recipe plugins, we thought it would be a good idea to list some of the currently best plugins for recipes, food blogs and culinary websites. We made sure to include only those plugins that meet the criteria of usefulness, user-friendliness and features. So, here they are, the best WordPress recipe plugins:
More Info
With over 20,000 active installations and both a free and a pro version, WP Recipe Maker is the most widely used recipe plugin for WordPress. With great ease of use and simple setup as its main virtues, it's no wonder this plugin is so popular among food bloggers.
WP Recipe Maker allows you to add recipes to any of your pages or posts within seconds, using customizable templates. More importantly, the plugin automatically adds JSON-LD metadata to your recipes. Using Google's preferred metadata format, WP Recipe Maker helps you optimize your recipes for search engines, showing them as rich snippets and rich cards. These features do wonders for traffic and the best thing is that it's all taken care of automatically – you don't have to do a thing!
Of course, if you want, you can also turn metadata off, in case you want to publish something other than food recipes.
Considering how popular food recipes are on Pinterest, you'll be glad to hear this plugin is compatible with the platform's Rich Pins, with an easy opt-out setting.
Furthermore, WP Recipe Maker comes with a recipe fallback system. This means that if, for some reason, you decide to turn the plugin off, your recipes will not disappear from your site. Instead, they will be fully available, albeit in a slightly different form.
Recipes include useful information, such as prep and cooking time, ingredients list, number of servings, course and cuisine the recipe belongs to, and more.
Other noteworthy features include comment ratings, Google AMP compatibility, printable recipes, template editor and recipe roundup metadata. On top of all that, with the free version of WP Recipe Maker you get four recipe templates and two snippet templates.
As for the paid version of the plugin, it comes with nutrition labels, adjustable servings, kitchen timer, taxonomies, ingredient links and premium templates.
Finally, if you've already switched to Gutenberg, WP Recipe Maker includes seven custom recipe blocks for the new editor.
More Info
EasyRecipe is one of those no-fuss, easy to use WordPress recipe plugins that have been developed with absolute beginners in mind. As long as you know your way around WordPress admin and can tweak a thing or two here and there, working with EasyRecipe should be a piece of cake.
The basic purpose of this plugin is to allow you to quickly add recipes to your WordPress website. After you install EasyRecipe, a brand new button will appear in your page or post editor. Clicking on the button opens a menu in which you get to add all the recipe information, ingredients, instructions, prep and cooking time, yield, nutritional info, notes and, of course, a picture of your meal. All you need to do is type in the text and the plugin will take care of the rest, generating a neatly arranged recipe that your users can like, share and print.
Recipes can be customized using the handy Live Formatting feature. You can change anything from colors and spacing to borders, fonts and more. This excellent tool instantly displays all the changes you make so you can go back and forth and experiment until you find the style that works perfectly for you. In addition, the plugin offers a couple of nicely designed templates to choose from.
Another aspect in which EasyRecipe proves to be tremendously helpful is your microdata. In 2011, Google launched the Recipe View with the idea of helping users search and find recipes with more ease. But, unless you're working with a plugin optimized for this purpose, you have to set this data all by yourself, which can be both difficult and time-consuming. EasyRecipe does all this for you, so you can focus all your attention on creating stunning dishes and sharing your culinary knowledge.
In addition, if your blog already has a number of plain text recipes, you can easily convert them to the new format using EasyRecipe. Plus, you can also convert recipes made with other WordPress recipe plugins, such as ZipList, RecipeSEO, GetMeCooking or Recipe Card.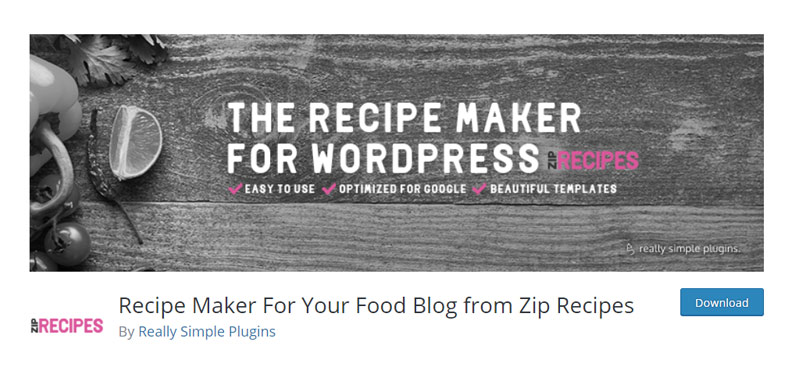 More Info
The folks over at Zip Recipes understand very well that what every flood blogger needs is visibility. That's precisely where they directed most of the efforts in developing one of the top WordPress recipe plugins around.
The purpose of Recipe Cards plugin is not only to help you with publishing your recipes on your food blog, but also to help you improve your SEO, reach more people and grow your reader base. It does so my adding a schema.org markup using JSON-LD. Your recipes are displayed to Google as rich recipe formats, and that's something the mighty search engine really likes. You get a higher ranking and more people flock to your food blog.
In addition, Zip Recipes helps you get more readers from Pinterest, and you know people on that platform are crazy about recipes. Your content will be displayed as Rich Recipe Pins, known for their high click rate.
Plugin options allow you to set everything the way you see most fit for your blog, from which labels you want to show to how you want the recipe card to look and feel.
As for publishing your recipes, it really is as easy as it gets. Add a new post and edit it with the help of the Zip Recipes button located in your editor's top bar. You'll get a simple template for entering your recipe, with additional options like category, cuisine, prep and cooking time, serving size, nutritional information and more. Your recipe will look professional, easy to follow and delicious. More importantly, you'll be able to display all the information people usually look for first in a recipe: how long does it take to cook a specific dish, which ingredients it requires, are there any allergens, how many people it can feed, and so on. This information is displayed very clearly with Zip Recipes.
If you opt for Zip Recipes, your food blog will look great on all devices, regardless of the screen size. Plus, all the recipes are available in printed form, which is important since many people prefer following the instructions the old school way.
More Info
Cooked is a plugin that has become popular over the recent years thanks to an excellent user interface, rich out-of-the-box features and great support.
What sets Cooked apart from other WordPress recipe plugins is the fact it features a drag and drop recipe builder. All you need to do is adjust a few settings and preferences, drag and drop your ingredients and directions, add mouth-watering images, perhaps some nutrition facts, cooking times, difficulty levels and you're good to go.
Much like the previously discussed plugins, Cooked also takes care of the SEO for you. Not only does it include the schema.org microdata in the recipes it creates, but it also uses Google Structured Data, making sure the world's largest search engine picks up your recipes and puts them high up on SERPs. Not just that – it also makes sure your recipes are displayed correctly across all platforms and device sizes.
As we already mentioned, Cooked is a feature-rich plugin that doesn't require you to pay for a pro version in order to enjoy its full set of functionalities. On the contrary, the features that come out of the box should be more than enough even for more serious food bloggers.
With the free version, you get everything mentioned above plus gorgeous grid-based masonry lists, galleries and a powerful integrated recipe search with sorting options and categories.
This recipe plugin also has author templates that allow you to list all recipes by a single author. You also get to display different difficulty levels for each of your dishes, which is definitely a handy feature.
Another feature that usually comes only with the paid version is the clickable, interactive timer.
Finally, Cooked is a very developer-friendly plugin, with tons of hooks and filters for customizing the plugin just the way you want.
More Info
Developers of Meal Planner Pro Recipes understand the importance of keeping up with the ever-changing consumer demands. They realize that these days, consumers are extremely interested in the nutritional value of a meal. Because of this, they teamed up with ESHA Research, a company offering nutritional software, tools and databases.
Recipes containing nutritional info tend to rank higher on SERPs and this plugin helps you display it in a clear and striking manner. However, if you don't want to display nutritional facts, perhaps because your recipe is for a decadent trans fat-laden sugary feast, you can easily opt out by changing the plugin settings.
With this plugin, your recipes will be automatically marked up for Google Recipe View with rich snippets, as well as for Pinterest Rich Pins. All this, combined with the functional tag system, ensures high ranking in search results.
In addition to being extremely SEO-friendly, Meal Planner Pro Recipes packs a number of excellent free features. For instance, thanks to the recipe image support, you can add high-quality images that will appear both in your posts and in your featured snippets. The image can also be hidden or included in the printable version of the recipe, depending on your preferences.
Speaking of printing, Meal Planner Pro Recipes offers more options in this department, compared to other recipe plugins. For example, you can add a copyright statement or a permalink to the bottom of the printed recipe.
One of the features that this plugin boasts and the others don't is the ability to add links to ingredients or instructions. You can attach your affiliate links and links to related recipes inside the Summary, Instructions and Ingredients fields with great ease. You can even add images to each of the steps in the instructions, providing your readers with even more guidance.
The handy Notes field allows you to provide additional information, such as optional or alternative ingredients, quick tips, the required kitchen tools and so on.
Another great thing about this plugin is that it keeps growing. Developers are constantly adding new functionalities so now it comes with the recipe save button, recipe box and even a handy shopping list.
More Info
If you looking for the ultimate plugin for sharing your recipes, WP Ultimate Recipe is a perfect choice. Compatible with both the Gutenberg and Classic Editor, this plugin allows you to share the recipes like real cooking professional. Start by adding recipes to any of your posts and pages. Furthermore, add photos to illustrate every step of the preparation process or to show the final cooking result. WP Ultimate Recipe also allows you to insert or embed a recipe video which is a great way to demonstrate the meal preparation.
Additionally, you can display your ingredients and instructions separately, or organize them in groups. Add preparation time or cuisine type so users can easily find what they need. You can, as well, allow your readers to rate your recipes or share them via social networks. As people enter the number of servings the list of ingredients will be modified, so they can buy the exact amount of ingredients they need for that, specific dish. Another great option is enabling Pinterest pins for your recipes. But, this is not all. Your readers may not only enjoy your recipes, but submit their own as well. In a case they want to have the recipe in print form, they can easily print it with just one click.
WP Ultimate Recipe is easy to customize, SEO and mobile friendly, so you can share your lovely recipes with the world like a real cuisine chief. And if for some reason, you need more options, there is a premium version as well.
More Info
There is a reason why cooking enthusiasts love Recipes by Simmer plugin. This elegant plugin is made to help you input your recipes easily with all the important details readers may look for. For example, you bulk-add ingredients and instructions for meal preparation as copy/pasted block of text. Organize your recipes in separate steps, add expected preparation time or cooking time, and don't forget to define the number of servings. Moreover, you can display your most recent, or the most popular recipes in your sidebar, so they are visible to everyone. Plus, you can include social sharing buttons so readers can share their favorite recipes with just a click.
By adding the author's box, present yourself and share interesting facts from your bio. This is how you can start building your own personal brand or assure your old followers they're in the right place.
Additionally, Simmer is SEO ready and made with mobiles in mind, so you can be assured your recipes are visible across a variety of devices and platforms. In the end, have in mind that this plugin is Gutenberg compatible which is especially important if you plan to start your food blog in the future.
More Info
Based on the concept of blocks, WordPress Gutenberg brings some exciting, new possibilities. With Recipe Card Blocks by WPZOOM, adding beautiful blocks to the Gutenberg Editor is easy as it gets. This plugin includes the following practical blocks: Recipe Card (with Schema Markup), Recipe Details, Ingredients, Directions, Jump to recipe and Print recipe. Organize your recipes with care and surprise your website's visitors with content that is visually appealing in every way. Recipe Card Blocks plugin allows you to share ingredients, preparation directions and additional details about every dish in a stylish manner. There is also a new bulk add feature you can use to add ingredients and preparation directions by inserting more entries at once. This will save you time, which is especially important if you publish your posts frequently.
Another great option is Print Recipe. It's perfectly suitable for those who prefer old school printed content. You can as well include social sharing buttons which can be a great way to reach more, new readers.
This plugin allows you to add images so select them with care as they are an important element of every food blog. Don't forget to add additional notes about your recipes or to share your short bio. It's simple with Recipe Card Blocks by WPZOOM plugin.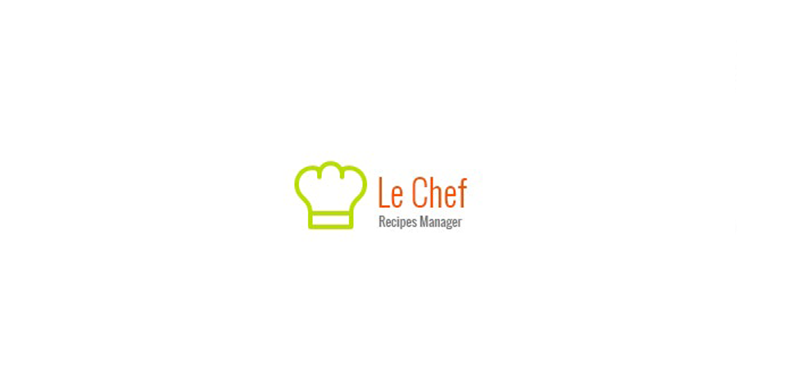 More Info
This plugin is every chef's dream. From beautiful design to practical features, Le Chef covers all one cooking beginner or professional may need. It allows you not only to share ingredients and preparation steps but also to add and manage cooking time, nutritional facts and difficulty. You can also add like number for each recipe with display counter, so your readers can see which recipes are liked by others. This plugin brings some amazing options for registered users too. For example, Favorite recipes module allows each registered user to create groups of their favorite recipes.
There is also Chef dashboard module that gives registered users a chance to manage their own recipes. But, what we like the most about this plugin is its super-fast filter. With it, readers can filter the listed recipes based on nutritional facts amount, keyword, preparation time, difficulty, recipe type, etc. Furthermore, another amazing feature is Grocery list. You can assign WooCommerce products used in recipes, so if someone wants to prepare that exact meal but doesn't have the ingredients, s/he can buy it directly from you. This is a great way to earn some extra money. Additionally, by adding timer & estimated duration for recipe steps, you can inform your subscribers about the exact time one recipe step takes. They can, also, pause button feature in a case they need a break.
In the end, let's also mention that this plugin supports video recipes, print option and recipe images gallery you can add with complete ease.
While not technically a plugin, we simply have to mention the amazing Canva recipe card templates. Canva is a cloud-based tool that lets anyone design different layouts with ease, be it a logo, a presentation, a resume, an invitation, a business card, and so on. In short, you can create anything with Canva, including beautiful recipes for your food website or blog.
Your first step is to sign up on Canva's website (registration is free). After that, you can immediately start designing your recipes. There are more than a hundred ready-made templates for you to choose from that can fit various food recipes, from every-day meals and healthy nutritious dishes, all the way to different cuisine's specialties and desserts. All these templates come with unique design layouts which can be easily customized according to your preferences. But in case you don't want to bother with changing anything except for the text, with Canva recipe card templates, you can do so as well.
To start, all you have to do is select a template that strikes your fancy, then click on "Use this template" and start setting it up. From there on, you can add different elements such as shapes, illustrations or stickers, insert photos, backgrounds, and fonts (or different font pairs), change colors, transparency, etc. Of course, you can also delete, duplicate, or change the position of different elements and sections (such as your ingredients or directions) in any way you like. Once you're done, you can simply click on the Download button and upload your creation to your WordPress site.
When customizing these templates, you can also upload photos from sites such as Pexels and Pixabay, insert Google Maps, embed media into your design from YouTube, Instagram, Pinterest, GIPHY and other sites, and so much more. In other words, Canva recipe card templates have everything you need and more to and amaze and inspire your blog visitors with your meal suggestions.
EasyMeals has all that you need to set a sound ground for your culinary website's success. Its clean and modern design paired with a neat structure makes it very appealing and promises a smooth user experience. The theme features a wide array of recipe, blog list, and single post templates and useful, niche-specific functionalities so that you can share your culinary creativity with ease. The recipe template includes specific data about the meal, such as the calorie count, amount of proteins, carbohydrates, fat, sugar, and trans-fat per meal, as well as the preparation time and the recipe difficulty level. Plenty of custom shortcodes like recipe list with filter shortcode and recipe category list shortcode allow you to add useful features to your pages while requiring zero coding knowledge from your side.
Thanks to the theme's compatibility with the Elementor Page Builder, you can create, customize, or edit any layout simply by dragging and dropping elements. Building a community around your site, where you can share experiences and tips and tricks is of great importance. Therefore, the theme is also compatible with the BBPress plugin that allows you to create a forum for your audience. Furthermore, the WP theme is SEO optimized, which is a great base to achieve solid rankings on Google and supports social share functionality so that you can reach as many food lovers as possible.
Food blogging is a harsh, competitive niche. WordPress recipe plugins give you an upper hand and make a worthy ally in your struggle to get more readers and followers.
As for the choice, you really can't go wrong with any of the plugins we included in this list. They are all reliable, robust yet lightweight solutions for your recipe-publishing needs and they are cost-effective too, which makes them ideal for beginners and budget-savvy food bloggers. Try one out and you'll be surprised how quickly things will change for the better over at your website.
We hope that you found this article to be helpful. If you liked it, please feel free to check out some of these articles as well!