10 Dark WordPress Themes for Elegant Impression
Dark design mode is everywhere. You can see it on websites, platforms, or apps you use daily. Even brand giants including Google, Facebook, and Instagram recently launched dark mode style to upgrade overall user-experience. The popularity of dark design isn't surprising. Not only does it look premium and professional, but also it benefits eye health and works great for any business. Although this design type may look basic and simple at first, doing it right requires refined taste and an eye for detail. In a case, you're not a design expert, but still want a website that captures attention; there are two options to try. You can either check out design resources such as design podcasts and stock websites or use ready-made tools such as WordPress themes. Designed following the best practices, these dark WordPress themes will make sure that your web design looks and functions perfectly:
Download / More Info
Demo
Users are massively switching to dark mode for health and energy-saving benefits. This, furthermore, increases their satisfaction for doing something good for both environment and the eye's health. Pelicula covers these benefits but doesn't stop here. This beautifully crafted theme proves that dark design has a lot to offer. Each of its 13 homepages is a good fit for people who prefer darker color shades. However, two layouts especially deserve your attention. Film showcase is ideal for showcasing movie projects in detail. Its dark design style and carefully chosen features will allow you to present projects in chronological order, add awards, or share trailers. What we do is another example we like. If you want to introduce your services professionally, using dark design, this layout is the right option. Besides amazing dark design, Pelicula integrates a broad range of features such as Elementor Page Builder, numerous portfolio styles, 3 pagination types, etc.
Features that make Pelicula the great dark WordPress theme:
Practical Inner Pages
Compatible With Elementor Page Builder Plugin
Enable Parallax Effects in Sections
Choose From 18 Page Spinner Effects
3 Pagination Types for Portfolio Lists
Download / More Info
Demo
Get Hosting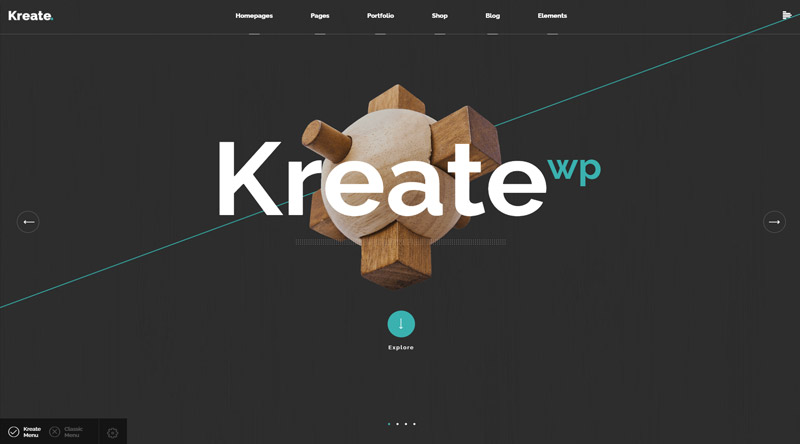 Download / More Info
Demo
This lovely theme shows that dark design is a great choice for creative businesses as well. Kreate is fully responsive, SEO ready and feature-rich – all at the same time. Equipped with dozen of layouts designed in dark mode, this theme offers something for everyone. It includes many templates with black touch, but these are our favorites. The first one is the Designer showcase. A combo of dark and white creates a dynamic user experience that promises joyful website flow. The second example that calls our attention is the Maintenance page. This layout is ideal for announcing your new website's design in an elegant, dark style. Each template can be enriched with amazing hover effects and animation types that make content more appealing. Apart from the clever use of a black color scheme, Kreate features amazing functionalities for the creative niche. For instance, it integrates extensive typography options, Instagram feed widget, portfolio and blog layouts, and many more. Finally, this dark theme shines in its ease of use, as well. Install it with a single click and customize each element to your preferences within minutes.
Features that make Kreate the great dark WordPress theme:
Easy to Use – No Coding Knowledge Required
Extensive Typography Options
Instagram Feed Widget
Blog Options
Dark Portfolio Styles
Download / More Info
Demo
Get Hosting
Download / More Info
Demo
Pearce is a real stunner when it comes to dark color usage. This dark WordPress theme is particularly made for showcasing works and projects. Thanks to black and grey tones, content is highlighted and presented professionally. Visually appealing and made to relax eyes, Pearce is an ideal choice if you want a modern, feature-rich WordPress solution. Besides a huge selection of portfolio styles, this theme brings twelve stunning, flexible homepages. Although each homepage example is a little piece of art, our vote goes for the Designer portfolio. This layout is a perfect choice if you want to share your most important works, share relevant projects, or add your bio. Apart from this, Pearce integrates numerous shop and blog templates designed in a dark color palette. This means you can share your creative advice, news, and stories in a stylish manner.
Features that make Pearce the great dark WordPress theme:
Dark Homepages
Bordered Carousel Shortcode
Image Tooltip Shortcode
Pricing Table Shortcode
Interactive Link Showcase Shortcode
Download / More Info
Demo
Get Hosting
Download / More Info
Demo
Neralbo is on our list of dark WordPress themes for a reason. This multi-concept theme, crafted in a dark color scheme, will be a good fit for all creative businesses. It comes with a collection of 15 astounding home and inner pages that can be easily customized to suit your every need. Each layout features a dominant black color, followed with stylish fonts and animation effects. You can also further customize color tones to your preferences, as this theme integrates superior customization options and unlimited color schemes. What is also great about this theme is its remarkable set of functionalities. Included with the theme is a large number of shortcodes and features that were specifically designed to enable every user to display their work in an astounding manner. Let's now mention Neralbo's blog and shop options. Whether you want to share articles or sell products online, this dark theme will help you do it professionally.
Features that make Neralbo the great dark WordPress theme:
Twitter Feed Widget
Instagram Feed Widget
Blog List Widget
Social Widget
Social Icons Group Widget
Woocommerce
Parallax Images in Sections
Download / More Info
Demo
Get Hosting
Download / More Info
Demo
As you know, dark mode UI is particularly suitable for specific industries. For instance, nightlife, music, and entertainment niches are perfect candidates for dark mode because of the nature of their content. Thanks to Hornet, an urban, multipurpose theme you will be able to create a personal or business website effortlessly. The combo of black, yellow, and white creates a nice balance of simplicity and vibrant details. Whether you want to use this theme for showcasing works or selling products online, you will be happy with the result. As per layouts, we want to mention full screen and parallax sections that will make your design stand out. Use Hornet if you prefer simplicity that looks modern and professional.
Features that make Hornet the great dark WordPress theme:
Lovely Design
Numerous Shop Options
Dark Mode UI
Endless Portfolio Styles
Download / More Info
Demo
Get Hosting
Download / More Info
Demo
Dark mode UI is a secret formula if you want to create a feeling of status. When you want to draw attention to your works, yet to be seen as a luxury brand, go with this dark WordPress theme. Ashade is an especially good choice for photographers who prefer darker color options. Thanks to its dark surfaces, you will be able to create a contrast, which will put your works in the spotlight. Besides many portfolio layouts, this theme offers amazing photo proofing galleries. Use this option when you want to share exclusive, private galleries with clients. On top of this, you can use this theme for crafting a creative resume, CV or Vcard. To uplift your presentation, use smooth scroll and interactive page transitions.
Features that make Ashade the great dark WordPress theme:
Creative Animations
Justified Grid Gallery
Masonry Gallery With 2-4 Columns
Adjusted Grid Gallery With 2-4 Columns
Two Kind of Bricks Grid Layout
Simple, Fade and With Parallax Effect
Download / More Info
Demo
Get Hosting
Download / More Info
Demo
People spend more and more time on their mobiles. Increased screen time can seriously damage eyes and lead to daily headaches. In response to this problem, developers turned to dark theme interfaces that not only help with eye strain but also look premium. This is exactly what the creators of Skylab had in mind. This dark, responsive theme is created for photographers, illustrators, artists, and architects that want to present their works in a modern, sophisticated manner. Skylab offers you tons of practical features, multiple gallery options, and super smooth page navigations. So, if you need a simple, premium-looking WordPress theme crafted for photography, search no more.
Features that make Skylab the great dark WordPress theme:
Modern, Refined Design
Vast of Portfolio Templates
Gallery Layouts
Powerful Features
Download / More Info
Demo
Get Hosting
Download / More Info
Demo
Dark design is not only healthier but also very powerful. It can trigger an emotional boost and help your customers enjoy their website journey. With MusicPress, this is easy to achieve. This dark theme is not only beautiful but packed with all necessities for everyone in the music industry. From discography pages, review post type and social share buttons to 8 post formats – the list of options is endless. Apart from this, MusicPress brings 3 premade skins – dark, light or grunge & 2 different layouts — full width or wrapped. There is, as well, a great set of shop options for selling items via the website. Finally, MusicPress includes video thumbnails that will automatically generate a video post format and video gallery.
Features that make MusicPress the great dark WordPress theme:
Multiple Playlists
Discography Page
Video Thumbnails
8 Post Formats
Social Share Buttons
Download / More Info
Demo
Get Hosting
Download / More Info
Demo
When we speak about dark WordPress themes, we have to mention Invento. Crafted for architects, interior, and photographers, this theme brings together modern dark design and powerful functionalities. You can use the variety of menus, Fullscreen and Carousel sliders, create different gallery layouts, portfolios, and blog pages, and with all this being added your website will look holistically and modern. Invento is equipped with 5 dark home page layouts and versatile portfolio styles. On top of this, it's easy to customize so you can exhibit your products, projects, and campaigns without any coding knowledge.
Features that make Invento the great dark WordPress theme:
Easy Customization
Versatile Dark Portfolio Options
Fullscreen and Carousel Sliders
Powerful Functionalities
Download / More Info
Demo
Get Hosting
Download / More Info
Demo
So, when your design aesthetic is already shaped with limited content, your conditions are good for dark mode. As a perfect choice for a personal CV/resume, Ramsay is not only beautiful but practical as well. Designed in dark style, this flexible, powerful, and high-performance theme is all you will ever need to create a CV of your dreams. Ramsey is packed with lots of pre-designed widgets for the Elementor page builder.
Apart from this, it integrates many galleries, portfolio, and blog options.
Ramsay is a 100% responsive and retina ready theme, so your content will look good on any screen size and device type.
Features that make Ramsay the great dark WordPress theme:
Beautiful Design
Responsive Elements
Portfolio and Blog Options
Ease of Use
Download / More Info
Demo
Get Hosting
The dark design style is not only good for our eyes, but also for showcasing our content professionally. When you want to leave a strong impression, use darker color combinations to let your content stand out. Thanks to ready-made dark WordPress themes, you don't have to hire design experts. All you will ever need is already packed with these themes so you can start building your dream website right away. On the other hand, if you are a color addict and want more choice, you can always find plenty of inspiration in the blue WP templates list or pink WP themes collection and other color specific WP themes selections.
We hope this article was helpful. If you liked it, feel free to check out some of these articles as well!