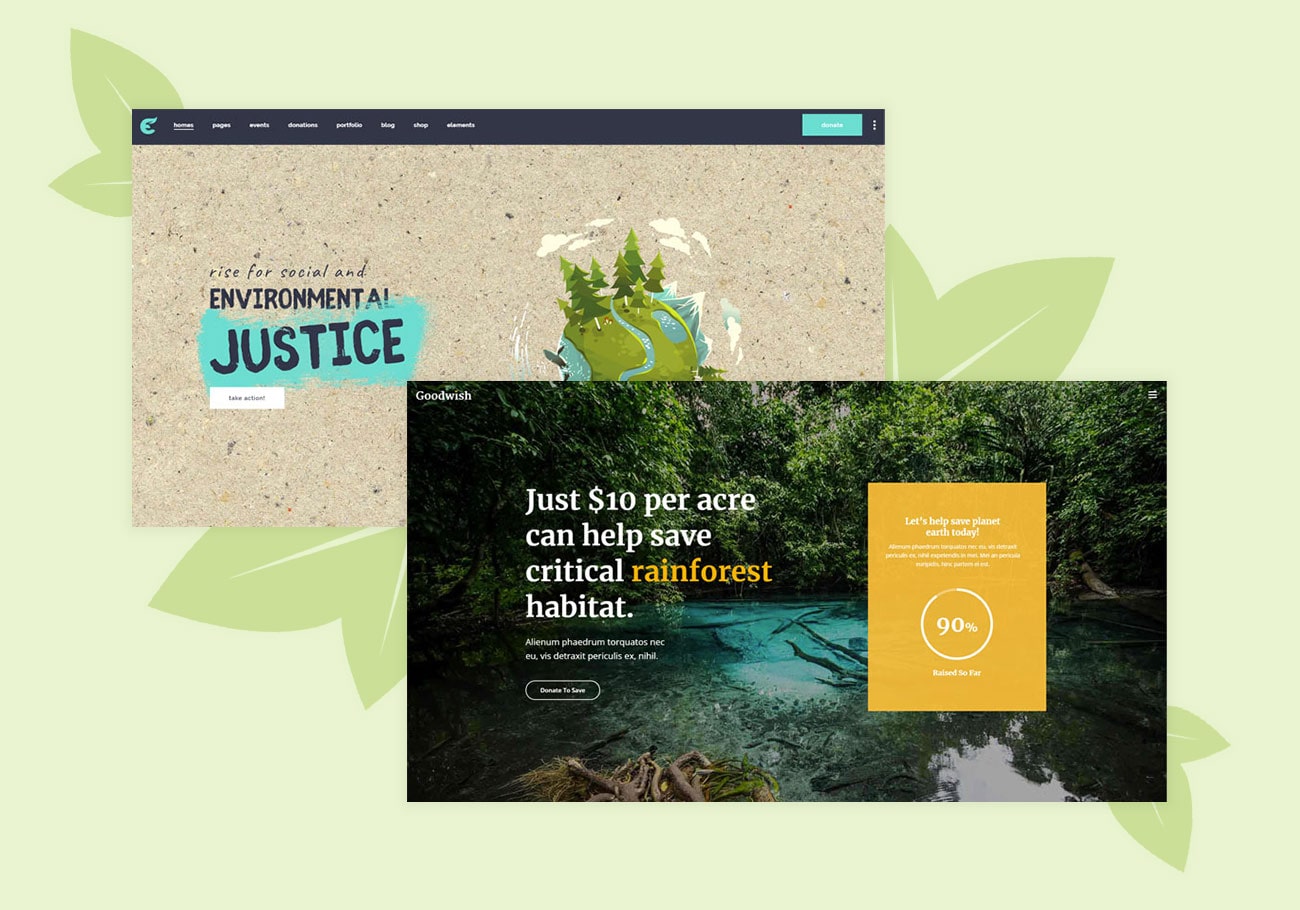 5 Best and Greenest Ecology WordPress Themes
The environment seems to be dominating the news these days, and for good reason – we live in it. The world is slowly becoming aware of humankind's impact on the global ecosystem, and environmentalist movements, charities and activist organizations are on the rise. The struggle for a cleaner environment and better living has its place online, too. This is why we've put together this list of these ecology WordPress themes.
Whether you are collecting donations with a plugin to fund your green cause, help organize volunteers, run a blog, or even if you run an environmentally friendly business and want to showcase the green side of it, this list is bound to have something you can use.
Download / More Info
Demo
If you're looking to let the world know about the amazing things your nonprofit is doing for the environment or simply running a fundraising campaign, you can't go wrong with Goodwish. Its 8 pre-made home pages are configured with various charitable causes in mind, with two geared specifically towards habitat preservation and environmentalist causes.
Goodwish shows the world your clean, trustworthy side, with pages dedicated to your team roster, volunteering application form, blog, and shop. The theme also comes with custom call-to-action buttons and a solution for a 404 page. Of special interest to an active organization are several ways of displaying events – on a calendar, as a list, or in a carousel. Events can also be created as individual pages in case you want to provide detailed information about them.
The theme is also fully compatible with the Give plugin, for easy and safe donations.
Features that make Goodwish a great environmentalist theme:
One-Click Import
Infographic Elements
WPML Readiness
Social Media Readiness
Download / More Info
Demo
Get Hosting
Download / More Info
Demo
Another great eco-fundraising WordPress template is Ecologist. This theme is specifically designed to grab the visitors' attention with striking visuals from the very outset. The built-in home page templates all make good use of the teal and white colour scheme, evoking the image of our planet as the pale blue dot. From there, the visitor can easily navigate to your donations page, volunteer application and contact forms, or any of the many galleries and portfolios.
Apart from the easy-to-use data visualizers (useful, say, as a project funding visual aid), Ecologist also makes great use of its blog functionalities, especially paying special attention to audio- and video-blogging. With this theme, you have an elegantly and simply designed but effective solution for your environmentalist, recycling, habitat protection, or indeed any other cause.
Features that make Ecologist a great environmentalist theme:
Latest Post Widget
Parallax Sliders
Give Plugin Compatibility
Boxed Layout Option
Download / More Info
Demo
Get Hosting
Download / More Info
Demo
With Hereford, you can really showcase your hard work to bring environmentally friendly produced food to the table. The theme's Organic Shop homepage style is ideal for any food store looking to emphasize its green side, while several others may be of interest to any organic food producer. A peek inside reveals several ready-made pages for pricing plans, staff roster, galleries to showcase your wares and premises, and, of course, a shop, fully integrated with WooCommerce.
As even online stores require some attention to be devoted to their window dressing, the developers have also included the WPBakery visual page editor: use it to create and easily modify any page layout to help create a website best suited to your needs.
Features that make Hereford a great environmentalist theme:
Instagram Widget
Slider Revolution Plugin
Infographic Elements
Highly Customizable Typography Settings
Download / More Info
Demo
Get Hosting
Download / More Info
Demo
Eco Recycling is a flexible, user-friendly template suitable for any environmentalist campaign or cause. Its elegant and clean design is an excellent platform for any project or organization championing the green cause. The theme's adaptability is assured by the developers' custom page builder. Also included are several multi-column grid portfolio options, for all kinds of posts or projects and maximum visitor appeal.
Using clear and simple presentation blocks, this WordPress theme lets you send a clear and simple message to your visitors, while at the same time organizing whichever way best suits your content. Worthy of note is also AJAX loading of certain items on the front page, which allows the visitor to see all the recent posts and projects without leaving the homepage. With many of the most popular plugins supported, Eco Recycling is well worth a look.
Features that make Eco Recycling a great environmentalist theme:
One-Click Demo Install
Rainy Backgrounds
Social Media Widgets
Slider Revolution Plugin
Download / More Info
Demo
Get Hosting
Download / More Info
Demo
If promoting the alternative energy agenda is your goal, then Greenly is exactly the tool you need. Not only is it designed around a solar energy theme, it is also incredibly easy to use. You could have a running website in minutes. Not only does it sport a bold, modern design, it is also highly adaptable. It comes equipped with a theme editor that lets you tweak any and all of the features, preview the changes live, and discard them if they are not to your liking. With multiple ready-made template blocks, this comes easily even to people without a technical background.
To top it off, this theme's code is also SEO optimized, giving your website an extra bump up the ladder of Google's searches. Bundled with it come the WPBakery plugin, for easy custom page building, and the Revolution Slider plugin, allowing you to use your content to full effect.
Features that make Eco Recycling a great environmentalist theme:
Video Demo
Custom Typography
Fully Responsive Design
Easy Installation
Download / More Info
Demo
Get Hosting
The days when the question "Does my organization/campaign/cause need a website" are long gone. For anyone attempting to reach an audience, an internet presence is of utmost importance. And if the internet is the way, WordPress is the vehicle for your green message: a simple but powerful tool to get you where you need to go.
Pick a theme, and use the power of WordPress to change the world for the better.
We hope this article was helpful. If you liked it, feel free to check out some of these articles as well!