10+ Amazing Film & Theater WordPress Themes
Building a website for your film project, studio or artistic organization is a creative challenge. You want something that will reflect your unique artistic style, mission, and the way you work.
Using predesigned WordPress themes will help you achieve all of this without writing a single line of code. Just pick the right template, customize the site by importing your videos, images, and text, and you will have an amazing online presentation that will impress even the most avid movie or theater-goer.
And don't be afraid of the word "template". It won't stifle your creativity because the film and theater WordPress themes we selected for this list are all highly customizable. So let's begin!
Download / More Info
Demo
Pelicula is a WordPress theme made with special attention to a cinephile's needs. If your business is all about promoting, selling or just displaying a collection of movies of different genres, and you want your online window to be able to adjust to any of them, Pelicula is definitely your perfect choice. With its many predesigned homepages and practical, versatile inner pages, you will have the possibility to display every movie according to the story it tells. Furthermore, the chiaroscuro leitmotif will bring the much necessary artistic touch and make your site as memorable as it can be. On top of that, the 13 homepages Pelicula comes with will allow you to display your collection in many different modes (parallax, carousel, interactive etc), so you can rest assured that your visitors will have a unique experience when navigating through the site. However, Pelicula doesn't only abound with different styles you can dress your site into. This outstanding movie theme also comes with a large number of functionalities that will help you create a fully functional website. One of the many useful features this theme is packed with is definitely the ability to integrate an online shop thanks to Pelicula's compatibility with WooCommerce plugin. This way you will be able to sell tickets for different festivals, gadgets or anything else you find appealing to a movie lover.
Features that make Pelicula the best WordPress theme for film and theater:
Multiple Customizable Layouts for Portfolio Single Items
Various Infographic Shortcodes
Customizable Mega Menu
Custom Widget Areas
Translation Ready
Download / More Info
Demo
Get Hosting
Download / More Info
Demo
The Leitmotif theme is a great blend of movie-inspired design and practical features that team up to create a dynamic, interactive user experience. It is a good choice for film studios and artists.
This WordPress theme offers a choice of 9 distinctly designed home pages. However, they all have one thing in common – dark background that mimics a perfect "movie screen" for showing off your best work. You can enrich homepage text, images, and videos with interesting hover and sound effects.
Homepage animations are possible thanks to the premium Slider Revolution plugin, which comes for free with this theme.
Film work is always teamwork, so the Leitmotif theme pays special attention to giving credit to your team members. The Team shortcode enables you to present and promote your colleagues with a mix of amazing photos, hover effects, and social media icons.
There is also a rich selection of portfolio layouts. You can organize your best works as a standard list, gallery, Pinterest-inspired board, as well as interactive scrolls, links, sliders, and showcases. For example, horizontal scrolling is a pretty stylish and expectation-defying way to show off your best works.
Multiple video integration options are another strong feature of the Leitmotif theme, giving you the choice to upload videos to the site or embed them from external sources.
Features that make Leitmotif the best WordPress theme for film and theater:
Various Slide Animation Types
Variety of Portfolio Shortcodes
3 Side Area Types
Parallax Images in Sections
Content Entry Animations
Download / More Info
Demo
Get Hosting
Download / More Info
Demo
If you feel that the first two themes are too film-centric, here's something entirely different. The Bard theme is all about connecting theater and performing artists with their audience. This WordPress theme shifts focus to raw visuals of performance arts and functionalities that will easily bring viewers to your live performance. This makes Bard a perfect pick for theatres, dance companies, cultural institutions, but it can also be a great WordPress theme for artists in general.
Bard translates the simplicity of live performances to the selection of 6 elegant homepages. Each sheds light on a different element of performing arts – the theater, plays, troupes or individual artists. Carefully crafted inner pages allow you to introduce the audience to your organization's history, mission, the team on the scene and behind it.
With this WordPress theme, you can easily promote upcoming events and shows using fullscreen, interactive, and slider layouts. With simple shortcodes, you can add countdown timers and testimonials from the audience, other artists and critics.
The true value of this theater WordPress theme comes with the WooCommerce plugin that enables website visitors to buy individual and seasonal tickets for your shows.
Features that make Bard the best WordPress theme for film and theater:

Tickera – WordPress Event Ticketing Plugin Compatible
Pricing Table Shortcode
Customizable Google Maps
Working Hours Widget
800+ Google Fonts
Boxed Layout Option
Download / More Info
Demo
Get Hosting
Download / More Info
Demo
The Cinerama theme possesses a bit more versatility compared to our previous pick, making it a good choice for any kind of blog or portfolio site. For example, Cinerama can be equally useful for budding movie and theater artists, critics, journalists, writers, etc. While its visuals aren't as lavish as those of the Leitmotif theme, they are still pretty impressive and fitting for anyone who wants to showcase their distinct visual style.
Cinerama boasts ten meticulously designed homepages, each putting something different in the limelight. You can emphasize a single project or person, or you can opt for showcasing your best works and important blog posts.
This theme is rich with super-customizable, dynamic portfolio layouts. They allow you to display your best works in the form of video carousels, showcases, or interactive timelines with images and text. You can enrich the portfolio with amazing hover effects such as text sliding, overlay, video preview & shader.
Cinerama is rich with custom shortcodes that can help you personalize the theme and add functionalities relevant to your target audience. For example, artists can make good use of the testimonials shortcode, which adds some social proof to their projects and biography. Countdown timers are a great tool to keep the audience on toes ahead of the upcoming projects.
Features that make Cinerama the best WordPress theme for film and theater:
Lots of Creative Home and Inner Pages
A Large Collection of Custom Shortcodes
3 Icon Font Packs
Separate Typography Settings for Responsive
800+ Google Fonts
Download / More Info
Demo
Get Hosting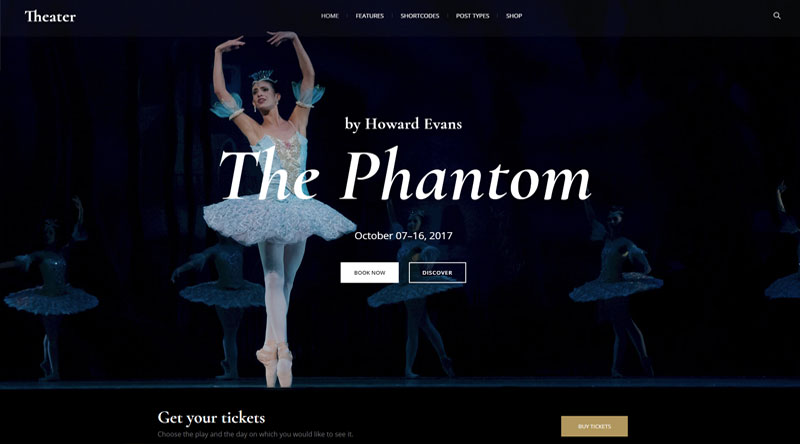 Download / More Info
Demo
Theatre has always been a real paradise for art lovers. People, who read a lot, respect classic books and enjoy good dramas, tend to see theatre as a special place of gathering. A place that can give us a strong transformative catharsis. Created for theatres, operas and art events, Theater is an amazing toolkit for both WordPress beginners and experts. What we especially like about this theme is its amazing set of features. Let's name a few. For instance, with this theme, you can sell tickets for your movie premieres, ballet performances and any kind of art event. Also, you can share all the essential details about your theater plays and entertainment events since Theater includes numerous gallery layouts, blog layouts and portfolio templates. Use them to introduce your actors, opera singers, performers, and upcoming art projects. In addition to this, this theme offers the practical events calendar – use it to schedule your events and set the time for your shows.
Features that make Theater the best movie WordPress theme:
Sell Tickets to Your Events
The Events Calendar
Blog Layouts & Portfolio Style
Announce Your Upcoming Shows
Download / More Info
Demo
Get Hosting
Download / More Info
Demo
If you feel that the previous sites are overkill in terms of design and functionalities, take a look at the Silverscreen theme. It tones down the visuals and functionalities, seeking to make things as easy as possible, both on the frontend and the backend.
Silverscreen offers a choice of 9 homepages with designs that are highly focused on specific goals in the movie and theater industry. Some of them are geared towards highlighting a single movie project or trailer, others put filmography or important events front and center.
There is added variety in the way you can showcase properties them, using regular videos, video carousels, fullscreen view and always stylish horizontal showcase.
This WordPress theme is equipped with a vast set of portfolio templates, including standard, gallery, masonry and single layouts. The single layout will give you the greatest freedom if you want to play with image sizes, gallery types, sliders, split and full screens. All of these elements are highly interactive, ensuring the pages you create are attention-grabbing and engaging.
Features that make Silverscreen the best WordPress theme for film and theater:
Edge slider with image and video support, zoom animations and parallax effect
Testimonials Slider
5 Header Types and Multiple Header Behaviors
Optional Separate Logo and Styles for Mobile Header
8 Icon Font Packs
Download / More Info
Demo
Get Hosting
Download / More Info
Demo
Filmic is what its name suggests – a theme designed for movie studios and filmmakers. But what does this actually mean? Basically, the look and feel of this theme represent the true character of the movie industry. Every detail is carefully crafted to offer an amazing visual impression and functional options. Before all else, Filmic comes packed with versatile layouts you can use to present your movie studio, introduce actors or showcase upcoming movie projects. Among 6 modern homepages, you can find 3 layouts dedicated to actors, directors and movie studios. What is also great is its dark, atmospheric design. Filmic will surprise all movie lovers who value dark, atmospheric design, professional features and versatile layouts you can use to steal the show. So, make your website's premiere a true spectacle with Filmic!
Features that make Filmic the best movie WordPress theme:
Compatible With Elementor
6 Stunning Homepages
Introduce Your Studio and Upcoming Video Projects
Versatile Image Galleries
Download / More Info
Demo
Get Hosting
Download / More Info
Demo
Video is the most common content form these days. Whether you want to watch TV shows, movies or vlogs, videos are the format we all look for. Made for any kind of movie studio, production agency or video studio, VidoRev shines in video functionality. Besides tons of versatile video styles and options, this theme integrates new video players for self-hosted and M3U8 videos, YouTube live broadcast, and professional YouTube automatic import option. What we especially like about VidoRev is the IMDB rating plugin – a practical tool that allows you to display users' ratings and to automatically update them as people rate a particular movie or TV series. Finally, VidoRev is equipped with a video pre-roll ad option, which means you can incorporate media ads into your video content.
Features that make VidoRev the best movie WordPress theme:
Versatile Video Styles and Options
New Video Player for Self-Hosted and m3u8
Full Width-Layout
Youtube Automatic
Video Advertising
Youtube Live Broadcast
Download / More Info
Demo
Get Hosting
Download / More Info
Demo
If going to the cinema is one of your favorite activities, share your love with movie lovers – AmyMovie will help you do it like a pro. Besides the modern set of layouts, this theme features a broad range of elements developed specifically for movie studios and cinemas. In the first place, there is a collection of 5 contemporary homepage examples. Each can be easily customized and changed to fit your needs. Now, let's take a closer look at AmyMovie's set of movie features. In the first place, there is a powerful showtime function. Use it to announce the duration time of your show, movie or TV show. Furthermore, there is an intelligent rate feature that allows your customers to rate movies and videos you shared. Also, AmyMovie integrates IMDB and TMDb platforms so you may be sure your movie website has it all.
Features that make AmyMovie the best movie WordPress theme:
IMDb and TBDb Importer
5 Homepage Examples for Movie Studios
Powerful Showtime Function
Intelligent Rate Feature
Social Network Integration
Download / More Info
Demo
Get Hosting
Download / More Info
Demo
Circle is suitable for anyone in the film and creative industry. Apart from modern and eye-catching design, this theme integrates endless template and feature options. For example, it comes packed with 10+ homepages, 4 blog ready-made styles, 3 premade footer styles, and 3 premade header styles. Besides this, Circle comes with many options specifically crafted for filmmakers. One of them is an online video stream. Use it to offer your customers the possibility to watch the videos/movies streamed right there on your website. Also, you can input video content from YouTube, Vimeo, or add self-hosted videos with complete ease.
Features that make Circle the best movie WordPress theme:
10+ Homepages
04+ Blog Page Ready-Made Styles
03+ Premade Header Styles
03+ Premade Footer Styles
Contact Form 7
Modern and Creative Design
Download / More Info
Demo
Get Hosting
Download / More Info
Demo
If you want to promote multiple movies, series, documentaries, and projects, the Movie theme will provide you with a seamless website building experience. It doesn't boast lavish design compared to the other picks on this list. However, its simplicity and practical features make it a good choice for anyone who wants to keep their audience up to date with the latest releases.
This makes The Movie a good choice for cinemas and theaters with a vast audience that visits the website for quick info and tickets, rather than flashy visuals.
There are five homepages available and you can pick between one page and multipage versions. A onepage website layout allows you to place the entire website content on a single homepage. Users can scroll the page or jump to the desired section with a single click.
You can describe your movie project in greater detail on special inner pages where you can place trailers, image galleries, and information about the movie cast.
This WordPress theme's online shop also keeps things on the simple side, as it is incorporated as a CTA button on the list of the upcoming releases.
Features that make The Movie the best WordPress theme for film and theater:
Movie and Series Management
Online Ticket Sales & Booking
Review System
MailChimp Integration
Comment System
Download / More Info
Demo
Get Hosting
With these WordPress themes, you can create a film and theater website that is a small work of art in its own right. All of them are SEO friendly, so you can rest assured that your audience will find you easily. Since all of these themes come with integrated blogging functionality, you can boost your SEO additionally using content marketing.
How creative you get is entirely up to you. If you feel more comfortable with working inside existing templates, these WordPress themes offer beautiful designs. However, if you want to create something entirely new, you can play with colors, skins, headers and dozens of shortcodes for enhancing website visuals and functionalities.
We hope this article was helpful. If you liked it, feel free to check out some of these articles as well!