5 Best NGO WordPress Themes for Your Organization
When we do things out of a desire to help, we make the world a better place. Altruistic people change society for the better – they are the voice of other people and their needs. As such, altruism is the core of nonprofit organizations. Millions of people donate money to NGOs every year, allowing people in need to have access to clean water, food, or basic human rights.
Generous donations are also the reasons, we can fight for our planet, save endangered animals or support local communities. Non-governmental organizations or NGOs gather volunteers and donations in order to support certain altruistic projects or communities. If you run an NGO or plan to start a fundraising campaign, you will need a professional, functional website that will let you spread the word and inspire others to take action.
For this purpose, you can use charity WordPress themes or NGO WordPress themes that are packed with tons of useful layouts and compatible with Give plugin that will let you create and run charity donations. In this article, we will analyze NGO WordPress themes that deserve your attention.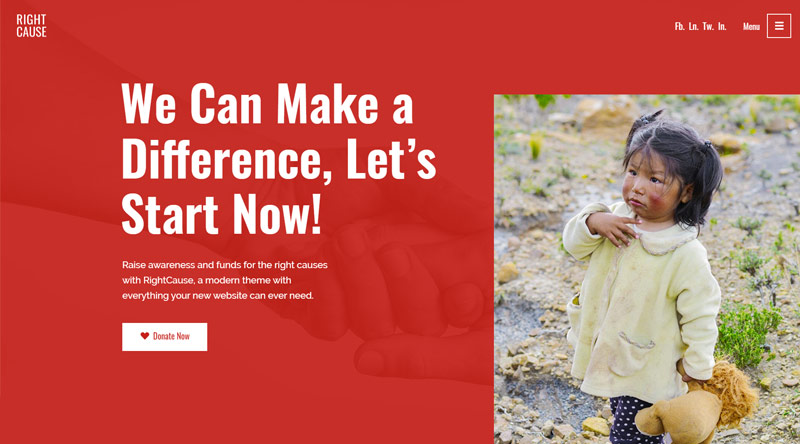 Download / More Info
Demo
RightCause is a theme created for NGOs, charitable organizations, fundraising campaigns, and volunteer centers. Its modern, elegant design, stylish details, and smart color scheme make it an ideal choice for everyone who wants to steal the eye and inspire positive changes. This fully customizable theme is designed by professionals, so you can have a site that looks beautiful without the need to hire designers and developers.
With RightCause you can freely customize absolutely any element or section on your new website. Change the main or background color of your website with a single click, rearrange any element to your liking, and more. Just choose the homepage or inner page layout you like and adapt colors and fonts as per your liking.
Apart from stunning templates, this theme offers amazing donation elements. As it's compatible with Give plugin, you can easily create and run a fundraising campaign of any kind. Show the amount of money that's raised together with the final goal to spark the interest and engage people to join the movement.
Features that make RightCause a great WordPress theme:
Compatibility with Give plugin
Easy color change
Multiple homepages
Blog and Event features
Download / More Info
Demo
Get Hosting
Download / More Info
Demo
Goodwish is one of NGO WordPress themes that will cover every aspect of your nonprofit campaign. First of all, the theme is packed with numerous causes layouts. Use them to display all of your causes with a causes list and causes slider template. Next, you can create and promote your charity campaigns with attention to detail.
Goodwish is compatible with the Give plugin so you can let people donate right from your site. Just describe your goal, set the minimum donation amount, and invite people to join. Apart from this, you can organize fundraising events that will gather people who believe in a worthy cause.
This theme is packed with versatile event layouts so you can showcase your upcoming events in a neatly arranged event calendar. From here, your website visitors can open event single pages and discover more details about each event.
On top of this, Goodwish is completely social media-ready, with social share buttons and a widget for displaying your Instagram feed on your website. Plus, it offers amazing gallery types and blog features so you can share the images from your events, or post the latest news.
Features that make Goodwish a great WordPress theme:
Events calendar
Donations and causes
Infographic elements
Download / More Info
Demo
Get Hosting
Download / More Info
Demo
Welfare NGO is crafted for nonprofit websites of any kind. So, whether you want to start a fundraising campaign for children in need or to raise money for ecology projects, this theme could be the right fit. What makes this theme special is a custom CMSMasters Donation plugin. Thanks to it, you can create fundraising campaigns, collect donations, run multiple donation campaigns at the same time, show progress for each campaign and even showcase some donators to inspire other people.
Additionally, this theme integrates with The Events Calendar and the Events Calendar PRO plugin so you can add events and calendars with detailed info on each particular event. This is especially useful if you organize fundraising events with the aim to raise money for charity. Lastly, the theme is compatible with the WooCommerce plugin so you can sell products for a good cause.
Features that make Welfare NGO a great WordPress theme:
WooCommerce plugin
CMSMasters Donation plugin
Events Calendar
Download / More Info
Demo
Get Hosting
Download / More Info
Demo
NGO WordPress themes should be user-friendly, simple, and equipped with practical features. HaveHeart is a theme that comes packed with everything you will ever need to introduce your charity foundation and promote your campaigns. Firstly, it offers tons of beautifully designed layouts you can use to invite people to fill in a form and become volunteers. Secondly, this theme offers easy donation functionality.
If you want to make a donation, just enter your name, surname, and email address with the amount of money you want to donate. Also, you will be able to check out how much money had been raised and what the final goal is. To spread awareness, you can share a specific campaign across social media. Apart from this, you can organize charity events and inform people about upcoming gatherings in the events calendar.
Features that make HaveHeart a great WordPress theme:
Donations functionalities
Volunteers and call to action
Events Calendar
Download / More Info
Demo
Get Hosting
Download / More Info
Demo
NGO theme is another great option for nonprofit organizations. This responsive, modern theme integrates with Elementor page builder so you can easily change everything as per your style. When it comes to fundraising and donation features this theme will pleasantly surprise you as well. It comes with multiple donation widgets that will allow you to create and run charity campaigns with complete ease.
Thanks to its advanced donations management, you can check and manage all donations, edit, add and delete finished campaigns. Also, you can change the status of certain campaigns in case they are on hold or active. Plus, there is a practical donation calculator that gives your users the freedom to calculate and choose the donation amount that fits their budget.
Moreover, users can choose they favorite method of payment thanks to practical payment gateways. Finally, you can organize charity events and announce them with the Events calendar plugin.
Features that make NGO a great WordPress theme:
Donations widgets
Donations management
Donation calculator
Download / More Info
Demo
Get Hosting
If we want to make this world a better place, we need to gather around the idea of humanity, unity, love, and support those who need our helping hand. In case you run an NGO organization, now is the right time to spread the word and inspire people to take part in charity work. All you need is a lot of enthusiasm and one of NGO WordPress themes we've previously analyzed. Good luck!
We hope this article was helpful. If you liked it, feel free to check out some of these articles as well!