Share Your Story with Top 5+ Personal Blog WordPress Themes
Blogs have become some sort of a substitute for what diaries were back in the days. We feel the irresistible need to share our daily routines, our interests and preferences or anything we think might be of interest to a wide range of our potential followers. Whether we'd like to present a hidden gam we've found on our travels or just share a product we consider worth mentioning, a blog is always a good way to share our discoveries and thoughts. However, if we want our blog to be popular and known to a wider audience, it is imperative that we pay close attention to the way we're displaying it on the web. Therefore, the visual aspect of the blog is as important as the content itself. In order to achieve this effect, bloggers must always be on the lookout for new and creative ways that will help them catch the attention of their potential readers in an instant.
With so many options out there, choosing a perfect WordPress theme can be challenging. That's where our list of the 5 best personal blog WordPress themes steps in. Wait no more, get cosy, grab your perfect beverage and let's see what we have prepared for you!
Download / More Info
Demo
One of the greatest advantages of the online world is that it provided a great many people with the chance to express their creativity in forms of creative writing, photography, travel stories and similar. That is the magic of a personal blog – you can be whoever you want to be, without any kind of certificate. And with an inspiring blog WordPress Theme such as the Behold, you can tell your story in a truly captivating manner.
The Behold theme comes packed with nine versatile homepage layouts, of which one is specifically premade for a travel blog. Its clean and airy design inspires the joy of creativity and invites the visitor to dive in and explore its content. The Divided Post List homepage layout offers a particularly dynamic user experience, as it consists of a left side menu, animated image slider on the left, and a post list on the right part of the screen which reveals more sections as you smoothly scroll down. Of course, all the elements can be fine-tuned and customized to match your purpose.
This theme offers an amazing collection of post layouts, video integration and beautiful galleries so that you can really express your creativity with ease.
It is easy to set up and use thanks to its intuitive interface and compatibility with the Elementor Page Builder. It is bundled with a large collection of practical, custom shortcodes such as the Blog List Mix shortcode and Blog Single Loop shortcode, which enables you to easily share specific content in an elegant and efficient manner. It also includes the social share functionality which is of great importance for a personal blog as you naturally want to connect and share your experiences with as many like-minded people as possible.
Features that make Behold the best personal blog theme:
Compatible With the Woocommerce Plugin for Ecommerce
Customizable Mega Menu
Responsive Design
Translation Ready
Parallax Images in Sections
Download / More Info
Demo
Get Hosting
Download / More Info
Demo
This minimalistic, yet very elegant theme is a true 'must have' for all the beauty & fashion bloggers out there! Its sophisticated style will help you create a unique, chic website that will certainly stand out from the crowd. It is no secret that being a beauty & fashion blogger also means paying attention to every detail and that is exactly what Allure is all about – creating a perfect harmony between all of its elements.
However, apart from being visually alluring, this theme will also seduce you with its many features that will make your life as a blogger a lot easier. Its various blog list layouts will provide you with many possibilities to choose from, allowing you to style your blog the way you like it. Furthermore, we are all aware of the importance of social media and its content in this digital era we're living in, and leaving them out on you blog would be unimaginable, not to say unforgivable. While some themes require an installation of a great number of plugins (and let's be honest, only a few can be bother to do that!), what makes Allure one of the best personal blog WordPress themes on the web is definitely its Social Share functionality as well as the Instagram Feed Widget. These handy features will help you incorporate your social media feed into your website in a blink of an eye. Tempting isn't it?
And lastly, with its highly customizable footer with optional 1-4 columns you'll be able to create just what you need. So, with all this being said, wouldn't you agree that this theme is like one of those perfect accessories that are both fashionable and practical?
Features that make Allure the best personal blog theme:
One Page Site – Anchor Functionality
Custom Post Formats: Audio , Video, Standard, Gallery, Link, Quote
Floating Background Images in Logo Area
Choose Your Grid Size
Instagram Feed Widget
Download / More Info
Demo
Get Hosting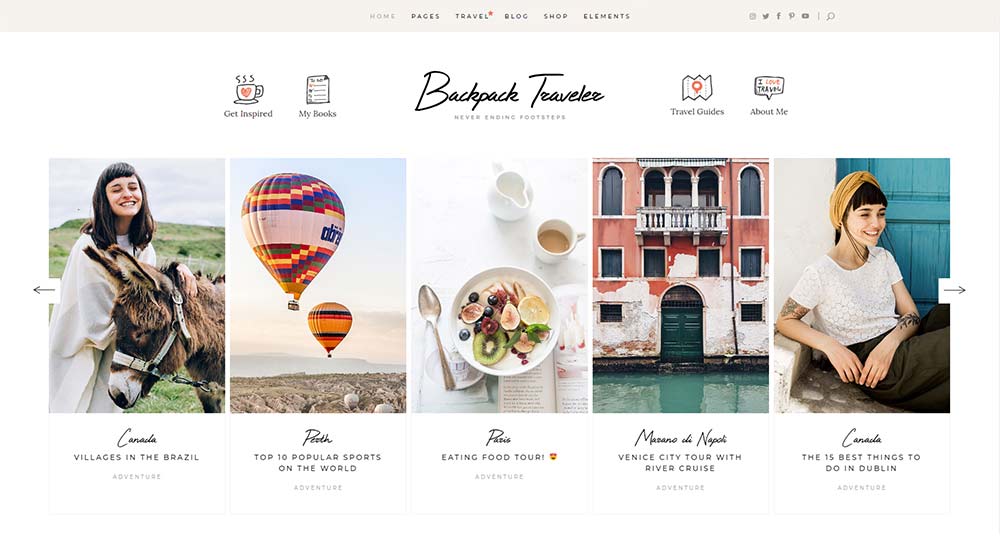 Download / More Info
Demo
Travelling has never been more popular than today. As a matter of fact, more and more people dare themselves to leave everything behind and embrace the moment of the unknown where the only thing that's guaranteed is the uncertainty of the adventure. And why wouldn't they? After all, as someone said "life is not meant to be lived in one place". On the other hand, the point of every enriching experience like this one is not just the experience itself, but rather the story you are left to tell. And what a better way to share this story with the rest of the world than through your personal blog!
However, in order to have a blog that will reflect the beauty of all of your adventures, you have to make sure that your site has all of the necessary tools and features. That is where Backpack Traveler comes to the rescue. With its numerous shortcodes and widgets that will help you place your social media content on your blog in no time, creating your perfect website is just a couple of minutes away. Packed with options and powerful customization settings, it might take you some time to get accustomed to everything this theme can do, but once you learn the ropes and explore all of the possibilities that are at your disposal, you will have everything you need in order to create an effective travel blog everybody will love.
What is also a big plus that makes this theme one of the top personal blog WordPress themes is that, apart from having the classical blog post types that are enriched by numerous author's options, it also contains a specially designed custom blog post type – destination post type. This particular blog post type will let you create a dedicated page for each destination you travel to and conveniently link and gather all the posts related to that destination in one place. In addition to this you will also be able to choose from different types of headers, a variety of blog shortcodes and many other elements. And the best part is, once you purchase the theme, you will get the Slider Revolution Plugin for free!
Features that make Backpack Traveler the best personal blog theme:
Highly Customizable
Big Custom Shortcode Collection
Responsive & Retina Ready
Destination Custom Post Type
Mega Menu
Download / More Info
Demo
Get Hosting
Download / More Info
Demo
Are you the creative type? Do you enjoy making something new and valuable, something others will admire? If so, we know just the right WordPress personal blog theme to help you promote your inner-creative-self! Therefor we present you Flow, a theme that is specially designed to help all of the artistic, creative folks with a desire to showcase their work in just the right way. This theme's artistic, somewhat allegoric style, will catch the eye of any beholder! Its vivid colors and the parallax background images will definitely be of an added value, giving your content a special dimension.
What will also make your website all the more interesting is definitely the customizable mega menu and the vertical menu that will help you make all the modifications in accordance to your needs. In addition to this, your work will be neatly stored and displayed thanks to this theme's specially designed gallery post type that is accompanied by an amazing navigation and animation. Lastly, you will have the possibility to choose from 7 types of blog posts and bring the much wanted diversity to your blog, making it as unique and memorable as possible. These guys definitely made sure the theme doesn't lack creativity in anything, so stay assured that you'll get one hell of a website! Just go with the Flow and you won't go wrong!
Features that make Flow the best personal blog theme:
Import Demo Site with One-Click
Various Blog List Layouts
Waterfall Slider
Related Posts on Blog Pages
"Back to Top" Button Functionality
Download / More Info
Demo
Get Hosting
Download / More Info
Demo
Are you a blogger eager to share your interests, thoughts or any aspect of your life you consider worth the public's attention? If the answer to this question is yes, you will also say yes to this amazing theme! Kolumn is a modern theme created with the aim to provide you with anything you might need, regardless of the type of blogger you are. Want to share your travel stories, beauty products, daily routines or some recent readings? No problem, cause Kolumn is as versatile as one theme can get! With Kolumn you will be able to change your blog's skin from dark to light and vice versa in a blink of an eye! All you need to do is choose your desired variant from the options and voilà!
Moreover, fitting your content won't be an obstacle anymore because this theme comes with a variable grid size you can adjust to your specific needs. Wait, there's more… the grid is not the only adjustable thing here. As a matter of fact, all of this theme's elements are subject to customization, so, once again, you can style almost everything as you wish. And finally, what may be the most important part for the newbies in the blogging world, this theme's powerful interface is extremely easy to use. So, whether you are at the very beginning of your blogging career or you're an experienced blogger on the lookout for something new and effective, Kolumn is definitely the point to start from.
Features that make Kolumn the best personal blog theme:
Popular Post Widget
Easily Interchangeable Theme Skins
GIF Title Functionality
Social Share Shortcode
Blog Masonry Layout
Download / More Info
Demo
Get Hosting
Download / More Info
Demo
Make up & fashion, we just can't get enough of it! Even though not everyone is an experts at it, this particular part of our lives is something all of us tend to care about. Unfortunately, most of us do need to touch up on our skills with a professional tip or trick when it comes to this matter. Luckily, the blogging world has provided us with instant assistance aka beauty bloggers that are usually our go-to persons when we need this kind of help. However, the truth is, we don't take advice from any blogger. It is usually the blog we find appealing to the eye that we trust the most and beauty bloggers know that. In order to have a successful blog, beauty & fashion gurus need special websites that are easily adjustable so they can tailor them and style them the way they want it (after all, that's what their job is all about). So, if you are a blogger looking for a beautiful, yet easily customizable site, you are in luck, 'cause we have found your matchy-match!
Her name is Kloe and she'll be your BFF, your go-to tool you're in desperate need of! Kloe is a masterfully designed personal blog WordPress theme that will meet all of your requirements when it comes to visual and functional aspects of your blog. Not only will you be able to write your blog with ease, but you'll also have the possibility to create your own portfolio and sell the products you advertise! Thanks to this theme's WooCommerce plugin compatibility, all of this will be a piece of cake. Apart from this incredible plugin, Kloe is also equipped with the anchor menu feature that will allow you and your blog visitors to easily navigate to any section on the same or different page. Finally its beautiful eye-catching parallax sections (with full height option) alongside its numerous shortcodes like Blockquote, Testimonials, Clients Carousel etc.will give that final touch to your content and make your blog all the more attractive for your followers.
Features that make Kloe the best personal blog theme:
Variable Grid Size
Multiple Blog List and Blog Single Layouts
Testimonials Shortcode
SEO Optimized
WooCommerce Integration
Download / More Info
Demo
Get Hosting
Download / More Info
Demo
One of the most important conditions for a good writing blog is that its design allows and, in fact, promotes a focus on the text. Design elements that are too catchy or loud might draw the visitors' attention away from the written content. That is why the Writing theme is characterized by minimal design and clean typography so that the visitor can give his undivided attention to the essence of the story you are telling. This theme features eight homepage layouts and a practical collection of premade inner pages. A variety of blog styles allow you to display your content in many different ways while if you also have products to sell you have a premade, neatly designed shop page too.
Every writer needs to feel the pulse of his audience and social media is just perfect for reaching and communicating with your target group. That is why this theme offers optimized social engagement, it is bundled with social share buttons, 24+ Social Icons, Facebook, Google Plus +, Latest Tweets & Social Icons Widgets, and FaceBook open graph tags. Moreover, in terms of reaching the desired audience and being visible to them, Writing is created with the latest rules of SEO in mind. Among other things, it has the most advanced HTML outline so that you can be sure that you will achieve excellent ranking with this theme. Plus, you don't need any coding skills to set up, use, and successfully navigate through this theme, it is very user-friendly and customizable and you'll enjoy tailoring it to your needs.
Features that make Writing the best personal blog theme:
Responsive & Retina Ready
Touch Friendly
Responsive Mobile Menu
Multi-lingual &Translation Ready WPML Compatible
Cross Browsers Support
Download / More Info
Demo
Get Hosting
Download / More Info
Demo
Johannes is a highly customizable theme with an incredible collection of 14 homepage layouts. It comes with a built-in WordPress Customizer that allows you to see a live preview of all the changes you make. As for the customization options, you get plenty of them. You can set your own color palette, choose among the beautiful layouts and design presets, you can even set the aspect ratio to make your images fit just right. One of the things that make this theme different from other WordPress personal blog themes are the predefined ad slots that allow you to place various banners or ad scripts on top or bottom, or in between the posts on any page you like and monetize your blog. Plenty of custom shortcodes, such as dropcap shortcode, social icons shortcode, pullquote shortcode and many others, enable you to make your posts visually appealing and easily highlight the most important aspects of the text. Another great thing is that with this theme you can display the amount of time needed for reading a certain post, which is information that your visitors would certainly appreciate. All the standard post types are supported and what is also enabled is Facebook, Instagram and Twitter embed, Vimeo videos, built-in videos, posts with comments and more, which all in all is pretty convenient for writers.
The theme also provides full compatibility with premium plugins, such as WooCommerce, MailChimp, Yoast, JetPack and others. Thanks to the quality coding, the loading speed of your website will be excellent, and since the theme is compatible with Yoast you count on pretty good SEO optimization for your website.
Features that make Johannes the best personal blog theme:
Custom Widgets
A Variety of Pagination Types
Sticky Sidebars
Responsive Design
Download / More Info
Demo
Get Hosting
Download / More Info
Demo
The classy and elegant design of the Rima personal blog WordPress theme makes it perfect for fashion, beauty, lifestyle bloggers, artists, photographers, and even writers. It comes with seven beautiful homepage layouts and a variety of inner premade pages. Furthermore, it is compatible with the Yoast plugin which is one of the best plugins for website SEO optimization. One of the most distinctive features of this theme is the full bleed video intro that is really a great way to draw the visitor's attention to what is important to you. The theme lends a particular focus to the visual content. In that sense, it offers beautiful post gallery layout options and plenty of ways to visually highlight your content. Another specialty of this theme are its custom widgets that include AboutMe Widget, Twitter Widget, Social Widget, Slider Posts Widget, Instagram Widget, and Subscribe Widget. Every blogger knows how important social media is, and that is why the theme supports full social media integration and allows you to connect and share with your followers easily.
Furthermore, it comes bundled with some premium page builder plugins: WPBakery and Elementor, included for free. Rima is retina ready and responsive so you can be sure your content and images will look great on all screen sizes.
Features that make Rima the best personal blog theme:
Google Fonts Library
Custom Header Style per Page
Sticky Navigation
Contact Form 7 Support
Translation Ready
Download / More Info
Demo
Get Hosting
So, to wrap it up, whether you are someone who's still in the process of starting their own blogging career or you are someone who's an experienced blogger looking out to touch up on your current advertising methods, these 5 personal blog WordPress themes are definitely a point to start from. Choose any of them and you'll get a vast range of possibilities to create beautiful, mesmerizing blogs and therefore gain the popularity that is essential in the blogging community.
We hope this article was helpful. If you liked it, feel free to check out some of these articles as well!