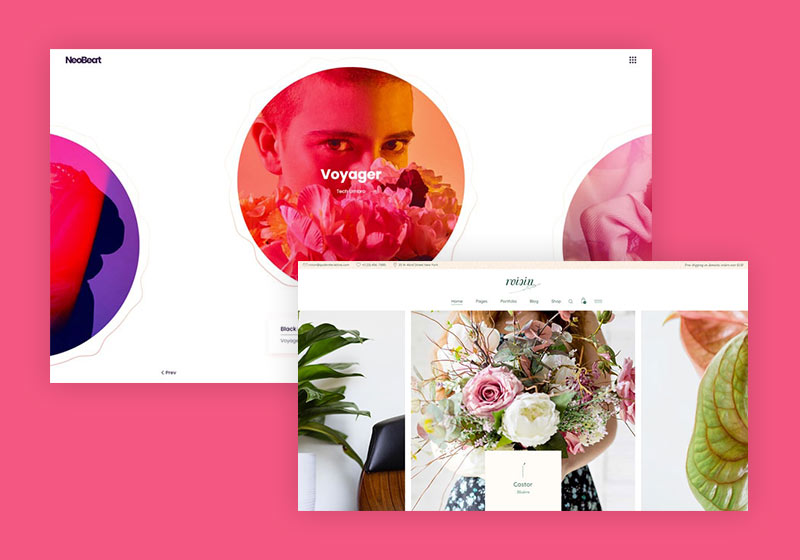 Top 5 Pink WordPress Themes : Experience the Power of Pink
It is a scientific fact that colors have a huge impact on our feelings, behavior, and thoughts. As Wasilly Kandindski once said, "Color hides a power still unknown but real, which acts on every part of the human body." Marketing experts are very proficient in using this power to achieve their goals, while many psychologists even use it as a tool to help people. So, choosing a particular color as a dominant one for your site definitely sends a strong message. And if your message is about hope and positivity, if you want people to feel calmed and reassured when they come to your pages, pink is the color that will work great for you.
Apart from the psychological meaning that pink has, this color is also often associated with matters of fashion, style, beauty, and of course, femininity, so it is no wonder that many female entrepreneurs choose it for their websites.
Although usually, you can adjust the colors of your WP theme and also change its font color accordingly, it is a much better option to choose a theme that is already designed with the pink color as its light motif. That is is because in this case, all the elements and details are designed to match and reflect the color's meaning.
Pink has a lot of shades, so to help you not to drown in the sea of pink themes, we compiled a list of the most beautiful WP templates that tell the story of this color in the most fascinating ways:
Download / More Info
Demo
For many, pink is a playful color linked to childhood, barbies, and girls. Well, if that's the case with you too, you are in for a surprise with the beautiful Biagiotti theme. Its sophistication, charm, and style are captivating. The shade of pink used in this case is nothing but elegant and refined. Carefully chosen typography seemingly accentuates the stylish feeling of the theme, and its excellent structure makes for sublime user experience.
Biagiotti is a versatile eCommerce theme that will work great for cosmetic stores, beauty shops, make-up artists, beauty blogs, and similar establishments, though, it may suit many different niches due to a variety of practical features that come with it. All of its six homepages are product-focused and allow you to display all the important product details in an appealing way. The theme also features all the essential shop elements like the quick view functionality, wishlist shortcode, product info shortcode, dropdown shop-cart widget shortcode, and many more.
Captivating galleries and a well-thought blog can do wonders for your sales, though not as obviously as some other elements. If you are willing to invest energy in long term brand building, this theme will offer strong support with sleek and stylish shop and gallery layouts.
Sharing and reaching a wide audience is also an important aspect of any successful online store, brand, or blogger, so the theme supports Instagram integration, includes social icons group widget, and features full social share functionality.
Features that make Biagiotti a great WordPress theme:
A large collection of useful inner pages
WooCommerce compatibility
Video background sections
Responsive and retina-ready
Testimonials
Download / More Info
Demo
Get Hosting
Download / More Info
Demo
Whether you like the pink color or not, the fact is that it has a uniquely warm and joyous quality that can hardly be found in any other color. This particular, cheerful vibration of pink is excellently explored and applied in the NeoBeat music WP theme, making it a great choice for all kinds of music festivals and events.
What also makes this theme unique, aside from its appealing, contemporary design and vivacious color palette, is the NeoBeat music player that supports various music playing platforms such as SoundCloud, Spotify, and others.
A large number of custom shortcodes like the artist list shortcode, event list shortcode, and similar allow you to set up a full-fledged music website pretty quickly, with zero coding knowledge. Attractive animations add to the modern feel of the theme and make the user experience especially interesting.
Music is a very inspiring topic for blogging, and blog is a great way to attract and connect with the right audience. Therefore, the theme comes with beautiful blog pages. In case you have products to sell, the NeoBet has you covered too, it features very attractive premade shop layouts, and it is WooCommerce compatible, so you can have your online store all set in no time.
Some other benefits that you get with the NeoBeat for free are lifetime updates, Slider Revolution plugin, and excellent customer support.
Features that make NeoBeat a great WordPress theme:
SEO optimized
Music module
Compatibility with Elementor and Contact Form 7
Fullscreen sections
Scroll animations
Download / More Info
Demo
Get Hosting
Download / More Info
Demo
Could you choose a better color than pink to describe all the beauty that flowers bring into our lives? Just like colors, flowers and their fragrances are powerful mood boosters.
The soft color palette and clean design of the Roisin theme create a delicate and serene atmosphere that is just perfect for sharing your love for flowers with the world. This gentle theme is pretty robust when it comes to the features and functionalities it offers. It is packed with a collection of meticulously designed layouts, and beautiful portfolio templates that allow you to tell a story about every flower with all the attention and details that it deserves.
Flowers are often more than a decoration. There's a lot to be told about them. Therefore, Roisin includes beautiful blog layouts so that you can share all the practical information about growing flowers, stories of their origin, anecdotes about their names, creative ideas for their use, or whatever you find important for attracting the right audience.
To help your business flourish, Roisin comes with plenty of practical shop elements. You can make the shopping experience smooth and pleasurable by adding user reviews to help customers make the right choice. You can also enable filtering by price or add a detailed product description.
Furthermore, the theme is SEO optimized, so a solid base for a good ranking on Google is guaranteed.
Features that make Roisin a great WordPress theme:
Working hours list shortcode
Instagram list widget
Comprehensive Shop Module
Animated product list
Scroll animations
Download / More Info
Demo
Get Hosting
Download / More Info
Demo
Just a hint of pink makes a big difference in how you perceive a certain brand, and can easily be the detail that makes a certain website linger in your memory. Even when it is not the dominant color, if used smartly as an accent, it can easily be the most important trait of a site's design. That's just the case with Bagja – a creative multi-concept portfolio WP template. Its bold and clean design is skillfully softened with pink elements.
Bagja is an excellent choice for freelancer portfolios, digital studios, add agencies, and all kinds of creatives. The theme's robust built is based on twitter bootstrap that guarantees a lot of powerful features. It is also very flexible – it allows you to create a one-page site or multi-page site with ease, fully customize any layout thanks to Inline Editor that comes with the theme, build your own header and footer, and a lot more.
It comes with eight premade homepages, and if you like any of the demos, you can have your site looking just the same in a blink of an eye as the theme features a one-click demo import functionality.
Features that make Bagja a great WordPress theme:
Isotope filtering
Drag & drop page builder
Responsive design
Built with twitter bootstrap
Icon powered by Fontawesome
Download / More Info
Demo
Get Hosting
Download / More Info
Demo
If there ever were a fashion flag, the pink color would surely be one of the most prominent if not the only color on it. While too much of pink can easily have a barbie-world effect, when used in the right amount, this color definitely adds an elegant flair to a website.
Every element of the Blake von Hauer theme is adjusted to the needs of the fashion website, from vertical photography to carefully chosen color palette that amazes with silky tones of pink. The supreme elegance of the theme and a certain feel of exclusivity that we usually link to the high fashion are smoothly accentuated with a perfectly balanced combination of bold, italic, and regular font styles.
For fashion professionals, content aesthetics is of huge importance. Therefore this theme features stunning layouts and gallery posts. Blog pages are carefully crafted to allow you to express your unique view on fashion and CTAs are strategically placed to drive the visitor's attention to your content.
One of the great things about this WP template is the fact it features eight widget areas and 13 custom widgets. The theme's light structure guarantees smooth performance and speed which makes for a quality user experience. Since imagery plays a key role in your site's success, the theme is responsive and retina ready so you can be sure your content will look perfect regardless of the screen size.
Features that make Blake von Hauer a great WordPress theme:
SEO optimized
Well-organized theme customizer
Nine blog layout options
Mobile-friendly
All Google fonts included
Download / More Info
Demo
Get Hosting
If you thought pink was reserved for women, you definitely haven't seen all of its shades. As you can notice in this list, pink is the color with many faces. From gentle, pearly shades to intensive, empowering magenta, this is a persuasive color. All of the themes in this list use it in a different yet equally impressive manner. Now, it is up to you to decide which shade and which WP theme will work best for you. Since all of the templates are premium ones, they offer a lot more than basic functionalities, meaning that you can focus on how well they match with your style and brand.
We hope this article was helpful. If you liked it, feel free to check out some of these articles as well!