5+ Amazing Tea Shop WordPress Themes for Your Business
From ancient times, tea has been more than a drink. Millions across the world enjoy tea for different reasons. Some seek for pleasure, others want to relax and boost their health. There are also those whose culture links tea with spirituality and different customs and rituals. In many cultures tea is commonly consumed at social events. On the other hand, in Britain people have afternoon tea ceremonies with widespread appeal. No matter where we live, what kind of tea we drink, how we consume it, tea is an integral part of our lives. This is exactly why the tea business constantly grows. Make sure to choose a responsive design to ensure you rank better on search ingines
If you thinking about starting a tea shop, or want to change your current website design, there are some amazing premium WordPress themes you could try. In our opinion, these tea shop WordPress themes will definitely be your cup of tea.
Download / More Info
Demo
Qi theme is a powerful, versatile, and feature-rich theme created by the award-winning Qode Interactive team. It comes with more than 100 demos and tons of customization options. If you plan to run an online shop, Qi has everything to meet your needs perfectly. First, it integrates with the WooCommerce plugin that covers essential eCommerce features. Second, it includes many types of store layouts you can use no matter which niche you plan to cover.
Features that make Chaai the best WordPress theme for tea shops:
Elementor Page Builder plugin compatible
Social Share functionality
Comparison Pricing Table shortcode
8 Header types
Instagram List widget
Download / More Info
Demo
Get Hosting
Download / More Info
Demo
The Chaai WordPress theme features a unique, minimalistic design that gives off an image of class and sophistication. The scroll animations highlight the overall modern feel of the theme. The beautiful pictures used throughout the demo are included with the theme so that you can use them for free on your website.
Chaai incorporates a collection of three captivating homepages, and each is designed to answer the specific needs of an online tea shop. A variety of custom shortcodes like stacked images shortcode, price list shortcode, and many more allow you to add useful elements to your website with ease. Restaurant module and open table integration also come with the theme.
Features that make Chaai the best WordPress theme for tea shops:
Elementor Page Builder plugin compatible
Social Share functionality
Comparison Pricing Table shortcode
8 Header types
Instagram List widget
Download / More Info
Demo
Get Hosting
Download / More Info
Demo
With Verdure it's always tea o'clock! This modern, simple theme brings a balanced flavor of clean design and powerful options. Packed with four elegant homepages with a lovely combo of green and gray floral details, Verdure is visually appealing in every aspect. It also comes with an amazing set of inner pages that you can fully customize to your needs. But what makes this theme absolutely worth your attention, are its highly-practical features.
Verdure is made with all tea lovers in mind, so you can make sure your website covers every tea product in detail. Let's start from portfolio layouts. Choose between Standard, Gallery or Masonry portfolio lists to present the new flavors or share the details about specific tea types and different preparation processes. There are, as well, some amazing single portfolio layouts perfect for presenting your lovely tea items.
Verdure is fully compatible with WooCommerce plugin that allows you to build an astonishing eCommerce platform for your tea products. This basically means you can start your online tea shop with just a few clicks. Showcase different tea types and share the info about their specifics. Add user reviews, description, mark the items on sale, and much more. Verdure has all it takes to provide users with an enjoyable shopping experience.
Another thing you will love about this theme is its numerous features. One that is definitely worth mentioning is the Menu list. It is perfect for presenting your tea selection in a simple yet effective manner.
If all of this works for you and meets your needs, wait no longer and take your sip of perfection with Verdure. Your website will surely be a favourite online place for a tea break.
Features that make Verdure the best WordPress theme for tea shops:
Nicely designed homepages
Elegant menu list
A set of portfolio layouts
Lovely shop options
A set of blog elements
Download / More Info
Demo
Get Hosting
Download / More Info
Demo
Santé is our cup of tea. This organic shop theme is beautifully designed to surprise even experienced design professionals. White, minimalistic, and elegant in details, this theme is an example of a fresh, contemporary style that can truly present your shop in the best light. Packed with a stunningly designed collection of organic shop & cosmetics layouts, topped off with full Elementor Page Builder compatibility, Santé has everything you'll need to launch your organic shop website. For starters, it offers numerous homepage layouts you can customize to your needs. There is, as well, a tea shop homepage, tailor-made for tea lovers. But what makes this theme a true catch is its set of eCommerce features.
Besides user wishlist, quick product view functionality, order tracking, Santé offers product single and product list layouts. Also, there is a beautiful user cart, informative product description, and many other practical fields and options. Lastly, this theme offers many blog layouts and newsletter pop-up features ideal for sharing special deals for everyone who joins your customer base.
Features that make Santé the best WordPress theme for tea shops:
Modern Clean Style
Multiple Shop Layouts
Newsletter Pop-up
Download / More Info
Demo
Get Hosting
Download / More Info
Demo
The combination of modern design and many practical features makes Tea House a good choice for any tea store. Besides Standard homepage layout, there is a Boxed template you can choose from. Each one can be a great fit depending on your business needs.
Blogging become an integral part of every business. It not only helps you create your brand identity, and share the relevant info, but it's great for sales as well. The good news is that Tea House comes with an amazing collection of blog styles. Chess blog layout is our favorite. Since it's organized in a dynamic way, you can be sure your blog stories will grab the attention they deserve.
Tea House is compatible with WooCommerce plugin. This means you can sell your tea products without leaving the couch. The theme allows you to organize your tea products in different categories, so your website visitors can save their time finding the one they want.
Features that make Tea House the best WordPress theme for tea shops:
Standard and Boxed homepage
Chass blog layout
WooCommerce plugin
Practical product's categories
Download / More Info
Demo
Get Hosting
Download / More Info
Demo
Bridge is the bestselling creative theme on Themeforest, trusted by more than 110k+ customers around the world. This theme is packed with 400+ different demos, including an amazing tea shop template made for all tea lovers. Designed to perfection, this demo allows you to create a whole website for your tea business in a flash. How? Thanks to the practical one-click demo import feature. Furthermore, this demo includes some amazing options that will cover every aspect of your tea business. For example, there is a captivating gallery layout ideal for showcasing any sort of tea products. Make sure your tea images are original, creative and high-quality, and your gallery will rock.
This demo also includes a nicely styled newsletter contact form. This great option will help you grow your community and send the latest updates right into their inbox.
In the end, let's mention WooCommerce plugin. The most popular plugin for eCommerce will allow you to sell with complete ease. Showcase your tea products and make the most of your online shop with Bridge. We honestly believe your customers will love every step of their shopping journey. And, finally, they will feel comfortable while building any type of page or layout since Bridge integrates with easy-to-use page builders Elementor and WPBakery.
Features that make Bridge the best WordPress theme for tea shops:
370+ demos including tea shop template
Beautiful newsletter contact form
Captivating gallery layout
Compatibility with WooCommerce
Many shop elements
Download / More Info
Demo
Get Hosting
Download / More Info
Demo
With this theme's elements you may be sure your tea business has a presentation that is everyone's cup of tea. Let's start from smooth page animations. Thanks to them you can create an amazing user experience for your website visitors. The elements that simultaneously appear as users scroll through the content will surely make it more dynamic. But, this is just one of the elements you should have in mind, since Chaitan comes with a large collection of functionalities. For example, you can use the icons to put a spotlight on the important information about your business or company.
Another great way to present your tea products or accessories is to combine the image and the icons. This is how your product gets a central place and attracts the attention, while the information about its characteristics stays nicely organized.
Chaitan covers a large plethora of shop options as well. Let's just mention the product single layouts that include highly practical features for every tea lover. One of them is the option that allows you to define the product weight since the tea packs can have different sizes.
Features that make Chaitan the best WordPress theme for tea shops:
Large set of practical features
Smooth page animations
Stunning layouts
Icons followed with text
Product weight option
Download / More Info
Demo
Get Hosting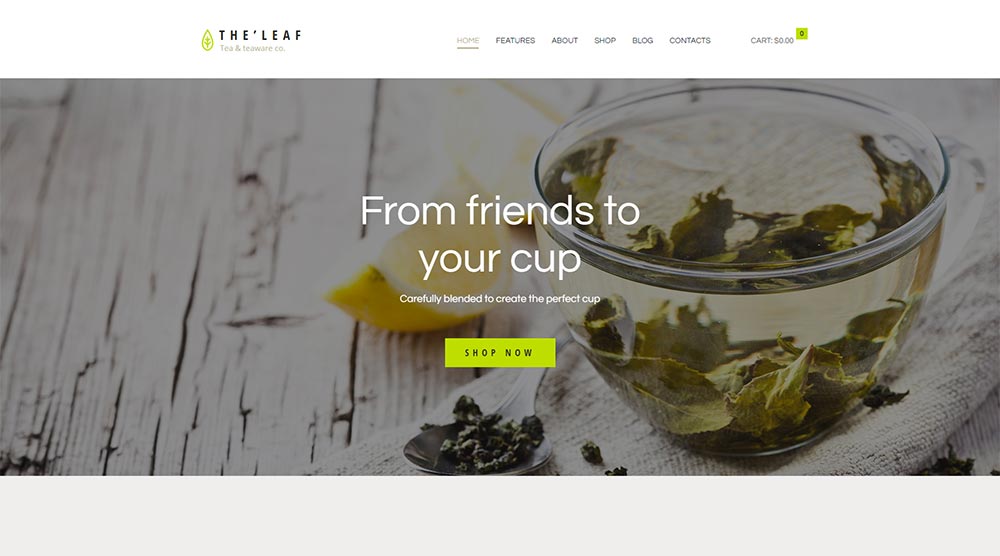 Download / More Info
Demo
This theme is made particularly for tea companies and producers. Its modern design and dynamic animations will do wonders to your tea business. TheLeaf is packed with a vast of carefully created shop elements that can be both used on your homepages or the inner pages. Have look at the image below. The product's categories organized in this manner leave a strong impression.
Call to action buttons you can easily insert on your pages, are a clever way to engage buyers to purchase. Also, you can feature your most popular products on the homepage while the rest of your assortment can be placed on your default shop page.
The authors of this theme paid special attention to team options. This isn't surprising since your team can play an important role in your reputation. As you can see in the image below, you can combine the product's image with your team member's image. Plus, you can share some interesting facts and stories about every person in your team.
Another possibility is to present your team members in detail with a team member single page. Here, you can share their bio and skills, and leave contact info.
Features that make TheLeaf the best WordPress theme for tea shops:
Vast shop elements
Call to action buttons
Layouts for the most popular items
Large set of options for presenting team
Download / More Info
Demo
Get Hosting
As you see, there are some amazing tea shop WordPress themes you can turn to if you want to present your tea business like a professional. Choose the one that is your cup of tea and join the tea culture no matter where you are.
We hope this article was helpful. If you liked it, feel free to check out some of these articles as well!