Top 5+ Urban WordPress Themes You Can Use Today
Sometimes, your website needs a calming, understated, and even pastoral look. This type of design is a natural match for many industries and types of businesses, and it's a remedy to the hectic, frenzied pace of modern life. Or the short-attention-span nature of the digital world.
Other times, however, you want a website that looks and feels distinctively modern. You want it to ooze that frenzied pace of living, to be punchy and edgy and attention-grabbing and not at all relaxing. What you need, in that case, is an urban WordPress theme for your website.
There's plenty of themes to choose from — apparently, you're not the only person who want to add some edge to how they present a product, business, or blog. So without further ado, here are ten of the best urban WordPress themes you can start using right away!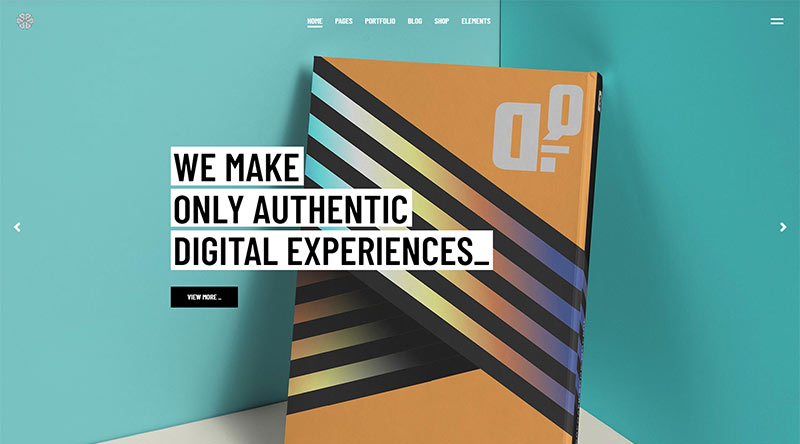 Download / More Info
Demo
No one can appreciate the need to attract attention more than people working in what we call "creative industries." For some, like marketers, copywriters, and designers, grabbing attention is often literally in the job description. So when an agency that gathers all of these creative workers has to make a website, you can bet it will be able to catch the eye.
Boldlab is a great theme for creative agencies that need a website that's just as striking as the branding they do for their clients is. Because this theme was built specifically for creative agencies, it contains features a creative agency would need. For example, the theme is packed with distinct portfolio styles, so you can showcase your past work in the best way possible. Plus, it's compatible with WooCommerce, so you can easily turn your website into an online store.
Best of all, Boldlab is a theme you can easily install and use. If you see anything you like in a demo, you can import it with only one click. You can choose between three styles of pagination, and use shortcode to add lists of clients, team members, and testimonials. On top of that, you can use widgets to add a blog list and an Instagram or Twitter feed. You can access all of these options and features through a powerful admin interface.
Features that make Boldlab the best WordPress urban theme:
No Coding Knowledge Required
Contemporary Elements and Animations
Scrollable Interactive Links
Animated Typography
Bold and Colorful Style
Download / More Info
Demo
Get Hosting
Download / More Info
Demo
Cinema is located on that interesting intersection of art and entertainment, which allows movies to affect us in so many ways. Creating a website for a company that works in the movie industry is very demanding — you can't have a website that doesn't look amazing and ask to be taken seriously as someone who works in visual arts.
Luckily for you, the urban WordPress theme Leitmotif is there to help you package your website for the best possible viewing experience. The theme pays homage to the various iconic styles and technologies of cinema and television, lending itself perfectly to a website for a production company, a freelance cinematographer, or a cinema auteur.
Leitmotif makes it incredibly easy to get started with creating a beautiful website. If you think yours should look like one of the demo sites the creators of the theme built, you can easily download it and use it as your own. But if you want to dig in a bit and customize your website, you'll find that the theme has some awesome features that include a portfolio to showcase your works, and a blog if you want to share your thoughts.
Features that make Leitmotif the best WordPress urban theme:
Video Integration
Modern Project Showcases
Hero Intro Effect
Noise Effects and Hovers
Interactive Presentations
Download / More Info
Demo
Get Hosting
Download / More Info
Demo
Gyms are anything but peaceful, quiet, low-energy places. They are where people go to gain some muscle mass and get in shape, and that can be a difficult process. A website for a gym has to reflect all the high-energy activity that's going on there. It also has to evoke the images of speed, strengths, and physical prowess.
Powerlift is an urban WordPress theme that, just like the sport of powerlifting, is only for the ones who are invested in fitness and training. You can use it if you own a gym or a fitness center, but also if you're selling sportswear or equipment. If your job has anything to do with people burning calories, this is a theme you should give a look.
A serious theme that brings you serious features, Powerlift is sure to give your business the things it needs to grow. Whether it's an online store you want to use to sell products or a portfolio where you can showcase just how equipped your gym is, this theme will fit perfectly.
Features that make Powerlift the best WordPress urban theme:
Urban Style and Bold Animations
Classes Schedule
BMI Calculator
Timetable, Galleries
Events
Download / More Info
Demo
Get Hosting
Download / More Info
Demo
Want to create an online magazine people will fall in love with? The content you create and the topics you choose to cover matter, of course. But if we're being honest, the layout and the visual style of the magazine also count. It's a part of the magazine's identity, it's what makes it recognizable, and in the base case scenario, it might even help your magazine attract an audience.
Buzzy is a theme that has several of the sought-after characteristics of urban WordPress themes for magazines. It lets you choose between dozens of news blocks and layouts, you can use fun animations and enable a typography interactivity effect. All of this is packed into a colorful and fun visual style that's perfect for online publications such as magazines, but also personal blogs.
You can use Buzzy to style a beautiful online magazine without ever having written a single line of code. The theme gives you the benefit of having six different home page examples that can serve as inspiration or a blueprint you can import to your own website. All of the major functions you'd need for a magazine are there, too: you can add social widgets, add special markings such as "featured," "trending," or "hot" to your posts, even connect the website to WooCommerce for a store section.
Features that make Buzzy the best WordPress urban theme:
Dozens of News Blocks and Layouts
Colorful Style
Fun Animations
Interactive Typography Effect
Responsive Design
Download / More Info
Demo
Get Hosting
Download / More Info
Demo
When you're a part of a digital agency, the whole world can be your playground. Geography stops making sense, and you are wide open to work with people from different countries, cultures, and backgrounds. The only downside is that being a part of such a global marketplace means that you'll have to do a lot if you want to stand out from the crowd of competitors.
One thing you should definitely do is make your website looks like it belongs to a snappy digital agency, which is something Holmes, an urban digital agency WordPress theme, was made for. With Holmes, you can quickly transform your website with a selection of sixteen home pages, lots of pre-designed inner pages, and portfolio layouts.
But if you think that the pre-made style isn't for you, the Holmes theme is customizable enough to be tweaked, molded, and enhanced with widgets and shortcode into the look and feel your agency deserves. You'll get to do anything from showcasing past projects to showing client references and testimonials. Want to let the world know who your team members are? Holmes will help you do that, too.
Features that make Holmes the best WordPress urban theme:
Interactive Layouts and Modern Animations
16 Homepages
Large Collection of Portfolio Layouts
Bold Style
Interactive Showcases
Download / More Info
Demo
Get Hosting
Download / More Info
Demo
Directories have become a staple of the online search experience. For people looking for a particular type of business, these directories can sometimes offer a snapshot of the market, with useful information and plenty of options. For businesses, submitting their business information to business directories is yet another thing they can do to drum up some business online.
If you have a business directory, an urban listing, or even a city guide, you'll need a dynamic urban theme like UrbanGo. This theme can make the creation and running of your website incredibly easy. It comes with pre-made home and inner pages, plus you can use any of its pre-designed listing templates if you want to.
But UrbanGo goes the extra mile to be directory-friendly. The businesses that enlist can pin their locations to a map, making location-based searches meaningful. You can also set ad placement areas, set business' working hours, and do many more awesome things. And it just so happens your website might need a blog section, this theme will have you covered in that area, too.
Features that make UrbanGo the best WordPress urban theme:
Listing Module
Map with Geo Location
Working Hours
Open Table Integration
Urban Listings
Download / More Info
Demo
Get Hosting
Download / More Info
Demo
Everyone can have their fifteen minutes under the limelight today. At the very least, everyone can try — websites like YouTube, Vimeo, and Bandcamp give everyone a shot at putting their creativity out there and being noticed for it. For a lot of people who try to use these websites, things never pan out the way they wanted. This might be true for the vast majority of music enthusiasts.
But that doesn't have to be your story, does it? Nope, if you're looking for ways to establish a real online presence as an artist, you're in for the long run. In that case, you probably want to create a website, and the Noizzy is the perfect theme to do it with.
Noizzy is an urban theme that works particularly well for bands, musicians, DJs, artists, and even record labels. The things that are most important for that profile of users are there — the ability to import a playlist from the world's most popular music platforms, for example, or the ability to create a store right there on the website. With extensive customization options, Noizzy might be just the thing you need to solidify your online presence and start conquering the world of music.
Features that make Noizzy the best WordPress urban theme:
Discography Carousel and Lists
Events and Tours
Variety of Supported Music Platforms
Video Presentations
Artists
Download / More Info
Demo
Get Hosting
Download / More Info
Demo
Once upon a time, tattoo salons were exotic businesses that catered to a very specific clientele of fearless people who didn't mind that tattoos were against the prevailing social mores. Today, the good old arm tattoo is as milquetoast as it gets and facial tattoos are getting more en vogue. That means, of course, that an establishment where tattoos are created isn't such a rare sight these days.
For tattoo parlors and ink shops, having a website is a perfect tool for reaching new customers. Ancora, a theme created specifically for tattoo businesses and their suppliers, can easily become an integral part of the way your market your services and products. For starters, the theme will ensure that your website looks good regardless of the device it's being viewed on, thanks to responsive design.
It only gets better from there. Ancora offers a one-click demo installation, so you can easily use the features you liked in the demos. It has plenty of layout features that should help you customize your website, as well as navigation options that should make navigating your website easy and interesting. Plus, it's compatible with the top plugins, including MailChimp and WooCommerce, so you can easily extend your website's original functions.
Features that make Ancora the best WordPress urban theme:
Online Appointments booking & management
Advanced Contact Forms
Full Woocommerce store compatibility
Awesome premade pages
Beautiful gallery & post layouts
Download / More Info
Demo
Get Hosting
Download / More Info
Demo
Is it more important that your website looks pretty, or that it functions well? Do you need to be able to put it up and edit it quickly, or it is more important that you have tons and tons of features to choose from? These are all priorities you need to set for your website, especially if the website in question is for an important project.
If you pick the Urban Mag for your lifestyle or fashion magazine, you should know that your project is in good hands. You get a little bit of everything with this theme: it comes in four predefined styles, but you can also use a drag-and-drop page builder to make it completely your own. Either way, it will look great on any device thanks to responsive design.
The easiest way to get started with the Urban Mag is by importing one of the demos, which is something you can do with only one click. But you can also change the header layout, pick between the boxed and the full layout, or change the colors of the elements of the website. Urban Mag lets act as hands-on, or hands-off, as you want.
Features that make Urban Mag the best WordPress urban theme:
Customizable skin
Floating Navigation
GoodLayers Importer
Awesome Shortcodes
Fully Responsive
Download / More Info
Demo
Get Hosting
The market for WordPress themes is huge, so knowing your buzzwords, shortcuts, and designer speak can save you lots of time browsing it. When you want your website to appeal to a younger, city-dwelling crowd that's interested in the various aspects of living in towns, and various activities that appear powerful, intense, or edgy, the theme you're looking for might be under the label "urban." And if you pick any one of those we listed here, you won't be making a mistake.
We hope this article was helpful. If you liked it, feel free to check out some of these articles as well!