Bakery Websites for Web Design Inspiration
Sweets make everything easier. Every sweet lover would agree on this. But, their amazing taste isn't the only reason we love them. As an important ingredient of our special occasions, desserts are often part of our memories. Besides powerful flavors we so gladly enjoy, pastries also bring a feeling of sharing, belonging and relaxation. If you run a family bakery or a small pastry and feel the need to share your hand-made cakes, tarts, cookies or bread with the world, keep reading. Here, we selected the best bakery websites you can use to get a sweet dose of web design inspiration. Use them to spark the imagination and start exploring some great bakery WordPress themes equipped with all the necessities you may need.
Cakes… We all have at least one we adore. As an integral part of our birthdays, celebrations or special moments, cakes are almost a synonym for happiness. Inspired by sweet lovers, SusieCakes brings a refreshing, pastel color scheme ready to revive our senses. Like a vintage cookbook we all have, this website is the mixture of traditional website elements and progressive color choices. SusieCakes features menu customers can download, pop-up newsletter, and online shop. There is, also, a lovely donation page where you can submit donation inquiry, so SusieCakes can surprise you with delicious cakes. In the end, on this website customers can purchase a gift card and surprise their loved ones with sweet gifts. Go with SusieCakes if you like old-fashioned, yet attention-grabbing bakery website style.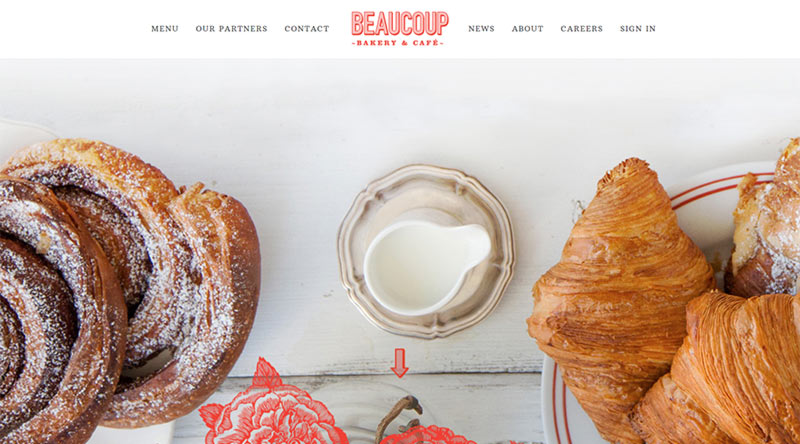 Experienced sweet lovers, always search for new, delicious desserts to try. The exotic flavors, delicious creams, and quality ingredients are the essence of every good sweet. BeaucoupBakery knows this perfectly. This little bakery uses a simple, yet elegant design style to present their hand-made pastries. What we like about this website is its simple color palette. The mixture of grey, white and red works great in a combo with practical page elements. Let's just mention the menu with delicious product images, the list of partners they collaborated with, their story in media. Use this website as web design inspiration in case you want a classic, professional online presentation.
Noe Valley has all the elements one bakery website needs. It features a minimal design, with dominant black and white, so products can pop out. This allows customers to focus on the sweet offer. Besides product showcase, there is a great set of shop options so sweet-lovers can buy their favorite cakes, pastries, and tarts. Apart from this, Noe Valley integrates the FAQ page, where you can find the most common questions/answers. Also, there are recipes, customers can use to prepare their favorite sweets at home. Finally, Instagram feed with the latest updates from Noe Valley's bakery is placed at the bottom of the page.
We all have that one old cooking book that reminds us of our grandma and her delicious dishes. Designed to revive our childhood memories, Magnolia bakery's website is sweet in every detail. Thanks to a combination of dots and lovely, tiny details, this website almost looks like your favorite pastry in town. Warm atmosphere, bright colors and amazing sweets – that's what this website stands for. What we love about this site is a lovely menu option. Here, the customers can find the list of sweets they can try. Also, they can download it. There is, as well, a lovely collage gallery with the product images which really adds to Magnolia Bakery's charm. So, if you like gentle colors, nice details, and old-school design style, use this example as web design inspiration.
Milk bar store decided for an aesthetic that can give you a sugar rush. The combination of pink, yellow and red seems like a real party on the screen. Vibrant details, bold fonts, and lovely animations are what this website is all about. In other words, creators of Milk Bar mixed together website elements like ingredients to create a real website dessert. Integrated with Milk Bar is a practical shop option so anyone can order their favorite sweets. If you are one of these people who enjoy strong visual impressions, use this website as an example for your future online presentation.
The family business is all about loyalty, life-long tradition and high-quality. Zaro is the best proof. Designed in tones of lovely vanilla, delicious coffee, and cacao creams, this website is a sort of dessert itself. On the top of the page, there is a nice slider with the most representative images of their products. There is, as well, a separate page where you can order the cakes for your special occasion. Zaro gives a lot of space to their catering and coffee selection, too. What we especially like about this website is a special page where you can get Zaro's app that allows you to order your favorite sweets with a single click from your mobile. So, if you fancy a more traditional visual style, you can feel free to follow Zero's design footsteps.
If you need a little loving, you can get it straight from the oven thanks to cupcakes. Gracene's cupcakes are all about love. Their cute, simple website is just a living proof. Minimal design where blue dominates is made with one purpose: to help you get your favorite cupcakes with ease. Presentation is boosted with parallax effects that definitely catch an eye. Apart from this, customers can place an order or check out the prices right there on the website. Also, there is a separate website section dedicated to Gracene's charity work. Made for a good cause, these delicious cupcakes will surely make someone's day. In case you share the same values and visual preferences with Gracene's, use this website as a starting point when creating your bakery website.
Nothing smells better than fresh, delicious bread in the early morning. For many people, it's even one of the favorite smells strongly bonded with childhood. Revive the memories and make your mornings little holidays with the best bread and coffee in town. Niedlov's offer will definitely sparkle your imagination. Dedicated to delivering the best-quality bread, coffee, pastries and catering, this brand is all about simplicity. The basic combination of white and black leaves a lot of space for the product's presentation. Besides the simple showcase, this website offers crucial information about Niedlov's business story, working hours and locations where people can try and buy their products. If you prefer a straightforward approach and a website that puts simplicity first, use this example as the inspiration.
Bread, so basic, yet so essential. No matter where you live, what's your cultural context, what kind of meals you like, bread is always there. It follows us from breakfast, through lunch, all the way to dinner time. Bread club tells a story about bread and pasties in a classy, elegant manner. Each website's section adds to the story. Follow the smell of fresh bread and reach the final destination at the bottom of the page where you can find your daily dose of inspiration, featured right there from Instagram. If this website has stolen your heart, you might want to join the team of experts that are behind this fairytale. Just fill in the required information and stay tuned!
Welcome to the place where sweet dreams become a reality. Chok will walk you through delicious heaven, made of chocolate, cream, cakes, and tarts. Step into the magic with a video presentation that will have your attention instantly. Enjoy the fragments of the preparation process before you decide to try your new favorite dessert. Hand-made sweets, decorated with love are what Chok is all about. Their quality products, created to offer superior pleasure are shown in a simple, elegant manner. Minimal design with a hidden, hamburger menu, allow you to completely focus on products. Make your wish list and prepare for the gustation at your nearest Chok pastry.
Stay ahead of competitors and spread the sweet magic with a mouth-wetting website. We hope our selection of bakery websites will inspire you to present your family bakery, pastry or cake shop in the best possible way. All you need to get started is to select a niche-specific or a multipurpose WordPress theme that matches your style.
We hope this article was helpful. If you liked it, feel free to check out some of these articles as well!