How to Choose the Best WordPress Hosting
For Millennials and Gen Xers online shopping is a part of a lifestyle. According to research, they spend 50% more time shopping online than older generations. This is exciting news for anyone who plans to start the eCommerce business. With the rapid eCommerce growth, new opportunities arise as well. If you plan to start an online store in the future, make sure it will have the capacity to offer great shopping experience without distractions. For this purpose, you will need a hosting service that makes sure your website is secure and fast. Free WordPress Hosting is a good option to consider if you are looking to test out the waters or want to build a one-page website of your profile including your name, accomplishments, etc. In this interview, we asked WordPress experts what things you should consider when searching for the best WordPress hosting provider.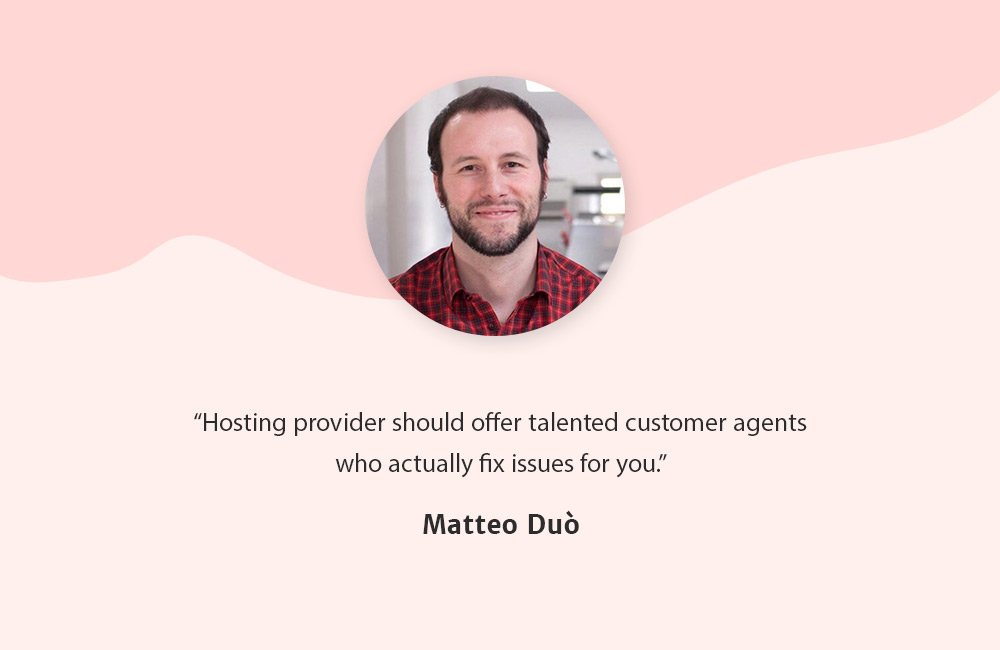 If you're serious about your site, your hosting provider needs to be your wingman. That means powerful tech stack for performance, talented customer agents who actually fix issues for you (and don't tell you how to fix it), and a pool of experts with solid experience to both hack prevention and hack removal. Everything else can be a second priority.
Hristo Pandjarov, Manager of WordPress Initiatives at SiteGround
Being a good WordPress hosting provider requires much more than running PHP and MySQL on your server. A good WordPress host should have:
General and WordPress-Specific Security
With WordPress powering more than a third of the web, each day there are thousands of people trying to find vulnerabilities and breach WordPress sites. While WordPress core itself is doing a great job with security, there are often issues with plugins and themes that lead to security breaches. This is why your hosting has to provide both general and WordPress-specific security. General hosting security measures include constant updates to its services and proper account isolation so you don't get infected through a different account on the same server. WordPress-specific security should include measures like automatic updates and Web Application Firewall (WAF). Last but not least, having a free SSL certificate (from Let's Encrypt for example) is something all quality hosts should offer.
Performance and Great Loading Speeds
Nowadays, every site needs to be fast. Website visitors expect it. That's why your WordPress hosting must provide proper caching mechanisms, like Dynamic Caching for example, so you can serve your pages in a blazing fast way! In addition to that, having an optimized caching mechanism means you can save on hosting resources, even as your traffic grows, so you don't have to upgrade your plan as quickly.
WordPress Knowledgeable and Support
It happens to the best of us: sooner or later you will need a helping hand with your website. One of the most important things that make a good WordPress host is a support team that can help you in a fast and professional way.
There are many important features to consider when searching for the right hosting provider for your e-commerce WordPress site. The Payment Card Industry Security Standards Council (PCI-SSC) develops standards that outline the proper protection of data in today's security climate. There is a 12-point checklist of PCI compliant server requirements that should be followed, detailed below:
Installed and properly configured routers and firewalls.
Replacement of all default passwords.
Defenses on any PCI information in storage.
Encryption of data transmission on any public networks.
Regularly used & updated antivirus.
Maintenance of secure software and systems.
Business need-to-know access control.
Unique IDs for everyone with access.
Stringent physical access controls.
Network and data access monitoring & tracking.
Testing of all security mechanisms.
Information security policy.
While choosing a hosting solution for WordPress websites, keep in mind that we are not just buying a server. Rather, it would be a location for our online business. If you have invested a lot of time and resources in optimizing your website for speed and performance, a slow hosting solution would ruin your effort. Thus, you need to test the performance, security, features, and support first, and then opt for a managed WordPress hosting that offers an optimized platform that saves you from server-related hassles. If your website loads up in under 2 seconds, it would rank better because Google considers page load time as an important ranking factor. Fast load speed will also improve the overall page bounce rate.
It's so important that your hosting provider is a managed WordPress hosting company (or provides that service alongside their other hosting services). When you have that, not only will you get all the necessities that you need to make sure that your site is fast, secure and runs smoothly, but you will also have access to the support team who actually knows what they are talking about..i.e. WordPress.
Part of the problem of going with a generic hosting provider and you use their support is that they may not have much knowledge about WordPress. But you won't get that if you get with a reputable managed WordPress hosting provider.
So if you ever run into a hosting-related problem with your site but your managed WordPress hosting provider has very good customer service, you will feel comfortable knowing that they will have your back and will support you along the way by giving you the right advice and service.
You can't put a price on that extra support (well, apart from your monthly fee. But that's it!).
The most important feature for our clients' WordPress websites is uptime, with failover – they need to be up 24/7/365 or as near to that as possible. Second, is disk space and bandwidth to see if it can handle your traffic and provide you customers with a good browsing experience. Third, is the price. We partner with cloud providers that give flexibility – when the website is busy it uses more resources and the client is charged more. When there's low traffic, the resource reduces, and the client is charged less – this elasticity also means it doesn't crash. Fourth, would be support – we offer our clients 24/7 managed services support – but that really comes down to the package they choose – you want to be able to get access to support if it is necessary.
The most important thing to consider when comparing hosting providers for your e-commerce store is web hosting uptime. Many surveys and experts in the industry agree that uptime can have a significant impact on user interaction and conversions.
Whilst most web hosting providers promise 99.99% uptime, that's not always the case. A study by Dun & Bradstreet found that almost 60% of Fortune 500 companies had at least 1.6 hours of downtime each week.
When comparing web host providers, aim to find a host that provides a minimum of 99.94% uptime. Case studies and reviews will help validate these numbers so that you don't choose a web host which might cause you to miss out on valuable conversions.
High availability – A successful eCommerce site needs to be available and accessible to customers at any time. This means that the hosting provider needs to uarantee the availability of the site at least 99.99% of the time. Even the slightest downtime can lead to revenue loss.
High performance – The software and hardware that the hosting provider uses will determine the speed of your site. If your site loads slowly, this will not only affect your Google ranking but also your site's bounce rates, both of which will ultimately affect your revenues.
High performance and high availability are some of the essential features of an excellent hosting provider for eCommerce WordPress sites.
For me, there are three key features that every hosting provider for eCommerce WordPress sites needs to have. These are speed, reliability, and security.
Speed is the number one thing I look at when considering any hosting provider. The faster the better and it's worth paying for. For example, last year we switched web hosts which resulted in our pages loading in half the time. This extra speed boost increased revenue by 5%, which more than paid for the higher hosting costs.
Reliability is also something that's key when running any sort of eCommerce business. Basically, you want to make sure your website is always accessible and that it can handle any big spikes in traffic. The last thing you want is your website going down when having lots of people looking to buy.
Finally, you want to ensure your hosting provider offers advanced security features to make sure your website stays secure. This includes things like actively monitoring malicious login attempts and also providing regular backups that means you can easily restore your site.
I would argue that the most important feature of any hosting provider is performance and loading speeds. And if your site is being hosted on a server with thousands of other sites, you'll be competing for resources.
E-commerce stores are typically plugin heavy, and loaded with hundreds (if not housands) of products. They are more resource-intensive and will require more advanced server functionality. A provider that hosts your website on a dedicated, highly optimized server with only a few hundred other websites will be much more powerful than a provider who stuffs your site onto an already overloaded server (as many of the "big guys" like to do).
Do your research. Find out what kind of server your website will be hosted on! And, ideally, how many other sites you're sharing it with.
The most important features for an eCommerce site that runs on WordPress are:
Speed: Website speed is crucial when considering how long visitors will stick around your store. They will leave if your site is slow. This will also affect how your site ranks in search engines as this is one factor that search engines use to rank your site. Ensure that your web hosting is fast and increase speed as your business grows. Also take into account that as your visitors grow, your site will get slower. Choose a host that can handle your growing amount of traffic.
Automated Backups: The worst thing that can happen to your business is that your site breaks and you cannot revert to a previous version. We recommend going with a hosting provider that automates backups in the event that your site breaks. WPengine is a great hosting solution as they have daily automated backups.
Security: Choose a hosting that provides an SSL certificate. This will ensure that your clients' information stays safe from hackers. Some hosting companies will offer free SSL certs and some will require you to purchase.
WordPress-specific security and great loading speed are the two main things you should search for in your new hosting provider. Apart from this, the best WordPress hosting services offer data backup and provide professional support. We hope this article helpful. Stay tuned for more.
We hope this article was helpful. If you liked it, feel free to check out some of these articles as well!