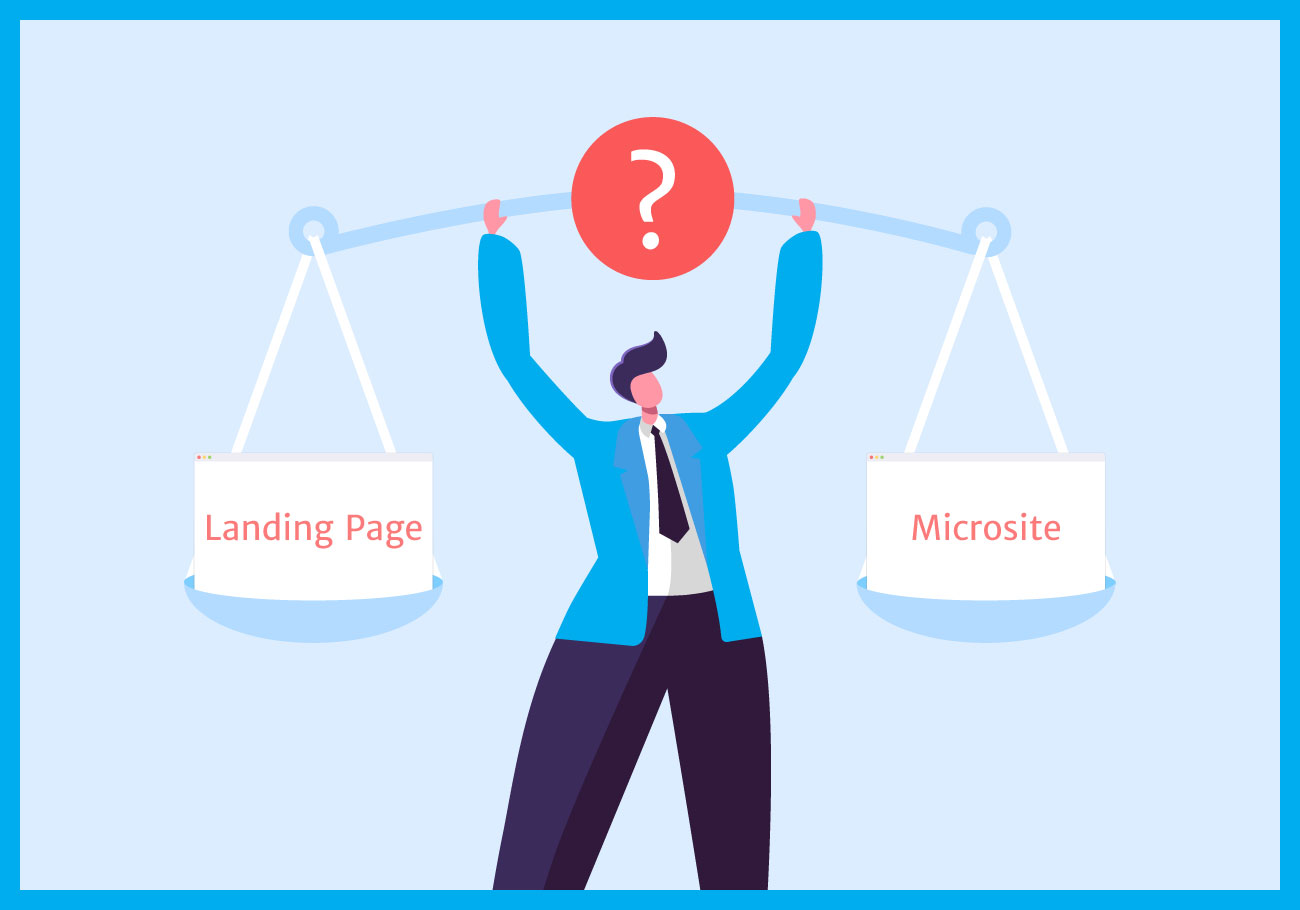 Landing Page vs Microsite – Which One Is Better
When deciding on how to expand your business presence on the web, the terms "microsite" and "landing page" often come up. In a marketing world, landing pages and microsites are both used for individual product and service campaigns. However, the problem arises when people start confusing the two.
Despite some similarities, a microsite and a landing page still have essentially different functions. In order to help you decide which one of the two is best for your business, we've decided to talk about the differences between a landing page and a microsite.
A landing page is a specific website page that has the purpose of promoting a particular service or product. The focus of a landing page should revolve around a single topic, such as promoting a webinar, an ebook, or some other limited offer. It should also provide a call-to-action, like a newsletter subscription, a signup form for a free trial or demo, or ways to purchase a product or service.
The main goal of every landing page should be to capture the attention of its visitors and ultimately turn them into clients. That's why it's also important to design a landing page layout in a way that will be attractive and compelling for those who visit your site.
Basecamp, Patreon, and Tumblr are all examples of great landing pages. Your landing page can look different, of course, especially if you build it to match the source of the traffic. Instagram landing page examples can be especially relevant to this point, as they're ideally built to cater to viewing on mobile devices, as it's the prevalent way of using the app.
The pros and cons of landing pages
Since landing pages can be hosted on the same domain of their parent site, they are relatively quick and easy to make and are usually suitable for any budget. There are multiple ways to create a landing page like using a specialized landing page builder service. But possibly the most used and easiest way to do it is by using a plugin.
In addition, the conversion rate of a landing page is higher compared to that of a regular webpage.
That being said, landing pages do have some shortcomings. As they only appeal to a particular audience interested in a single offer, they can't serve as an alternative to an actual website. Also, they only offer a limited amount of information about a certain product or service, which may not be sufficient for a lot of users.
A microsite usually refers to an individual page that is a part of a larger organization but operates on a different domain, unlike a landing page that is located on the same domain. As such, it functions as a smaller entity that has its own separate design and content typically built around a specific marketing campaign. Contrary to a landing page, microsites can contain a few pages that have a goal of providing further information about a certain campaign or product. Some of the best-case uses of microsites include A Human Project, NASA Spacecrafts by Nasa, and Nespresso by Nestlé.
Microsites often have a temporary lifespan, although depending on their purpose, they can also be long-lasting.
The pros and cons of microsites
Microsites come in handy in cases when you want to promote a new product or service that should attract a target audience that differs from the main webpage.
The short form of microsites is certainly a part of their appeal. However, what's also great about them is that they are still informative enough to get the audience to click on any additional pages and familiarize themselves with the product. On top of all that, microsites can serve the purpose of bringing more organic traffic to your site.
Some of the disadvantages of microsites are that they can be quite costly to maintain compared to the landing pages. This is because you have to buy additional domain names in order to make one. Moreover, they require more time and effort to set up in general.
Finally, after learning about main characteristics of a landing page and a microsite, as well as their similarities and differences, here comes the main (but tricky) question – which one should you pick?
Ultimately, it all depends on what your goal is. If you want a platform on which you can build and expand your brand, or if your customers require more detailed information about your service or product before they purchase it, then you should consider going for a microsite. On the other hand, if what you're offering is more simple and straightforward, such as an ebook or a newsletter, and you want to increase conversions, then landing page is your best pick. Some other things to consider are the scale of your campaign, as well as the budget range that you have.
In short, both a microsite and a landing page can be beneficial for your business from different perspectives. That's why it's important to analyze your brand requirements carefully before you decide which one fits you the most.
Bonus: Marshmallow Landing Page Template
Even though Marshmallow isn't a WordPress theme, we thought this template would be a useful addition to our article. Marshmallow is a Bootstrap landing page template that can be used to generate new leads and promote your business online. Available for free download under MIT license, this one-page template includes all core essential elements like Pricing Plans, Services, Option to leave feedback, and more.
We hope this article was helpful. If you liked it, feel free to check out some of these articles as well!