5 Popular Types of WordPress Websites
If you have just entered the marvelous world of WordPress, you're probably wondering what types of websites you can create using this famous CMS. The answer to this question is easy – you can create any type of website that crosses your mind with WordPress!
Before you begin your WordPress adventure, there are some things we have to get cleared out right at the start. First of all, you need to know that there are two types of WordPress websites – WordPress.com which is a hosting company, and WordPress.org which is a self-hosted WordPress. In this article, we'll deal with self-hosted WordPress as this platform lets you use all the WordPress functionalities right away.
Second, before you start, you need to choose your WordPress hosting and domain name. To learn more about hosting options and domain names, jump to some of our articles that cover these topics in detail.
When you have that covered, it is time to explore some of the most popular types of WordPress websites you can also easily create all by yourself, with zero coding knowledge. Stay tuned to read more about:
A curious fact is that WordPress actually started as a blogging platform. But, it wasn't long until the users realized they can do all kinds of different things with WordPress. Still, blogging has never lost its charm and to this day, after so many years, bloggers play an important part in the online world.
Today's biggest influencers typically started out as bloggers, and it is not hard to understand all the possibilities a quality personal blog can bring you. Whether it is about sharing your passion for travel, food, fashion, literature, and what have you – with all the tools you have at your disposal the least you can do is express your creativity.
Have you always dreamed about having your own shop? Thanks to WooCommerce and WordPress anyone can start their own webshop, accept payments, and display products quickly. WooCommerce is the most popular eCommerce platform and it is trusted by 4,414,537 websites at the moment of writing this article.
Regardless of whether you plan to sell digital or physical products, WooCommerce can cover all your needs. Pair it with a quality WooCommerce WordPress theme and you'll have an amazing webshop ready in no time. WooCommerce supports a variety of payment gateways including PayPal and Stripe, so accepting payments online should work smoothly both for you and your customers.
You should also explore WooCommerce plugins – there are so many great ones you can use to extend the native functionality of your store, add impressive effects, enrich your store with useful functionality and boost sales and conversions.
When you are specific you are more relevant. In other words, when people know what they can except in your article, they are more likely to give it a chance.
If you thought WordPress is only for personal use, you are in for a surprise – businesses of all types and scopes use it just as often. The flexibility and capacity for integration with different extensions that WordPress offers are widely appreciated among business owners. And what's also important is that WordPress is constantly improving, each update is better at meeting its users' needs.
Simply by picking the right WordPress theme, you can easily create a professionally designed business website that has all the functionality that you need. There's a wide array of both quality premium and free business themes that you can choose from to get started.
Also, since WordPress is made to be user-friendly, you can do literally everything all by yourself.
If you are a loyal fan of specific brands why not make some profit from recommending them to other? When you are super satisfied with some product, brand, or service it is only natural to feel the need to share your impressions and recommend it to those who are close to you. There's no reason to limit your recommendations to your closest circle, just by doing the same thing online you can earn significant revenue. Starting an affiliate website is one of the most popular ways to make passive income. The general principle is that you make a commission by referring your users to selected products and services.
WordPress offers many diverse affiliate marketing tools that will help you get started quickly even if you haven't got a clue about anything related to affiliate marketing. You can also explore the wide variety of WordPress affiliate plugins to add some useful features to your affiliate website. By choosing an affiliate WordPress theme to start your site, you'll also get plenty of niche-specific functionalities included with the theme.
People usually choose between two options when it comes to starting an affiliate business – they either sign up for individual affiliate programs or create an Amazon affiliate store that relies on just one huge affiliate network.
You are a passionate environmental activist? Have a cause you deeply believe in? Want to find a way to make the world a better place? Why not start a non-profit website where you can raise funds, connect with like-minded people, share your beliefs and ideas, and participate actively in shaping the reality. The fact that WordPress is free makes it a logical choice for setting up a non-profit website.
Once you start exploring all the possibilities you have to start a website of this kind, you'll also learn about the wide variety of donation and fundraising plugins, non-profit WordPress themes, and many other tools that you can use to make an amazing non-profit website.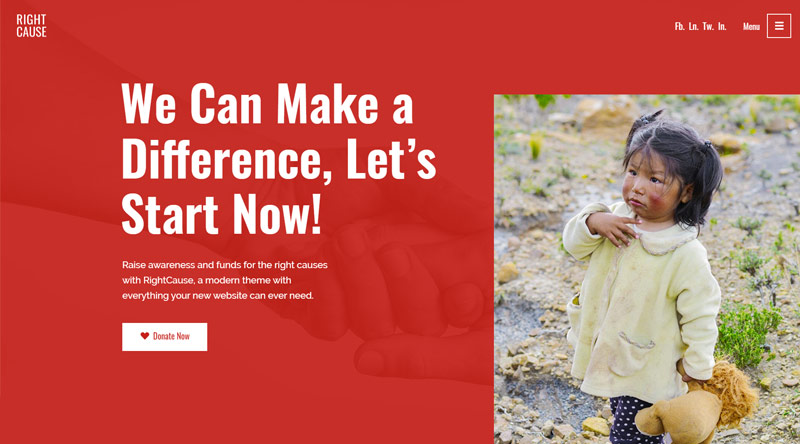 We listed just a few possibilities that WordPress offers – we leave it to your imagination and creativity to come up with an idea for a business, blog, or any other type of website. What's important is to understand that you really don't need any previous knowledge to start any kind of a WordPress website completely by yourself. Should you have any questions, don't hesitate to reach out to us in the comment section!
We hope this article was helpful. If you liked it, feel free to check out some of these articles as well!