How to Create a WooCommerce Virtual Product
eCommerce is a thriving field. Everyone has a place in it. From small businesses focused on arts and crafts to big fashion brands, anyone can benefit from selling items online. Luckily, thanks to the easy-to-use WooCommerce plugin, building a professional and user-friendly online shop doesn't require hiring developers. Instead, you can do it all by yourself. What makes WooCommerce a top choice for millions is its versatility. Not only does it allow you to add products in a few steps, but also you can describe each item in detail, allow users to choose certain colors or read more about other's experiences. On top of this, you can sell different product types including simple products, downloadable products, and virtual products. If you want to focus on selling a WooCommerce virtual product, you will be happy to hear that this article covers the following topics:
Virtual products are different types of digital goods. They represent non-tangible items including memberships, services, some sort of subscriptions, and products that can have digital downloads (books, music, videos, etc.). WooCommerce virtual products also cover different sorts of software tools/products such as web apps, game mods, and plugins. Also, these sorts of products include photography, design elements (fonts, PSDs, templates), or white papers, templates, and guides you can download. Virtual products give you flexibility since you don't have to worry whether your digital product will run out of stock. As virtual products are files stored on your web server, you can sell as many copies as you want. Also, these products don't require further customization (change of colors, info, etc.). What customers see is what they will get.
As you know, WooCommerce covers different kind of products and some of them can be virtual product type:
Simple product can be virtual.
Variable product can be virtual. This product type can be chosen for a certain product variation, while other variations can have a physical character.
Also, grouped products can offer virtual products among other product types.
What is important knowing is that virtual products can be both downloadable or not downloadable. For instance, the eBook can be downloaded after the purchase or read online. Thus it can be a downloadable product type, but also, it can be virtual and downloadable at the same time (it can't be virtual-only, because the virtual type doesn't offer the download option).
On the other hand, Membership is a real example of a virtual product type. Once people buy some sort of membership, they can enjoy some sort of access to exclusive information but they won't get a tangible product.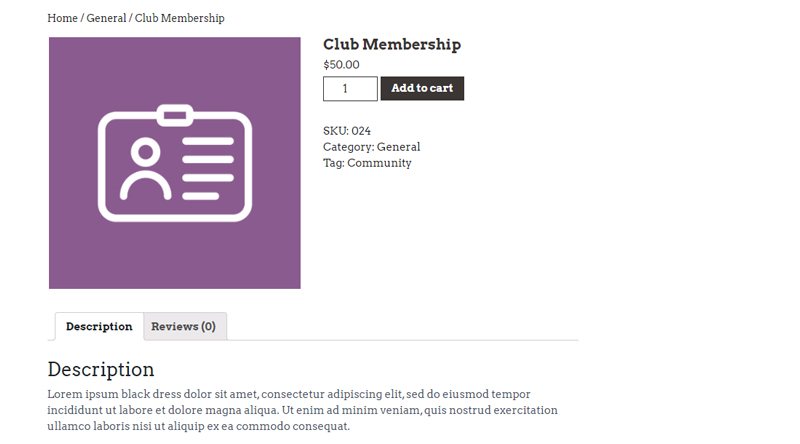 Virtual product is added as any other product type in WooCommerce. Go to Products and click Add New.
Firstly, add the product name, change the slug, and schedule the date when your product will be available in your shop and ready for ordering. Make sure your slug follows the essential seo for WooCommerce.
Here, you can also add product tags and categories. This can also be done later. The same applies to the product image. Our advice is to do it right away so you don't have to worry about it later.
Now is the time to define the sort of product. If you want to offer a simple virtual product, do it by checking the Virtual field after you choose the Simple product type. Also, you can mark the other field (Downloadable) in case your product can be Downloadable.
We already mentioned a Variable product type. Each variation can be Virtual, so you have to define this for every variation separately.
Now, let's take a closer look at Virtual product options, you can use to further set your product.
Have in mind that certain variable product types can have different options. This is because each variation requires entering information separately. If you want to use this product type, don't forget to have a look at our article where we analyzed variable products in detail.
Below, you can see the most common options you should have in mind for variable product customization.
Product Price
Defining the product price is one of the most important steps. You can choose between the Regular price or set the Sale price. The second option will be marked on the product page, so people can instantly get the information about which product is on sale. Also, you can use the option Schedule when you want to schedule discounts for a specific date or period of time.
Unique SKU
The stock keeping unit (SKU) is an alphanumeric code assigned to inventory that allows retailers to track their stock. But, in virtual products SKUs are used to record the sale of an intangible good or service. They are automatically marked as "Fulfilled" when the order is imported.
Manage Stock
Now is the time to manage product stocks. Choose Enable stock management at product level option if you want to predefine the number of items in stocks (this applies to both physical and virtual products). This will prevent orders for the products that are no longer available.
Apart from this, you can Allow backorders if you want to allow people to order a product that is temporarily unavailable but will be soon back to stock. Also, you can use the Low stock threshold option if you want to get notified when the product is available for reorder at the producer's website.
Lastly, there is the option Enable this to only allow one of this item to be bought in a single order, that may be the most important for virtual products. This option allows you to limit purchases to one product per buyer. If you're selling a membership package this is very logical, since one person can buy one membership.
Related Products
Creating WooCommerce related products can boost your sales, so don't forget to try this option. When your customers can choose between different related products, they are more likely to make a purchase. These options can be found in the Linked Product tab. When it comes to virtual product type, you can set upsells or cross-sells.
Add Attributes to Virtual products
Of course, don't forget to add WooCommerce product attributes since they can truly upgrade shopping experience. When customers know more about a product's specifics – its color, dimensions, material, etc – they can decide more easily on which option fits their needs the best.
Create a Purchase Note for Product Customers
Whether you want to enable or disable the product review, go to the Advanced tab, and choose the desired option. Sometimes, user reviews can grow sales and strengthen your shop's reputation. However, they can spread some negative buzz about your products as well.
WooCommerce virtual product type is a popular sort of product, especially in the digital age. As you could see in this article, adding this product type is easy as it gets. We hope our guide will help you do it within minutes!
We hope this article was helpful. If you liked it, feel free to check out some of these articles as well!